Northampton, MA
and more!
April 4, 2000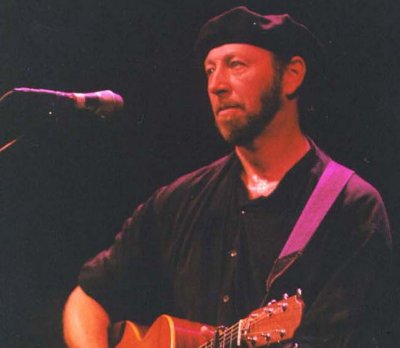 Fantastic, fantastic shows.
Early Show:
I Misunderstood
Mr. Rebound
Cold Kisses
Feel So Good
Ghost Of You Walks
Sights & Sounds Of London Town
Galway To Graceland
Beeswing
1952 Vincent Black Lightning
Walking On A Wire
Shoot Out The Lights
Turning Of The Tide
Sweethearts On The Barricade
Wall Of Death
Dimming Of The Day
Keep Your Distance
Late Show:
Walking The Long Miles Home
Dry My Tears & Move On
Sam Jones
Cooksferry Queen
Twist & Shout
Uninhabited Man
Beeswing
Dog Eat Dog In Denmark
How Will I Ever Be Simple Again
She Twists The Knife Again
Persuasion
When The Spell Is Broken
I Want To See The Bright Lights Tonight
I Still Dream
Jimmy Shands
Bathsheba Smiles - with Dave Mattacks
Valerie - with Dave Mattacks
Fantastic, fantastic shows. Richard was very loose and responsive to crowd requests (which constituted probably a third of the songs). Hard to complain about set lists tonight. (The only type who could complain would be a "Never Satisfied Fan" - sung to the tune of "Uninhabited Man"!).
A small acoustic setting is great for Richard; this crowd would have followed him anywhere. Part way through Cooksferry Queen, he broke a guitar string (wasn't someone on the list recently asking how Richard could play like he did and never break a string?). Continued to play and solo through the song and the crowd loved it. As he replaced the string, Richard led the crowd in an a capella version of Twist & Shout. Last two songs of the evening featured Dave Mattacks on drums; actually on drum as he only had one. Bathsheba was great.
I've been lucky enough to see Richard dozens of times over the years and this was up there with the best.
Alfred Masciocchi
cakrm@home.com
---
RT was hysterically funny
on his birthday last night; among other antics, ( such as mugging for the photographer during the first few songs by doing fine imitations of the Kiss singer's toungue displays and some.. maybe Roger Daltry-like leg splays...) when the audience sang him happy birthday he un-slung his guitar ( does that make him an "un-slung hero"?? oooh that was b-a-a-a-d...sorry!) and crawled on his hands and knees to hide the upper portion of Himself behind the monitor board, so that only his butt was showing, and he stayed there for the remainder of the serenade! :-)
Glad to be able to offer reserved seating for y'all...
Karen Doherty
karend@acadia.net
---
Hi folks--
I'm new to the list but I wanted to share a couple of comments on RT's late set on Tuesday night, even though someone already posted the setlist.
It was the first time I've seen him minus the band, so needless to say it was difficult to get past his guitar work to actually try and critique the performance. However, a few songs definitely stood out. The Mock Tudor material sounded especially strong--"Walking the Long Miles Home" bested the studio version, "Bathsheba," benefitting from the sparse percussion (one snare drum), was flawless. Since I'm not too familiar with what would be considered rare, I didn't know if it was a particular treat to see him play "Don't Sit on My Jimmy Shands" or "Sam Jones," which I got the feeling from the crowd were unique parts of the set. I also got a kick out of the sing-along he led us through with "Twist & Shout," as he was changing a broken string. As if on cue, he had the D-string tuned just in time to play those last definitive chords of the song. Great set, crowd and venue. Hard to imagine a better atmosphere to see an RT acoustic set.
I was wondering if anyone on the list has collected setlists from his shows, or if there's a website where they're available.
Thanks,
Joe Zibell
jj_zibell@hotmail.com
---
Yikes.
Seeing Richard Thompson perform at the Iron Horse in Northampton, MA sent shivers down my spine all night long. Especially the subtle, french-cut, black striped shirt he wore with black pants, black shoes, and black beret (yes, I know it's not a REAL beret, but I can't spell the Scottish version).
Black is black. So why the stripes? Johnny Cash and Roy Orbison didn't bother with those lines across the chest, why should Richard Thompson?
Jailbird or body builder?
And why not add black sunglasses for that "New York" look?
Clothes make the man. If you want mystique, J Crew wants you!
Let's not beat around the bush here...if RT wore penny loafers and a pinkie ring with gold chains draped around his neck, we'd be talking "Ring My Bell" and "I Will Survive" instead of "Black Crow" and "Sam Jones".
Pure black or none at all.
Deep. Dark.
Gloomschwarz!
Binque
Binky Bonk
binkybonk@snet.net
---
Hey, Willis I love the Website!
Wish Our Hero was coming closer this time around, but hey, he wasn't scarce last fall.
Here's a review I wrote of the 11/22/99 Performance at Milestones, a small bar in Rochester, NY.
Milestones, Rochester NY, 11.22.1999
Milestones is...intimate. If any of your favorite acts are booked there, you should go. Now, intimacy does have its downside, be prepared for a sardine-esque experience, sharing *everything* with your neighbors. But along with the smoke, cologne and eau de Labatts, you will be drinking in A Close Encounter With, in the case at hand, Richard Thompson. And band.
RT played, I believe, precisely the same 2:15 set that he played at the Keswick in Philly a couple weeks back, and that he's been playing with very minor variation all tour. We heard a big chunk of his new CD, "Mock Tudor", plus tunes like "She Twists the Knife Again", "Al Bowly's In Heaven" (I do wish he'd retire that one),"I Wanna See the Bright Lights Tonight", a closing rave up of "I Feel So Good" and "Tear Stained Letter". Encores included the ubiquitous, and always well received "1952 Vincent Black Lightning", Razor Dance" and "Wall of Death".
We got particularly hefty doses of Richard's uniquely tuned, knottily melodic, and, I'm told by guitar-playing friends, technically hair-raising electric guitar in the new "Hard On Me" and "Tear Stained Letter". The phenomenally versatile Pete Zorn seemingly played a different axe on every tune: mandolin, pennywhistle, a flute "bigger than James Galway", various saxes, whatever. I can't seem to keep the drummer's name in my head, he's relatively new collaborator. Micheal Jerome? Maybe? While I might have preferred to see long time cohort Dave Mattacks in the chair, the new guy did just fine - he rocked. Danny Thompson gave Milestones ' modest sound system fits with his booming standup bass work. While Danny's Thompson-ness is unrelated to Richard's, the final member of the group is Richard's son Teddy. He contributed fine rhythm guitar and vocal harmonies.
What I've written above could probably apply to any show on the tour (barring one or two that were foreshortened). RT plays the same, consistently excellent show every night. Was there anything that made this show special? First, there was an early starting time (8:00) and, YAY!, no opening act. This was an added bonus for people who have early bedtimes and/or had to drive back to, say, Ithaca. Second, there was proximity. You could catch every nuance of Richard's facial expression, and there are many. (Unfortunately, the low stage meant that pretty much everything else was obscured. I'm 6'4", and I only saw the drummer when he stood up to leave the stage.) And the proximity made for a very congenial relationship with the audience. Richard is also noted for his sardonic stage patter, and of all the shows I've seen and heard on tape, this one ranks way up there for dialog. In fact, it seemed that he was getting requests for jokes! He declined an invitation to discuss Kenny G (at an early stop on tour, he noted that "Kenny G gets into an elevator and says, 'this place rocks!"), saying that Mr. G's lawyers had been coming down heavy on him.
OK, I can't struggle with this antiquated mail client any longer. It was a great night at Milestones, thanks to Tom Cole for meeting my transportation needs and Steve Waltman for making the key ticket play. We're out,
bruce higgins
lbh2@cornell.edu