Memphis,
March 4, 2000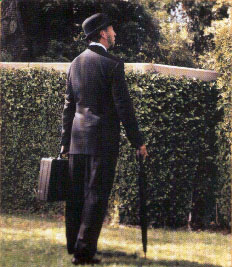 Comparatively speaking,
having 14 RT shows under one's belt is nothing much at all in this company, but I do feel like I've reached the point where it's pretty easy to spot when Richard is having a mediocre night. Of course, mediocre for him would be a revelation for the other 99% of musicians in this world. Nevertheless, Memphis was an off night on this tour in my humble opinion. I'd welcome other opinions from anyone who was there that night. He seemed distracted and not quite altogether there, and I'm sure the intermittent feedback during the first few songs didn't help much. However, there were definitely some extraordinary moments: "Hard on Me" was absolutely savage, one of the most staggering performances I've ever seen from him (and this is the third time I've seen that song played live). It was almost an exorcism - take a short break, have a swig of water while Danny solos and….ohmigod, everybody duck! He'll kill us all! One of my favorite pastimes at Richard's shows is glancing around the audience for The Aneurysms. This is the name I fondly reserve for those poor souls in the audience whose brains have simply ruptured from the strain of trying to comprehend what's happening on stage. They reach the breaking point, and voila! Cerebral hemorrhage! The Aneurysms were quite visibly in evidence in Memphis… Some moments didn't work quite as well, though. "Ghosts in the Wind" works much better as an acoustic number. A few of the songs seemed unnecessarily rushed (although Richard and Pete shared a laugh over a small goof in "Tear Stained Letter"), and I might humbly suggest that it might be time to retire "Vincent" for a tour or two. Heresy, I know, but it's become more obligatory than a labor of love, and it shows. "Galway to Graceland" was a pleasure, though, as was "Waltzing's for Dreamers". Anyway, the set list goes something like this:
Man in Need
Bathsheba Smiles
Two Faced Love
Hard on Me
Ghosts in the Wind
She Twists the Knife Again
Uninhabited Man
Al Bowlly (First rate!)
? (I feel sure I'm forgetting one, but I'll be damned if I can remember it)
Dog Eat Dog in Denmark
Sights and Sounds of London Town
Walking The Long Miles Home
Cooksferry Queen
Bright Lights
Feel So Good
Tear Stained Letter
-----------------------
Waltzing's for Dreamers
52VLB
Crawl Back
Wall of Death
-----------------------
Galway to Graceland
Put it There Pal
Razor Dance
Mike Nix, Gretchen Lyell
lyell-nix@worldnet.att.net
---
Hi Everyone!
I just joined this list a few days ago. Been a Thompson fan for years, but up until a few weeks ago, the only time I'd seen him was a solo set that he did at the New Orleans festival back in the '80's. I'm in Memphis, and he never played here until about a year ago, but I was in Chicago that weekend seeing NRBQ and Steve Ferguson.
Fortunately, he returned last month, and I saw him here, and also made the two hour drive to Little Rock to see him at Juanita's a few days later. When he played "Hard On Me" at the Memphis show, I was completely blown away. I think that was the best guitar solo I've ever heard in my life. I've seen a lot of the great ones - Al Anderson, Steve Ferguson (an overlooked master), James Burton, Albert Lee (back in his days with Emmylou's band), David Hidalgo - but Thompson may very well be the best. The venue he played in Memphis was a place on Beale Street called the New Daisy Theater, and he commented on how it meant something to him to play a place that he's heard of all his life. He said that his dad had a 78 of Louis Armstrong doing W.C Handy's "Beale Street Blues" when he was a kid.
I took a friend to the Little Rock show a few days later. He's no slouch on the guitar himself - his dad was one of Bill Monroe's Bluegrass Boys back in the '60's. He'd seen RT a time ot two before. We were talking after the show, and he volunteered that he thought that the solo on "Hard On Me" was the greatest solo he'd ever heard in his life. I think the one in Memphis was hotter, but I knew what he meant. I'd like to have a tape of just different versions of that song.
I love MOCK TUDOR. I think it's the best thing he's done in years, maybe ever. "Dry My Tears And Move On" has one of the most gorgeous bridges I've ever heard. I like everything else as well, some more than others. I like MIRROR BALL a lot. Some of my friends think that one's a little too "L.A." Go figure. I picked up a couple of the CD's that they sold at the gigs, and they're great, but I wish that Capitol would put out an official live album. There's never enough, is there?
Paul Williams
bossman7@ixlmemphis.com
"Money may buy you a fine dog, but only love can make it wag its tail."
- Kinky Friedman