Richard in Southern California
March 15-17, 2000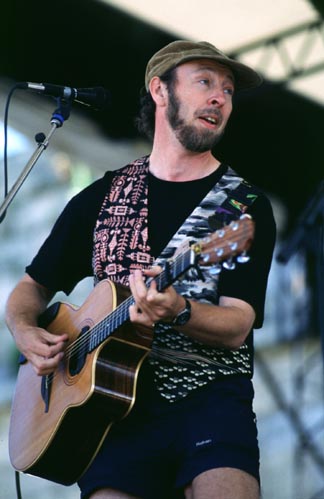 End of Tour Blues
Today I am sitting in withdrawal after two wonderful performances in Southern California at the Belly Up Tavern in Solana Beach and the El Ray theater in Los Angeles. Both venues were excellent places to see O.H. The Belly Up Tavern is an old warehouse in North County San Diego which has been converted to a funky tavern/nightclub (with an excellent draft beer selection) which has hosted a diverse and eclectic lineup of musical performers for the past 25 years. Although I have been to the Belly Up many times, it was my first visit to The El Rey Theatre in L.A. (which alas had no draft beer selection).
The venue was a beautiful old theatre with chandeliers, velvet and the whole art deco feel (reminded me a lot of the Fillmore in San Francisco). I enjoyed both shows immensely and am currently a bit despondent because the third Southern California show, which was to be tonight, was cancelled due to poor ticket sales. Anyhow, the setlists for the two nights were virtually identical and I am posting them below; differences are indicated. I am transposing them from memory and setlists posted for prior shows, so please excuse any errors. I am 99% sure that this is the correct sequence for last night:
3/17/00 El Rey Theatre, L.A.
1. Man in Need
2. Bathsheba Smiles
3. Two Faced Love
4. Hard on Me
5. She Twists the Knife Again
6. Ghosts in the Wind
7. Uninhabited Man
8. Al Bowlly
9. The Ghost of You Walks
10. Hamlet
11. Sights and Sounds of London Town
12. Walking the Long Miles Home
13. Cooksferry Queen
14. Bright Lights
15. Feels So Good
16. Tear stained letter
1st encore
17. 1952 Vincent Black Lightning
18. Crawl Back Under Your Stone
19. Wall of Death
2nd encore
20. Danny Boy
21. Put it There Pal
22. Razor Dance
El Ray Comments:
For songs 11-13, 15,16, 18, &19 the band was joined by an accordion/harmonica player and harmony singer whose name I couldn't understand (Possibly Bob). He complemented the usual quartet quite nicely. His harmonica playing added spice to Cooksferry Queen and he had a nice accordion solo between Pete's sax solo and Richard's guitar solo in Tear Stained Letter.
For the second set of encores, Danny Bou was a duet. An (unknown to me) woman sang the verses while Richard played guitar and sung harmony on the choruses; it was quite a nice Saint Patrick's Day treat.
Belly Up Comments:
Total of 23 songs. As I stated above the setlist was almost the same as last nights with these differences:
1. All songs above except Danny Boy were also played at the Belly Up. At the Belly Up, I Misunderstood was the first song of the second set of encores.
2. Valerie was also performed at the Belly Up, I don't remember exactly where in the set, but it was late in the main set before any of the encores.
Overall comments:
The drummer was incredible! I especially enjoyed watching/hearing him attacking the drums in counterpoint with Richard soloing during Hard on Me, Tear Stained Letter, Crawl Back, and Put it There Pal.
Here's hoping we don't have to wait 2-3 years to see the full band again. I'd also like to add one more humble request for more variation in your setlists Richard! Your catalog of songs is so diverse, extensive, and rich that it is a shame to let most of them languish in the obscurity of being recorded songs that are not performed live.
Thanks to the band for 2 sparkling shows and I hope the list enjoys these comments!
Chris
CWCody@aol.com
---
El Rey Show - Gear Geek alert
You guys are getting famous. At the end of the show, Pete Zorn just threw his set list at the crowd. I'll leave all that to whoever caught it. My general impression: I guess I'm getting jaded. On a scale of 1-10 of rating RT shows, (which would span about 8-10 of most normal ratings), I'd give this one a 4. It was easily the worst band show I'd ever seen and seemed to lack energy and pacing. (While last summer's Roxy show was probably the best.) But that doesn't mean it was bad, just a bit disappointing.
However, I am continually amazed at how much Danny Thompson adds to RT's sound. I hope they keep up that relationship for a long time. Also Mike Jerome, obviously a graduate of the John Bonham aerobic workout school, is a great addition to the band. In the middle of Uninhabited Man, he did something, I've never seen a drummer do. While not missing a beat, with one hand he calmly reached down with one hand, picked up a tuning key and proceeded to tune the bottom skin of that small tom he uses in front. I also noticed that he tightened the nut on his crash cymbal, probably to mute it a bit, just before Al Bowly. I didn't see it happen, but he must have loosened it later.
Bill Bonk showed up late in the show and did about 6-7 songs playing harmonica, accordion and singing backup. His harmonica playing and singing were an asset but I'd leave the accordion at home. His solo on Tear Stained Letter was embarrassing. Furthermore, he almost caused a fight between Pete Zorn and the soundman who runs the monitors. On the first accordion tune, Pete could be seen gesticulating and making squeezebox gestures at the soundman. Honestly, if I were interpreting his gestures, I'd have thought he was saying he wanted the accordion turned up in his monitors and that must have been what the soundman though because about 30 seconds later, after finishing a sax fill, he went running off the stage, yelling angrily and making turn-it-down gestures.
Now the gear geek part. I have always been curious about RT's amp settings and before this, have always forgotten to mark them down. Note that the amp was too far back on the stage to see the numbers clearly so I will give positions and estimate numbers. Anyway, the settings on the Vibroverb are:
Normal channel: everything off.
Vibrato channel:
Knob: Position: Approximate number
Volume: 2:00 7
Treble: 2:30 7.5
Bass: 12:15 5.5
Reverb: off
Vibrato (Tremelo):
Speed: 1:45 6.5
Intensity: 8:00 2.5
Now, if only I was still playing a lot of electric guitar. By the way, RT is also using a Line 6 digital modeling amp in parallel with the vibrato, God knows how that it set up.
The Rumor and Sigh maple top Ferington guitar, modified with the middle stratocaster pickup, made two appearances when an electric was needed with a capo. Memory fails me here, but I believe that the first one was for Cooksferry Queen (capo 3) and I forgot what the second tune was (but it was capo 2).
Charlie Campbell
campbell@rcf-fs.usc.edu
http://www-rcf.usc.edu/~campbell/
---
I forgot to mention that,
in honor of St. Patrick's Day, RT did Danny Boy for the start of the second encore. He did this straight, not as the rocker he used to do in the 70's and 80's. He was ably assisted in this by a Welsh blond of very fine voice whose name was Julie or Judy something (There was a lot of applause whenever RT said her name). Blaming her Welsh heritage, she had to read the words from a sheet, but she did a very good job. She sang the lead while RT played guitar and added harmonies at the end.
Charlie Campbell
campbell@rcf-fs.usc.edu
http://www-rcf.usc.edu/~campbell/
---
I attended both
the Solana Beach, Belly Up and the El Rey, L.A. shows. (My also scheduled Sun Theatre show now postponed!) Thanks heavens I did make the trek to Solana Beach -- killer southbound traffic and all -- as it was head and shoulders above the relatively unsatisfying El Rey concert. Based on speaking with the venue's staff, and both Eleanor McEvoy and RTB members, it's no mystery that the show would indeed have been affected and thus definitely impeded, in its being an imposed rush job, as the venue was booked for a follow on show later that evening. A reasonable explanation to put all in a less than optimal mood and frame of mind. Only possibly beneficial fall out is my rarely having seen acts -- opener of Eleanor McEvoy start virtually on time. That said, however, her set was rather abbreviated from the Belly Up one, to its detriment as I was pleasantly surprised and found her set previous set enjoyable, giving special mention to the effectiveness and talent of her accompanying percussionist and backing vocalist. At Belly Up he got a decidedly above average audience acknowledgment. (As does Michael Jerome, his obvious talent having overcome any possible audience reticence about a 'new comer.' Seems he's both been accepted and now is much appreciated. He graciously and generously attributes his current capacity to please to being with such a wonderful singer/songwriter as Richard Thompson.)
Sorry if anyone is made to feel bad for having seen the El Rey and not Belly Up. Just assume you wouldn't have agreed with me! Beyond the relative quality of the El Rey performance itself, it is was so very close set wise to the previous night as to be slightly disappointing in that aspect alone. And I was sad not to have heard during either show a particular favorite "Dimming of the Day," especially having read the raves of its recent executions. Maybe in the rescheduled Sun Sept. 10 show . . . Indeed, its being as far away as it is, I'd expect a rather different experience than were I seeing the third of threes nights in a row, as was my initial situation.
Re Charlie Campbell's recent postings:
My general impression: I guess I'm getting jaded. On a scale of 1-10 of rating RT shows, (which would span about 8-10 of most normal ratings), I'd give this one a 4. It was easily the worst band show I'd ever seen and seemed to lack energy and pacing. (While last summer's Roxy show was probably the best.) But that doesn't mean it was bad, just a bit disappointing.
I add my agreement too, that last year's Roxy show was one of the best I've seen recently. If there was any aspect that the Roxy was a 'warm up' show before more officially starting the tour, it may have actually had that resultant advantageous circumstance of being such a great show due more to it's possibly added stimulation or tension of still being something of a work in progress, so to speak. This beyond merely its less familiar character.
However, I had a different impression of what went on at El Rey with Pete Zorn and the Tom the sound man running the monitors. I saw Pete motion to turn up his own vocals. That is, what may be seen as mimicking an accordion, could also really be "expand (my) sound levels." Especially as he was immediately 'accommodated' by getting unfortunate feedback with his own vocals. That problem was then fairly quickly handled, and from that point on, his vocals were more noticeable. I felt they had indeed been too low previously and also as I even mentioned to him, for the entire Belly Up show. Nor is my own remembrance that he had subsequently angrily run off/across the stage at that specific point, nor any point actually. Certainly, Bill Bonk did nothing to cause any problems between Pete and Tom! (And BTW for whomever, he's pretty darn cute, too.)
A quick conversation with Pete after the show did nothing to counter my impression, though he very well may not have been inclined (seemliness, suitability, etc.) or had time to discuss a situation that really is NOMB -- or possibly anyone else's for that matter. However, I also later spoke with another band member and he confirmed that Pete was indeed referring to his own sound levels. All this goes to show why we should all remain suspect both about people's interpretation and remembrance of events. (I'll hope I've never occasion to end up in a police lineup!) I did also regarded Bill Bonk's contribution -- certainly the vocals -- and even instrumentally as set too low (also, I remembered him participating in fewer numbers). I realize these songs are not duets as such, but there should be slightly greater impact from backing vocals to my mind.
Also, for those wondering, the name of the woman doing the excellent vocals to "Danny Boy" is Judith Owen. She's currently (only) scheduled for March 23rd at 9:30 p.m., The Hi-Bar, 1117 State Street, Santa Barbara -- for any who made have formed an immediate crush.
BTW, you'll need Flash 4 Player, but if you don't have it there's a direct link to download it at that Home Page. There are music snips, an interview video, and lyrics links also included.
Another point regarding we fans bemoaning the lack of attention and turnout RT receives: when talking with various people at the El Rey -- I was told not a sell even at show time, nor was Belly Up I believe -- they responded as to the lack of promotion of the event(s). More than one person only found out about the gig from a friend specifically telling them about its even happening. Selfishly, I don't relish the thought of a repeat of the Bruce Springsteen situation where early on, I got tickets relatively easily to prime, smaller venues, to today's off-putting, mad scramble. For RT, it would seem further and different changes in promotion/management techniques are in order.
Food for thought -- Though a couple weeks away, The Flaming Lips are sold out at the El Rey. At the Flaming Lips own site, there is the added JavaScript window that opens stating:
Request Lips!!
A call to all Flaming Lips fans! Why not call/email your local radio station and request that they play the Flaming Lips?? It would be especially good if fans in the Eastern US could join this campaign - there's some contact info to help on the news page...Hmmm. Taking a page, seems even more and repeated action from RT listees couldn't hurt.
Sorry for this length --
Fonda Scott
fondams@gte.net
---
RT Setlist Belly Up 3/16/00
Well, thanks to Fonda Scott, I found the review site, and saw that the last reviewed show there was Charlotte, so..... I'll write something more later, but for you who'd like to know, the setlist was as follows from a VERY chatty RT (including an attempt to auction off Pete Zorn (the bidding reached $25!) (basically the same setlist as Charlotte w/ 2 changes)
1. Man In Need
2. Bathsheba Smiles
3. Two Faced Love
4. Hard On Me
5. Ghosts in the Wind
6. She Twists the Knife Again
7. Valerie
8. Uninhabited Man
9. Al Bowlly's In Heaven
10. The Ghost of You Walks
11. Hamlet
12. Sights and Sounds of London Town
13. Walking the Long Miles Home
14. Cooksferry Queen
15. I Want to See the Bright Lights Tonight
16. I Feel So Good
17. Tear Stained Letter
Encore 1
18. 1952 Vincent Black Lightning
19. Crawl Back Under My Stone
20. Wall of Death
Encore 2
21. I Misunderstood
22. Put It There Pal
23. Razor Dance
Dave L
dlinn1@san.rr.com
---
El Rey Gig Noted in Local LA Paper
In the free paper "New Times Los Angeles," here is an appreciative, interesting reference of Richard, some background, and, of course, extolment, in addition to noting his -- at the time -- still to come, El Rey gig. http://www.newtimesla.com/issues/current/calendar.html Later in the same New Times issue is another item (2nd down) titled under:
"This Week Concert previews" http://www.newtimesla.com/issues/2000-03-16/nightstick.html. Obviously his show (and the glowing praise) at least made it therein -- even if not otherwise very widely advertised.
In the minds of kids and hipsters, the name Richard Thompson, if it registers on the radar screen at all, probably evokes something along the lines of these three sad words: boring old fart. After all, he's balding, bearded, and has been known to sport a beret; he's been making music longer than half the people on this overpopulated planet have been alive; and much of his most striking work is framed in the form of acoustic guitar ballads, thereby earning him another dreaded moniker in these machine-friendly days: singer/songwriter. But Thompson, for all his resolute English modesty, is an absolute, wailing, great white whale of a monster on guitar, and he could easily eat any of Hollywood's Guitar Institute of Technology graduates (who still worship Jimmy Page and Eddie Van Halen) for lunch. That is, if he cared to...which he most obviously doesn't. Thompson could easily find his features embedded on any Mount Rushmore of guitarists, but he has always preferred to sublimate his amazing instrumental skills in service of his superbly crafted, often bitterly twisted songs. His playing can be flashy, but the man himself never is. That's why he's not a household name, rock star millionaire. And that's why he's so very valuable. With Elenor McEvoy. Fri., Mar. 17, at the El Rey Theater, 5515 Wilshire Blvd., Hollywood. (Sean O'Neill)
Fonda Scott
fondams@gte.net
---
The Ides of March in Santa Barbara
03-15-00 Lobero Theater, Santa Barbara
There are those special moments that suddenly remind us of how sweet and rich life can be. For me that moment came during RT's 4th song (the scarifying and awesome "Hard on Me") at Santa Barbara's Lobero Theater last night. At that moment - and I think this feeling was widely shared - RT & Co. really took command and securely lifted us onto a two hour magic carpet ride. From that moment on I was so exquisitely swept up in the music that it was not possible to have any awareness of past or future - only the pleasure of the moment. Moments like these are rare but they shimmer forever in my memory.
And it was during "Hard On Me" I distinctly experienced when RT threw the overdrive switch. During that maelstrom of emotion he pours out in that guitar solo, I really believe I fell into a fermata - a frozen moment in time (although unlike Nick Baker's book there was no nudity - and believe me I looked.) But I swear as I watched RT's left hand spin gold from the strings of his guitar I fell into a hole in time and witnessed what he did that was almost beyond words. I could swear for one millisecond he was soloing with one left hand on the 1st fret of the neck while simultaneously continuing the solo the 21st fret. How can this be? Well, as Sherlock Holmes stated, once the obvious explanations have been ruled out, then whatever other possibility remains - no matter how unlikely, must be considered. So my explanation is: When he wants to - RT has two left hands! Think about it - this explains the tongue in check dimension to his passion for that song "Two Left Feet," in part he's really talking about himself.
Anyhow - however he did it - this magic moment where his solo took everyone to another place and we the audience were RT's from that point on.
The playlist was exactly the same as that which Tom posted for La Zona Rosa in Austin 2 nights ago. One song was new to me, I'm presuming it was "Ghosts in the Wind" based on the Austin playlist. It sounded like Richard Thompson meets the Paul Winter Consort. The band knows exactly what to do and they do it beautifully. As for RT - it never seemed so clear he can play exactly what he wants and turn on the power and fury like a force of nature. And, although there was less banter than usual, he clearly seemed to enjoy himself.
As I tried to assimilate the whole experience, I began to consider an "It's All Too Much" theory. I truly loved the show, but noticed how the solo and duo numbers in many ways came across as more balanced. I think that's the trade off when seeing a powerful band in a small hall - it's a bit like landing a jet plane on a aircraft carrier, it's a lot of energy to contain in a small space. If I had a tiny magic wand, I would have used it to bring the vocals up a bit in the mix. And I was impressed when I stood at the back of the hall for one number how well the show held together perhaps a bit more balanced. But would I have traded that for my 6th row seat? Nah... I was always the sort of kid that kept creeping closer to the TV no matter what my parents said. Another corollary to the "All Too Much Theory" is that there were so many highlights (lovely new instrumental figure in "London Town", "Bright Lights" was set up with almost a Credence like cadence, I've never heard "Dimming of the Day" sound so elegant and elegiac) that frankly I cannot remember them all - I'm not sure I could even ~process~ them all. It was like experiencing a great three week vacation in one day. If only there were some way to apportion the concert so I could have a few minutes after each song to absorb and appreciate what I had just heard.
I had noted with amusement the recent list topic of "What one question would you ask" and even made it a point to print a recent digest edition out in case RT asked me out to have a quiet pint. That didn't happened. But I did squeeze backstage for the mobbed autograph session and found RT was in a very kind and gracious mood. As he signed my "Mock Tudor" booklet I bravely spate out "I'm one of those loony people that takes part in the daily e-mail discussion about your music. If I may, I wanted to ask a question for a long-standing fan of yours in New Zealand who was wondering when you might tour there."
I wasn't sure what he would do with that information and held my breath (only recently had my Heidelberg dueling scar from my encounter with him last year stopped throbbing.) I need not have worried. RT fixed me with an earnest look and said in a most heartfelt way "We've been trying to work that out for more than a year. We keep thinking the details are in place and then something comes up. And we really want to do that tour and we want to tie it in to a visit to Japan."
I was so tickled I mumbled some further effusive comment and stumbled away forgetting to shake his hand or get my picture taken. But I was pleased to ask this question on behalf of KiwiGarry who just seems like such a nice guy and someone who deserves an advocate in this matter. And now as I reflect on this I know I've really said nothing new, but that everyone in this group has such a great appreciation of this man's wonderful music and superb musicianship that when we get the chance to experience it full throttle we just need to talk to someone else who can understand that massive joy.
Andrew Teton
ateton@instadv.ucsb.edu
---
El Rey: Dylan with personality
Here's a review of the show from a friend of mine who is relatively new to RT. he went with me to a solo show at Toad's about 5 years ago, and has a couple CDs including Mock Tudor. I don't really understand his "with a personality" comment; I'm not sure how he thinks RT is like Dylan.
Note that Harry Shearer was cited. I remember a while ago people were talking about how Harry Shearer played RT songs as outros on his radio show. The recent revelation (to me) here of Judith Owen being his wife may explain the outro use a bit.
Lee S. Kilpatrick (Mr. Breeze)
leekil@bbn.com
Forwarded Message
Hi there,
The show was very good. Laura liked it as well. It was an interesting to contrast to having seen Bob the weekend before. RT could arguably be described as Bob w/a personality.
They were selling all the things you mentioned, but I didn't buy anything. The double-CD was $30.
It was a 900-person venue, with some tables on the side. Kind of like the Paradise (?) used to be, although the place used to be a movie theater back when those places had marquees and were 1-screens. That said, the floor wasn't slanted or anything.
We managed to get about 30 feet from the stage, dead center, w/o much effort. It wasn't really all that crowded at that depth. I guess we could have been closer if we wanted. A lot of people were happy to sit at the tables on the side.
We saw Harry Schearer as we were going in. He seemed to have a backstage pass around his neck.
Parked out front was a aqua-colored convertible w/MO plates -- the same color as the 1st guitar RT used, but I don't know if it was his car.
He was pleasant, chatty. Couldn't really help you w/the set list (does your mailing list have it?). A lot of the songs were from Mock Tudor, which was good as I've played it quite a bit & like it as well.
I did read in the paper that the other (fairly) local show scheduled for Sunday was postponed.
The only St. Patrick's Day angle was that he brought out some Kim Carnes looking woman who sang Oh Danny Boy from a sheet of paper w/the lyrics written on them w/RT playing guitar. I think it was the start of the 1st encore. There were 2 encores I think. About 2hr -2hr 10m in total. She said she was Welsh so she didn't know the lyrics.
I thought the band sounded really good -- one of those occasions where you can really tell what each person is contributing to the song, and therefore you can sense the complexity in both writing and executing something like that.
---
El Rey show
I was surprised to read some comments rating the El Rey show a "4 out of 10" and thought that I should throw in my two cents worth....
I've seen RT more than a dozen times, and have seldom seen him in such fine form. Admittedly, the sound quality of the El Rey leaves something to be desired, but the absolutely blazing guitar solos more than made up for the lack of acoustics. My face still hurts from the stupid grin I had on my face for most of the night!
Back to lurking mode.....
Jeff Tamminga
Jeffrey.M.Tamminga@sce.com
---
El Rey Show
I was also surprised to see the El Rey show rated a "4 out of 10".
I hope Charlie wasn't offended when RT called us his minions, and then said "Allright, how many of you AREN"T on the guest list?" I think a lot of the problem was the sound system, and after seeing the band at the Roxy, I really missed Teddy's presence, especially vocally. It was nice when Bill Bonk was sitting in, partly for that reason, tho I agree that his attempt at an accordion solo was painful to watch. I have seen OH many times, but somehow had missed Hamlet until this show, and was mildly amused after all of the complaining here to see how much RT seemed to enjoy playing it. It does fit into the ghost theme. By the way, I was right up front and I am sure he said Omelette. I am not amused now, tho, after looking at the set list from the Belly Up, and seeing that in Hamlet's place they got I Misunderstood!!!
I'm sorry I don't know any of the other LA list persons, altho I did get to meet Julia at the show (the lady doth protest too much, methinks). They actually had a sign up sheet for the list at the T-Shirt station. There was an adorable young man directly to my right who was obviously in rapture for much of the show. There were many requests being flung at the appropriate breaks, and the gentle listener next to me would say "Just play whatever you want" and "Play your favorite song". It was precious-he was in thrall, and it was delightful to observe as I felt the same way. Perhaps he has signed up-or maybe he's already here?
Janet Sarver
JSarver@fulfillment.org