March 3, 2000 - Charlotte, North Carolina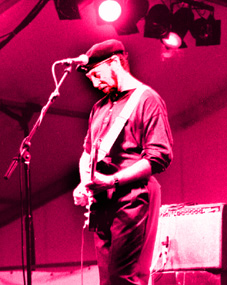 Ghosts in Charlotte
It was an otherworldly night at the Neighborhood Theatre in Charlotte, North Carolina last night. For one thing, Richard Thompson seemed a bit perturbed by a section of the audience that was mostly walled off from the rest of us, sitting off stage right and looking through an opening in the wall as if behind one-way glass and I.D.-ing the perpetrator. He enjoyed poking fun at them all night. At one point, he suggested that they were in another dimension and warned them that when they went out to the parking lot, they might run into themselves. (Or something like that. My "otherworldly" experience was enhanced by a fever with a splash of Shiner Bock.)
There was also the ghost of Teddy, represented by, at first, a dulcimer on a stool on stage right, with a microphone and everything. It turned out the mic was for Pete Zorn, who managed to alternate between eerie dulcimer and enraptured rattling (sorry--I don't know the name of a chicken shake that isn't egg-shaped) on "Uninhabited Man." After the song, the setup was removed, and there was a gap on the stage. We missed Teddy, especially as a vocalist on "She Twists The Knife Again" and "Bathsheba Smiles."
The set list evoked distant spirits as well. From "Uninhabited Man" to "The Ghost of You Walks" and "Ghosts in the Wind"--and, less obviously, songs like "I Want To See the Bright Lights Tonight" that evoked earlier periods of Richard's career.
It was by no means a somber evening, of course. I've never seen RT, in a band configuration, chat so much with the audience. He really seemed to be enjoying himself. After the show, when he finally emerged from the bus to greet the few of us who hadn't given up on him, he kept telling people what a great audience they were. The place was pretty full, and it seemed relatively sedate to me, but maybe that's because I'm not used to having a longneck bottle of beer and a padded theater seat at the same time.
Set list--yes, in a rare instance of trainspotterness, I took notes--
Man In Need
Bathsheba Smiles
Two Faced Love
Hard On Me
Ghosts in the Wind
She Twists the Knife Again
Uninhabited Man
Rock Island Line (one stanza, with band, once RT was inspired by the rumble of a passing train)
Al Bowlly's In Heaven
The Ghost of You Walks
Hamlet
Sights and Sounds of London Town
Walking the Long Miles Home
Cooksferry Queen
I Want To See the Bright Lights Tonight
I Feel So Good
Tear Stained Letter
So of course then there was an encore. People were whistling and clapping rhythmically. I expected more rebel yells, but maybe I'm just a Yankee snob.
1952 Vincent Black Lightning (he's still reinventing the guitar part; wouldn't you, just so as not to be bored?)
Crawl Back Under My Stone
Wall of Death
Yeah, yeah, they're leaving, right, let's clap some more.....
Dimming of the Day
Put It There Pal
Razor Dance
Holy shit. "Put It There Pal" was one of the finest RT performances I've ever witnessed. Never has rancor been so stately and beautiful and annihilating. I kept expecting the devil to bang on his ceiling pipes and ask Richard to keep it down up there.
Along with "Cooksferry Queen" and "Ghosts in the Wind," "Put It There Pal" was a highlight of the show, well worth the trip some of us made from Washington, D.C.
But that's not all! We also got a wonderful in-store performance at the Record Exchange. (It's a marvelous store, with friendly people and good prices and selection--new and used stuff, including LPs--and a built-in stage; I staggered around there, with my flu, for what seemed like half the afternoon, listening to the RT music the staff was spinning.) RT started out by asking us how many of us were going to the concert that night. When nearly everyone responded in the affirmative, he told us that he would promote his new album "by not playing any of the songs from it here and just take requests." We got the following (as I recall--I didn't take notes):
Beeswing
Valerie
Down Where the Drunkards Roll
Mr. Rebound
He signed stuff--but I missed that part, as I was up the street haranguing the people at Kinko's to please finish the printout of my book so I could give it to Richard...and then having to have them redo part of it because the pages were out of order...blahblahblah. Richard has a copy now...if you're reading this, Simon, thanks!
Music sometimes can take away all sense of time and space and leave you suspended in beauty. Yesterday, in Charlotte, I had many such moments. And it wasn't just the fever.
Pam Winters
pmw@annapurna.com
P.S. I think if you download this message into Adobe Acrobat 2.1, you get a voice chanting "I buried Paul."
---
If the last comment left you wondering, Pam has just written a biography of Sandy Denny. It was briefly available in Acrobat format on Pam's web site. This is what Scott wrote:
Sandy Denny biography by Pam Winters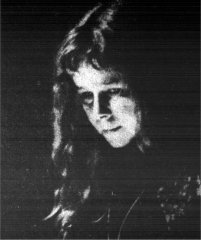 Pam is on the road to see OH in Charlotte and Memphis, and she asked me to make the following announcement of a work that has just this afternoon been put up online.
I am very pleased to officially announce the online publication of Pam Winters' "No Thought of Leaving: A Life of Sandy Denny." Due to unfortunate and convoluted difficulties with her original publisher, Pam is now offering the biography free on her website [no longer available].
I've read the book three times now (I helped with the editing) and can highly recommend it. It includes a short, moving foreword by RT, his personal tribute to Sandy. Pam did a prodigious amount of research and interviewing (including Richard, Linda, Dave Pegg, Dave Swarbrick, Al Stewart, Ralph McTell, Jackson Frank, many other friends of Sandy, and Sandy's father). Pam also gained access to Sandy's journals, from which she quotes.
This biography brings Sandy to life with her restless energy, stunning creativity, high spirits, and dark demons. Pam sensitively examines the evolution of Sandy's pioneering music, as well as the intense, emotional personal odyssey that ended in such an untimely death. "No Thought of Leaving" will help gain recognition for Sandy Denny as one of the greatest singer/songwriters of the twentieth century.
Consider the above my online dust-jacket text for Pam's online book.
Scott Miller
smiller@aaas.org
---
Richard Thompson
Gypsy Tea Room
March 10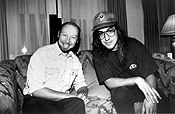 When I was 10, I dragged my father out of his hospital bed to take me to the Dallas County Convention Center for a Richard Thompson concert. I had never been to a concert, had no idea what actually went on at concerts, and was, in truth, partly terrified by the idea of attending a concert. (I think I sort of imagined it as a giant orgy, or a rather large buffet.) My father -- a tall and handsome man from whom I get my height and my looks (though we look nothing alike, and I am 2-feet-3) -- had been in the hospital for a couple of days. He was recovering from a stab wound inflicted by my mother, who had been attempting to cut a meat loaf at the dinner table and missed by several feet (she insisted she was referring to the meat loaf when she yelled, "Take that, you bastard!"). But I would not let a stab wound come between me and Richard Thompson. My father was going to take me. He had no choice. If he did not, then I would stab him, and it would not be "accidentally."
In 1978, there was no bigger rock star in the world than Richard Thompson. My bedroom, like those of my friends, was plastered from floor to ceiling with Richard Thompson posters and fan-club glossies and magazine covers. Richard would gaze at me from all directions, keeping vigilant watch over me from every corner. He had just released First Light, which was the fourth album he had recorded with his then-wife Linda Thompson. It had debuted at No. 3 on the Billboard charts, beneath Big Star's Third/Sister Lovers and Elvis Costello's This Year's Model. Since 1974, Richard and Linda had sold 20 million albums; I Want to See the Bright Lights Tonight alone moved 15 million units, which amounted to 37 percent of all albums sold in 1974. America had fallen in love with Richard Thompson (and, to a lesser degree, Linda, with whom Richard would fall out of love when she broke a bottle over his head during a concert). His thin, pale, boyish face had graced the cover of nearly every magazine, from Rolling Stone to Time to Good Housekeeping; his Playboy interview in December 1978 took up the entire publication, which featured only one nudie spread that month -- yup, Richard Thompson, posing with only his guitar and a sly, curious smile. Back then, you couldn't turn on a television without stumbling across Richard, singing "Down Where the Drunkards Roll" with Dinah Shore or sitting in the square to the right of Paul Lynde. In November 1977, he guest-hosted The Tonight Show during the three weeks Johnny Carson was off on a ski trip with his wife and three girlfriends. The adoring crowd, consisting mostly of teenage girls and their kid sisters, screamed so loudly during Thompson's Tonight Show appearances, it was decided guests were irrelevant. No one could hear what they said, so Richard would sit behind the desk and perform Chuck Berry songs and old English folk ditties about fairies and trolls.
I recall the 1978 show at the convention center like it happened yesterday, or at least 19 years ago: Nick Lowe, on the verge of his own superstardom, opened with a set culled from his shipped-gold Pure Pop for Now People. Then, Richard came out by himself, played a handful of songs from the quadruple-platinum Pour Down Like Silver, then performed half an hour's worth of material dating back to his days in the boy-and-girl-band Fairport Convention -- despite his insistence in a Road and Track interview that "it would be best if the public forgot about that band, even though we were once more popular than Krishna." I will never forget the crush of humanity, the thrill of being jammed against so many half-naked girls shouting out marriage proposals and other, more lurid propositions. Even now, people speak of that show as the seminal moment in his career -- the moment when a star became a myth. From that point on, each album sold better than the last: When he and Linda released Shoot Out the Lights in 1982, it debuted at No. 1 and stayed there for an astonishing 37 weeks, a record broken only when the Pixies' 1988 debut Surfer Rosa remained at the top of the charts for an entire year. Thompson once said it was his goal to sell more albums than Paul Westerberg and Sonic Youth and the Jam combined -- a feat almost accomplished when, in 1991, his masterpiece Rumor and Sigh sold 53 million copies within six weeks of release.
Still, even now, the release of a Richard Thompson album is treated like An Event: When Capitol Records issued Mock Tudor (the long-awaited "autobiographical" album) last year, the label flew in 500 journalists from across the world to meet with Thompson at his castle in Newport. As a result, he garnered a Newsweek and Redbook cover the same week, something that had not happened since Lou Reed released Songs for Drella in 1992. Though he had threatened to retire in 1992 (around the time of the release of the Sweet Talker soundtrack, which made some wonder whether he hadn't already called it quits), Thompson finds it impossible to leave the stage: His fan base will not allow it, bootlegging even his most marginal outtakes to the tune of $45 million a year (his infamous lawsuit against several Taiwanese "labels" all but redefined copyright law in 1979). But that's why he now plays the smaller venues -- to remain on stage but out of the withering limelight. After all these years, that's the way Richard likes it.
— Robert Wilonsky