St. Petersburg, FL
February 27, 2000.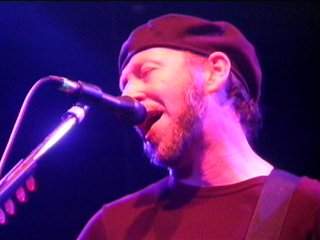 Here's my 2 cents
on the RTB at Jannus Landing in St. Petersburg, FL on February 27, 2000
The four piece was Richard Thompson (guitar, vocals) Danny Thompson (double bass) Michael Jerome (drums, percussion), Pete Zorn (everything else). The open air venue was the perfect setting for a beautiful Sunday night on the Gulf Coast of Florida...the courtyard of Jannus Landing was filled with a seemingly aged hippy demographic, with a few middle-aged frustrated guitarists scattered amonst.
And the set list...
Man In Need
Bathsheba Smiles
Two Faced Love
Hard on Me
Ghost in the Wind
She Twists the Knife
Uninhabited Man
Al Bowly's in Heaven
Sights and Sounds of London Town
Walking the Long Mile Home
Waltzings for Dreamers
Hamlet
I Want to See the Bright Lights Tonight
When the Spell is Broken
I Feel So Good
Tear Stained Letter
-1st encore-
Vincent Black Lightning
Crawl Back Under my Stone
Wall of Death
-2nd Encore-
I Misunderstood
Corksferry Queen
Razor Dance
I happened to be standing front and center, and I must say that the drums appeared to be quite loud in the mix. With the exception of DT's solo's (Hard on Me), his double bass was barely audible. But that is not to say that I was not impressed with MJ's playing...that boy was working! They were just a little too powerful.
Two highlights for me...1) Two Faced Love. The album cut had never really done it for me, but hearing it live gave me a new perspective on the tune. It cooks! The beauty of live music is that I find I'm able to discover new dimensions of songs that I once found to be dull or contrived...the live version really moved me, and I now have a new outlook on the tune. 2) PZ's baritone sax on "I want to see the Bright Lights Tonight"...It sounded so damn good, it gave me the chills.
Final thoughts... it goes without saying that RT's guitar playing is impressive (obvious understatement), but his vocals were right on the money all night. It must be frustrating for Ian Anderson of Jethro Tull (who is also into his 50's) who struggles to get through half a set of labored vocals, to know that RT is able to sustain perfect pitch and intensity for a 2 1/2 hour performance. It's amazing.
It was a great night, glad to have had the opportunity to be there.
Mike Stetter
Jfrosthc@aol.com
28 Feb 2000
---
I'm just back on the list
after a fairly long hiatus, so I hesitated sending a review since I figured everything had been gone over. Let me give it a try.
I can't give a proper setlist, but I do remember (not in order):
Man in Need
Bathsheba Smiles
She Twists the Knife Again
Razor Dance
Hard on Me
Ghosts in the Wind
Al Bowlly
Two-Faced love
Crawl Back
Uninhabited Man
Walking the Long Miles Home
Tear Stained Letter
52 VBL
Wall of Death
(Feel free to respond to any of the comments offlist as I'm sure everyone's heard it all).
The Jannus Landing show was outside in the courtyard on a fine Florida evening and the band seemed to be in fine form. Seemed like a larger crowd than the last time I saw him there--my god, it must be eight years anyway. There were few seats (my friend and I scored one of the few park benches scattered off to the side) and RT twitted the graying crowd on standing being good for the varicose veins. The sound was very good considering it was being bounced off the walls of the surrounding buildings; all the instruments came through quite clearly and it was very loud without being painful during or after the show.
The Man seemed inclined to play lots of guitar. Although I'm not much of a headbanger I've found myself craving more (much more) RT electric guitar than I get on the albums, and he really delivered. I never quite thought of "Bathsheba" and STTKA as guitar vehicles, but I sure do now. Overall I personally thought the electric numbers were more effective than the slow acoustic ones. Since it was a outside show, much of the crowd felt free to chat in groups or wander around during the songs, so that expectant hush that you get when he starts a quiet one never happened.
RT's fortunate to have a very versatile band; they can produce a wide variety of sounds and styles. For me the highlight of the show was an epic "Hard on Me." Now, it's been quite a while since I've heard a live rock band in full cry, but they sounded as hard as any band I've ever heard. Danny sounds just as good in rock mode as in his patented jazzy swing, Pete Zorn is of course a veritable one-man band, and Michael Jerome (is that spelled right?) also seemed very adaptable. (BTW, who is Jerome, and where, musically speaking, does he come from?) The electric dulcimer on Uninhabited Man is a sound that you just don't hear very much, and the arrangement was very effective.
I just happened to have gotten Daring Adventures on CD--it seems to have been OOP for some time--so I was surprised and pleased to hear "She Twists The Knife Again" in the setlist. What a back catalogue this man has! 52 VBL certainly has become quite the warhorse--it was the first encore number, and while it was fun, it came off a bit as "Let me play some flashy acoustic while the rest of the lads take a bathroom break."
I feel like the dunce who's been sleeping in class all these years, but as a stereo player only, I've never paid much attention to the guitar-techno-chat on the list. So when my guitar player friend wondered about the guitars, I was proud to be able to say that the blue one was a Ferrington (right?). But for one of the encores a roadie pulled out a beautiful brown and gold one--is this standard procedure, or might he have broken a string or something?
Overall a great show for a very enthusiastic crowd, well worth the 3 hour drive.
Rusty Witek
jwitek@stetson.edu