Tarrytown, NY
27 November 1999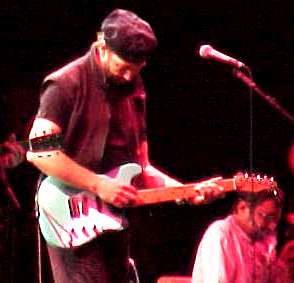 We did OH's Tarrytown gig
tonight, and it was typical of the tour - not quite as intimate or crisp as Portland, not quite as hurried or raw as the Beacon - but enchanting as always.
The venue was The Music Hall, a charming theatre built in 1885 for 800, and there may have been a few bodies shy of a sellout.
Even though there was an opener (didn't make it in time for Jeffrey Gaines, sorry, though RT acknowledged him twice to dutiful applause), the boys did the full show - 22 songs in 2:15 or so, including both three-song encores. Same songlist, same sequence, other than Heart Needs a Home (midshow) swapping places with Persuasion (moved to encore).
Only snag was the midrange, which wasn't the best - vocals were slightly muddy, though he was in good voice, and even the banter was hard to pick up. Moreover, the solos didn't crackle. You know how the HOM solo made your nerves jump and skin itch? Didn't do it for our group of 4, mostly because a lot of notes got lost. It could have been our placement (fifth row, just off stage left, on Teddy's side).
But no complaints, of course.
Wait, one complaint: We've seen him thrice this month, and we'd go again tomorrow at any price, but you can't help but wonder if he's as tired of the setlist as we are. How has he gone all these months playing the same 22 songs over and over and over?
Not that it has affected the band's enthusiasm, of course, but is there anyone out there who has seen RTB multiple times who agrees that a (slightly) different mix would have been nice for a change? We're all for playing the mighty nine from MT, but couldn't he have shuffled 10 or 12 in from the B-list once in a while? It's just nice to be surprised once in a while. It seemed everybody in the house knew what was coming next.
No Kenny G or Viagra jokes tonight. A few jabs at Danny's age, though. Altered the early banter a little, during the disclaimer about doing the new stuff before playing the "hits." This time, he picked the songlist off the floor, looked at it closely, and corrected himself. "Er…hit," he said. "Hit-let."
So at least that was tweaked a bit. But we still can't help but think that the tour - as great as it was, and we'll all miss it - would have had a different personality if he mixed things up a bit, while preserving the MT-9.
Idle thought: Now that the tour ends tomorrow, we've been thinking what the perfect RT setlist would be, keeping in mind that he's out there to promote MT. What 20-25 songs would you have him do if you had your choice, acoustic or electric?
Dan, sharpen your pencil on this, please.
Nelle & Dave
davedal@mindspring.com
11/28/99
---
I believe that RT is sticking
to the same set list night after night out of "age" (for lack of a better term) and a workman like respect for the craft. At this point in his career he may feel that he's spent years touring and enjoying the spontaneity of varying the set list between early and late gigs, or from show to show. Of course on previous (pre-1994) tours he and the band would play 1.5 hour shows with very few exceptions.
Now he's (like I said) older and his goal more than ever is to advance his career a bit. So each night he and the band perform their set. Like a lot of jobs, the work is most comfortable when it's covering familiar territory. Some nights it's a sleep walk, and some nights the whole band and audience get so inside the material that everyone manages to "lose their minds and dance forever."
Those are the shows we live for and the reason we'll see three shows to hopefully catch one that's completely over the top.
Jeff Soldau
lava@well.com
11/28/99
---
Nick Drake on TV
When I first saw the VW commercial I was mesmerized -- it's a powerful piece of film-making that smartly fuses haunting music and images. But I was and am dismayed by the commercial. For me (and many listmembers, I'd guess) the song has real emotional, personal resonance, and its commercialization feels like a theft or misappropriation of something personal to me. Thanks to that commercial, the song won't ever quite sound or mean the same to me. Fair play to the increasingly sophisticated advertisers (I have nothing against them), but it depresses me to think that nothing is sacred or safe from that kind of manipulative commercialization. The abuse of the music of baby boomer icons like the Beatles ("Come Together," "Revolution," and "Getting Better" for example) has always seemed sad but inevitable, but raiding Nick Drake just seems like the final straw. A few posts have expressed enthusiasm because the ad will spark interest in Nick Drake, but whether Nick Drake's mu(sic) acquires a broader audience is a matter of indifference to me. Same with RT -- I can't understand people who complain that he doesn't command mass attention, which is pretty much a stamp of mediocrity anyway.
Quick thoughts on the Tarrytown show:
Lovely venue, but not very good sound. Re setlist: I understand the need to keep the setlist fairly rigid, but most artists, even while retaining a basic setlist outline, manage to throw some curveballs into the mix, and even have placeholders for them in the set. The fact that the man has written so many masterpieces practically demands that he toss in something surprising.
I know this is sacrilege, and maybe it was because of the muddy sound mix and the fact that I went with my electric guitar-hating girlfriend to her first RT show, but I didn't think his electric guitar work was even close to the majesty of the Beacon show. It seemed much more pointlessly show-offy and shrill, and much less incisive, fluent and passionate, and the actual sound seemed overly trebly and thin. I also agree with those who think that MJ's flashy drumming in the middle of solos is a distraction and that Pete Zorn is a bit too prominent
Songs I most wish he'd drop: Tear Stained Letter, Walking the Long Miles Home, She Twists the Knife Again.
But this is like criticizing the Sistine Chapel for having a bit of cracked paint. It continues to amaze and delight me that you can (if you live in NYC) see an artist of that stature -- genius, really -- play show after outstanding show in obscure wee venues like the Tarrytown Music Hall.
Kirk Lipsey
KLIPSEY@debevoise.com
11/29/99
---
After all my bitching
about the Beacon, I'd be remiss if I didn't express my appreciation for the fine show last Saturday night in Tarrytown. Lise and I had begun the day on Broadway seeing the Sondheim revue "Putting It Together." I'm old-fashioned enough to still wear a jacket when I attend the theatre, so this was probably the dressiest I've ever been at an RT show. Yes, that was me in the black velvet sport coat with the red silk pocket square.
Had my moment in the spotlight while people were still, slowly, making their way to their seats (many didn't arrive until after the opening act). The CD they were using for pre-show music got stuck and played the same five-second phrase over and over. I saw some of the crew on the stage, where they evidently couldn't hear it, and yelled for Simon or someone to come out to the soundboard in the audience and fix it. I don't remember what Simon looks like, but he or someone did join me at the board and got the music moving again, for which we got a round of applause from the relieved audience. This helped to balance my annoyed discovery a few minutes before that once again there were no cat t-shirts to be had.
I'd been put out to see that there'd be an opening act, but Lise, who's actually a fan of Jeffrey Gaines and had seen him more than once at the Bottom Line, was pleased when she saw who it was. He played for exactly half an hour and showed some talent, though I thought his set could have used more variety. Unfortunately, some people in the row behind us would not stop talking loudly the whole time, even when Lise asked them politely to be quiet or go outside to talk. I guess these two had been out sick when whispering was covered in nursery school. The male half of he couple actually had the gall to walk around into our row (which was mostly empty at this point) and berate Lise for daring to ask them to show some respect for the artist. I'd always thought OH attracted a higher quality of fan than this. Lise was so upset and furious I'm afraid it rather spoiled the evening for her. A real shame, considering the quality and generosity of RT's performance.
Richard came on stage a little before nine and actually looked at his watch and appeared to be counting down to start exactly on the stroke of the hour. I had to interpret this as a reference back to the Beacon. The sound from where we sat (row K, far left side) was good, but not perfect. After the amazing solo in "Hard On Me," which got the song a mid-concert standing ovation, someone yelled out "Take that, Clapton!" and I was unable to make out RT's snappy comeback.
Teddy's voice is more conventionally attractive than Richard's and blends with it beautifully. I found myself wishing again that they'd planned more duets. Couldn't see MJ from were we sat, but he once again contributed some real propulsion. DT was hidden behind RT from our perspective, except during his solos, when RT stepped aside, but you don't sight to appreciate what he does. I was delighted that we got much more of MT than we had at the Beacon, I'd particularly wanted to hear WTLMH and CBUMS and got my wish. The rest of the set, as has already been reported, had sufficient old favorites to satisfy on that score as well. The main set ended at 10:45 and the two groups of encores took us to 11:17. Even though I was aware this meant we were missing the 11:12 train back to the City and would have a dull wait until the last one an hour later, I didn't mind a bit. I was more annoyed that once again there were no t-shirts! Here's hoping for more in the Spring!
Moshe Feder
moshe@dorsai.org
12/3/99
---
Richard Thompson, Saturday 11-27-1999
Music Hall, Tarrytown, NY
Observations, by Mark Orlandi
I took two friends who'd never heard of Richard Thompson to this show and he's now got two more in his army. The show was great, and I had no idea I'd be writing a review about it one week later.
It was a full house and one of the show organizers had managed to get a 1952 Vincent Black Lightning stage left at the front of the theater. RT of course commented on this later. The show and set list was typical of other shows on this tour. RT and band were tight, hot, and humorous. His playing and singing sounds as good as ever. And Danny Thompson simply swings. The show started with several songs from Mock Tudor all sounding great ("Hard on Me" was really nasty – in a good way). After that, they had a nice mix of favorites and a few other new ones thrown in to remind us how good the new release sounds. In all, I think he played nine of the twelve songs on Mock Tudor.
This was my third RT show and it was a great reminder of each of the two previous ones. The "full band sound" rocks. It's as fun as ever and has that "two letter words" sound down really well, and it's developed further. When not in full band form, RT was either solo and sounding great or he was in duet with son Teddy Thompson ala "celtschmerz". I first saw RT 10-31-96 on his "You, Me, Us?" tour and then on 10-30-97 on the to-be-released "celtschmerz" tour. This was like a hybrid of those shows with new material and with that in mind, I'd consider this the best of the three shows. Like fine wine, it just gets better…and I can't wait to see him again, and neither can my friends.
Band:
Richard Thompson: guitars, vocals
Danny Thompson: bass
Teddy Thompson: guitars, dulcimer, vocals
Pete Zorn: horns, mandolin, guitars, vocals
Michael Jerome: drums
Songlist (as close as I can remember)
Cooksferry Queen
Sibella
Bathsheba Smiles
Two-Faced Love
Hard On Me
Al Bowlley's In Heaven
I Want To See the Bright Lights Tonight
I Feel So Good
She Twists the Knife Again (not sure about this one)
When The Spell Is Broken
Razor Dance
Wall of Death
A Man in Need (not sure about this one)
Jennie
A Heart Needs a Home
Persuasion
Uninhabited Man
Walking the Long Miles Home
Sights And Sounds of London Town
Tear Stained Letter
1952 Vincent Black Lightning
Crawl Back (Under My Stone)
Notes.
Tarrytown's Music Hall is an older, intimate theater with a lot of character. It also has great acoustics as a number of artists have live releases from performances there (I'd have more details if I'd picked up some of this propaganda available at the entry to the theater).
The show opener was Jeffrey Gaines. My one memory was that he closed with a wonderful rendition of Peter Gabriel's "In Your Eyes".
I was so excited about how good this show was that the next day I made some cassette tapes for the two friends that I took to the show. The tapes were my recollection of the songs from the show. After making the tapes, I started wondering whether there might be a way of confirming the set list by checking on the net. Hence, I discovered: http://www.alphane.com/2leftfeet/index.html
Since I attended the 11-27-99 show and found the web site on 11-28-99, I was impressed to see reviews from recent shows, including the 11-22-99 show from Rochester, NY. Some one got the Rochester show posted in 6 days or less and I was further impressed. So I've been waiting for some one to post the Tarrytown review and 9 days later, nothing. I can't take it anymore, there must be a posting for 11-27-99. And now there is. And had I known about the web site, I'd have gone prepared, taken notes, picked up the propaganda about the theater, etc. Now I know…
Mark A Orlandi
nlite@frontiernet.net
12/5/99