Birchmere / Borders
28/29 November 1999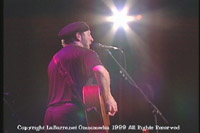 Birchmere Bulletin
Hab' moicy! The RTB was champing at the bit tonight! Didn't even get to Sergeant Pepper, let alone Billy Shears, when they stormed the stage. Imagine my surprise when Zorn hit the mandolin chords to CBUMS!! Now I'm not usually the sort of dweeb who keeps set lists during the concert-- typically I'm some other sort of dweeb altogether-- but I grabbed my pen at that point. Actually, I find that I filled the role rather comfortably. Follows herewith the setlist with minimal commentary on stuff that struck me along the way:
CBUMS
Bathsheba Smiles
Hard on Me (weighed in at 11:35, including spectacular DT bass solo)
Jennie My Love (RT re Zorn's bass flute: "It's bigger than JGalway ACTUALLY IS!-- little leprechaunish sort of fella, y'know")
Razor Dance (thought Jerome would spontaneously combust at any moment)
Al Bowlly (geez, what a great song-- "Not many rock concerts offer a slow foxtrot... Take your partners")
Uninhabited Man
Heart Needs a Home
SASOLT (with VBLish intro-- done as trio w/ DT and PZ-- fine version of
a less-than-favorite song)
WTLMH ("you don't have busses here, do you? We did this in Los Angeles and heads were scratching in incomprehension-- 'busses?'")
Cooksferry Queen
Sibella (scorching closing chord!)
Wall of Death (Zorn energized and in GREAT voice)
Tear-Stained Letter
Encore I:
52VBL
Feel So Good
Man in Need
Encore II:
Persuasion
She Twists the Knife
Two-Faced Love (Zorn chugging and churning on bari sax-- this performance really made the case for this song for me for the first time (is that enough 'fors?'))
A wonderful, totally satisfying show. Can't wait to hear others' reactions. For me it topped the Senator show, which itself was a delight.
Steve
My friend Chris, who has seen RT many times, but not for several years, said "What I got from this show was the realization of how much the man just LOVES playing!" He noted the almost child-like delight evident on OH's face anticipating, then realizing the finale of 2FL.
So, tomorrow's the freebie at Borders. Ho-hum. Another beautiful f***ing day in musical paradise.
Steve Garrison
steveg@toad.net
11/28/99
---
Hi, Steve! Missed you tonight!
> Razor Dance (thought Jerome would spontaneously combust at any moment)
Overall, Jerome seemed less obviously emotive to me tonight than in the last, er, 9 concerts I've seen on this tour. Yet his playing wasn't subdued--it was still very strong. Maybe he toned it down a wee bit; I'm not sure.
> Al Bowlly (geez, what a great song-- "Not many rock concerts offer a slow foxtrot... Take your partners")
Richard kept urging people to come up and dance, saying "It's allowed. You have license." A guy at my table called out, "Does anyone ever take you up on that?" Richard fixed him with that withering grimace-grin (grinace?) and replied, "Sir, are you insinuating that I'm not spontaneous? Do you think I make this remark every night?"
> SASOLT (with VBLish intro-- done as trio w/ DT and PZ-- fine version of a less-than-favorite song)
Richard: "You can sing along if you want. Yes, you're allowed. In Japan we always have to give the audience permission to enjoy themselves. And they do!"
> Two-Faced Love (Zorn chugging and churning on bari sax-- this performance really made the case for this song for me for the first time (is that enough 'fors?'))
I'd missed this one and was thrilled to hear it at the end of the show. Richard's vocals were especially passionate. Actually, I felt that way about all of his vocals tonight--like he was rediscovering the songs, singing them in a new way, and unselfconsciously enjoying what he was discovering as he played around with them. Taking chances well beyond his means, perhaps.
>So, tomorrow's the freebie at Borders. Ho-hum. Another beautiful f***ing day in musical paradise.
Hey, watch your language on the listserv! (Or you'll catch a lot of s**t for it.)
P*m
pmw@annapurna.com
11/28/99
---
The Richard fest has ended
As I drag myself back into work.....
The morning after! I need to reflect on the last 24 hours and let you, who understand why we do these things, weigh in on the subject at hand. The subject of course is RT. And the events comprise back to back RTB shows at the Birchmere with an in-store at Borders books sandwiched in between. The task, could we run the RT marathon? I am proud to say YES! This is the only marathon I will probably ever finish and say so with a big smile on my face. The shows were absolutely divine. Setlists contained the same songs both nights but the running order was changed to keep things fresh. Each night had different gems that shone brightly. One night would be the transcendent soloing on tear stained letter, the next was the stretch-it-out and add more wrinkles to a set ending two faced love. Each night hard on me made the audience gasp and then stop silently at the end of the song before erupting in torrid waves of adulation. Richard and band haven't sounded so good on the road in many years. These shows rank up with my favorite and first RT band show (the now famous Nov. '88 Bayou shows). The real icing to this 24 hours madness was the in-store appearance.
Richard was kind enough to arrive and try to play songs at noon (i'm not convinced he was awake) in a book store. He played solo acoustic with a real kicker at the end. setlist as follows:
Bathsheba Smiles
Uninhabited Man
Beeswing
Keep Your Distance
Mr. Rebound (sp?)
I was totally floored when he decided after the first two songs to take requests. Of course he decided after two songs that he would take his own request for the last song. Don't know if he has played this live at other in-stores (still way behind on my digests) but it sounded great. RT stayed around for autograph seekers, free posters and the mountain stage live cds were given out. Pam W. won a signed lithograph. Saw lots of the same traveling RT family. Want to say thanks for all the fun and good conversations to the following: Pam Winters, Irene and Bill Henry, David Bayne, Scott Miller, Linda Kohn, Jeff Trice, my good friend Sean Prosser for running the whole RT marathon with me, Simon T. for taking the pictures, and of course RT and band for keeping us all together and entertained. As I approached Richard after last nights performance to humbly ask for another autograph he looked at my pathetic life and just muttered "oh, you again?"!
The whole thing was way to much fun! Thanks again to Richard for his gift and his willingness to share it with us. Till the next time...
Cheers, Barry
ps... rumors are they may be back on the east coast in Feb. 2000. How can we be this lucky? Sorry for any names I missed. Jeffrey Lindholm, how did I manage to not run into you?
barry beiseigel
bbeiseig@nafis.fp.trw.com
11/30/99
---
Borders appearance
Steve Garrison was good enough to keep a set list on Sunday. (Steve, was it you who I had the nice time chatting with, outside, chilly, trying to sell our extra tickets?) I have only one addition to the set RTB played on 11/28:
CBUMS
Bathsheba Smiles
insert -> Bright Lights Tonight
Hard on Me (weighed in at 11:35, including spectacular DT bass solo)
etc ....
Since nobody has yet (that I've seen) reported on RT's appearance at the local actually, one of the many local) Border's, I'll at least fill in what songs he played. All solo acoustic.
Bathsheba Smiles
Uninhabited Man ( Introduced with "This one's for Brian Wilson")
Beeswing (by request)
Keep Your Distance (I'm pretty sure... but my memory's a little hazy)
Mister Rebound. RT introduced this as his choice, as lots of people were shouting out various requests. He explained that it's one of the bonus tracks on the vinyl version of MT (he surmised that we all have it already -- I wish!). That was it for the mini set. It was well attended, lots of the same faces we see at RT's DC-area shows, and lots of folks in from work sporting the standard issue look of a government worker (ie., an id card hangin on a chain around one's neck. For the record, that's not how I wear mine ;-) ), since there are many government agencies with offices nearby, and metro close, too. I didn't stick around for the meet'n'greet, as I didn't have anything worthy of asking for a signature, and besides, it was a long queue. Maybe someone else can fill in whether they were able to ask about tour plans for 2000 or anything else we can all look forward to.
The Birchmere last night was great, but I'll assume that it's already been covered and I just haven't gotten that current digest.
Thanks to RT and crew for some great shows!
Deegan.Dave@epamail.epa.gov
11/30/99
---
Friends,
I am passing along to you an email I received from a buddy who I convinced to go to the Birchmere show last night. Danny had very little exposure to OH before the show. Here are his thoughts on last night:
****
Phenomenal. Brief moment of panic at the beginning: the guy on the phone the other day told me they'd open the doors at 7:30, when in fact RT _started_ at 7:30. Luckily, I only missed the intro/possible first song and since it was at the Birchmere, we ended up with a fine seat (about where we sat with Diana and her friend for McMurtry the other year). I walked in on Bathsheba Smiles. Here's what followed:
Bathsheba Smiles
I Want To See The Bright Lights Tonight
Hard On Me (you're right about the soloing)
Jenny My Love (beautiful)
Razor Dance
Uninhabited Man
Al Bowlly's in Heaven (completely original -- wonderful)
Heart Needs a Home (?) (duet w/son -- great)
Sights and Sounds of London Town
Walking the Long Miles Home
Cooksferry Queen (I love this one)
Sibella
Let Me Ride/Take My Chances (?)[eds note: What was this song?]
Tear Stained Letter
First Encore (yes, that's _first_)
1952 VBL
Feel So Good
Man in Need
Second Encore
Persuasion (father & son acoustic -- amazing)
She Twists the Knife Again (last two w/full band)
Crawl Back Under My Stone
Usually, I cringe when I hear a performance of any kind called a "tour de force," but in this case it's apt. His kid, by the way is also terrific. Their duets were highlights. The band was truly solid, and everyone had at least one fantastic solo. I bought Two Letter Words after the show. One of the best shows I've ever seen.
Although they clearly have very different styles, RT made me wish that Clapton had followed a similar career path. As terrific as he his, it'd be great if he had stuck to his roots and still played venues like the Birchmere. Tough, I suppose, given the degree of attention that his early career generated, but oh well.
******
I think we have another convert.
Scott L. Watson
Northwestern University, Evanston, IL. USA
s-watson3@nwu.edu
---
Jolly nights at the Birchmere
"Stay a while!" someone shouted after one of the encores at RT's sold-out Sunday show at the Birchmere. OH responded that he'd already played there in October and was coming back the following night. Clearly pleased, he said, "Alexandria (Virginia) must be the nicest place in the world." And for two November nights, it was---a place of electric (and acoustic) ecstasy.
He shook the order of the setlist up a bit, closing on Sunday with a fierce "Two-Faced Love" and opening with the same song on Monday. The level of energy the band hit the stage with on both nights was extraordinary---like that of an encore. Folk-rock luminaries John Jennings (fresh from the Mary Chapin Carpenter band Irish tour) and Jennifer Cutting (songwriter/producer, former bandleader of the New St. George) were clearly awestruck by Sunday's show.
Early on Monday evening, RT asked how many in the audience had been there the previous night. A good number of us clapped, and he queried: "Was there something you didn't understand?" and "Well, as long as we've got your money, that's all we care about." Mentioning the CD, he said, "I hate selling, but...", someone yelled, "Then give it away!", and he replied, "I hate selling, but not as much as giving it away." This became a bit of a running gag.
The pinups spotted on Teddy's guitar were revealed to be of Britney Spears, as Teddy held up a promo poster of his "muse" and his father congratulated him on this wholesome influence. There was a bit of inter-Thompsonian banter I didn't quite catch.
Introducing Danny: "He's played with the legends: Donovan, Pentangle, Nick Drake, [a pause--I shouted: "John Martyn!"], John Martyn..." Did RT also say "Everything But the Girl"?
On an early request for VBL52: "Is that one of mine?" Raising his hand to his forehead: "So many classics!"
Introducing Al Bowlly: "Lots of groups, like Guns'n'Roses, TLC, have been sneaking foxtrots into their sets. But we were the first!"
OH flubbed the intro to "A Heart Needs A Home" and announced, before restarting: "Just in case someone's recording a bootleg, I wouldn't want that to go out, OK?"
Introducing "Sights and Sounds": "Here's a really crappy song about a side of London they don't show you in the glossy brochures, where the hotel rooms are 6 x 2 and breakfast is a hard continental roll." He encouraged the audience to join in on "a good old-fashioned hootenanny," and got a respectable crowd rendition of the chorus. The audience also later joined in on "Tear-Stained Letter."
After "Uninhabited Man": "We're the only band to have an Appalachian dulcimer roadie. That doesn't mean that he's from Appalachia, though."
Leading into "Walking the Long Miles Home": "I'm one of the last people in the industrialized world to grow up in a noncar environment. This one has a ripping chorus. Have I got you in the mood for a walking song?---not marching! Don't mention the war!" It was clearly a tag reference; someone in the audience shouted "Fawlty Towers." But RT mentioned "the James Last show" (?) with "Fritz von Krugelheim and his fantastic aging dancers doing flabby steps---in their minds the audience would be marching to it. Look out, Poland!" (this last followed by a goosestep, a la John Cleese!). I've probably garbled this show reference---I'd appreciate any enlightenment from the UK.
PZ did a nice pennywhistle solo on WTLMH, and Danny got two great solo spots on other songs. The band seemed to be enjoying themselves enormously at the Birchmere. Danny took a snapshot of the crowd during the final number. At the very end, RT on his knee waved a white towel to direct the exuberant standing ovation to incredible drummer Mike Jerome, and moved on to PZ and DT. Then, on his feet, when RT got to Teddy, son signaled that father should likewise kneel before him, which RT good-humoredly did.
The entire club seemed to levitate with the solos for "Hard on Me," but there were fierce guitar excursions on such songs as CBUMS and 2FL as well. When RT reaches that transcendent state on electric guitar, you can feel the audience become one intense focused consciousness.
After 30 years of ardent fandom, I finally met the great man in the fan line after the Monday show--he was quite friendly, and even remembered the St. Pancras Town Hall show of 1972. I bought "Celtschmerz" at the gig, got home (thanks again for the lift, Pam) and proceeded to play "Persuasion" about 20 times: total musical addiction, I didn't want to let the concert magic go. But that recorded version is too fast---I have to slow it down in my mind to match the slow, aching, beautiful and clearer version that RT and Teddy do now.
It was great to see all of you in the Thompson "family." RT seems to feel right at home at the Birchmere, and we in the DC area hope that he comes back "home" many, many times (there are already rumors of spring!).
Scott Miller
smiller@aaas.org
11/30/99
---
RT marathon
What Barry Beiseigel said -- I echo and more...what a phenomenal 48 hours this was in DC!!
The ragged energy I saw back in the summer in Pontiac is now refined and intensified, like the steel in a Toledo blade. I didn't time the "Hard On Me" from the Monday show but it seemed to go forever. Thought Mike Jerome was going to have a stroke there for a bit
Several memories from this marathon...
RT's acoustic guitar waiting its turn on the stand, tartan strap twitching and fluttering on its own from the drumkit vibrations
The little (maybe 6 yrs old) boy at Borders who watched RT with wide wide eyes RT Pictionary -- draw the title of a song, see if anyone guesses what it is (much less play it, right, Pam?)
All the wonderful internal byplay among the band - these guys have so much fun, esp. at the final curtain call on Monday, with RT genuflecting before his son - who'd displayed his new Brittany (sp?) poster to all RT fortune cookies served with a generous helping of albatross soup
The shadow of Victoria and Danny on the wall
Pete Zorn playing anything that comes to hand leaning over as if he were walking into a stiff breeze
Mike Jerome physically dragging Danny Thompson back on stage for an encore RT pretending to beat me soundly about the head and shoulders when he found I had Pete Zorn's setlist, but signing it anyway
Asking if the "Appalachian dulcimer roadie" was Nigel or Malcom and eliciting the puzzled response "Nigel? Malcolm? What??" from RT onstage. Lots of neat prizes - "Mountain Stage" compilations, Pam's lithograph, the posters some of us were able to abstract from the Borders' windows, but most of all the welcome and the grand hospitality of all you DC listers -- Pam, Barry, Linda (great cookies!), Sean, Bruce, Scott, Tony...sorry if I've forgotten any names! Most especially David Baime, without whom my husband Bill and I wouldn't have had our date! If you ever come out to the wilds of Michigan, ring up. Sorry if this is incoherent, I made it back the 604.5 miles in 10.5 hours and am *wired*. Thanks again to all!!!
Irene Henry (and Bill from the graveyard)
IJH.WRH@worldnet.att.net
11/30/99
---
Tunings and Professionalism
I felt for the guys at Borders. I was there early, and they were clearly very proud of their sound system... and it did sound very good, ultimately. But when Simon got there and took charge it was clear that there was a significant gap between what was set up and what ST is accustomed to working with (including a graphic equalizer, and speaker stands, and other things that went whizzing over my head). He noted politely that their set-up was out of phase, and corrected that, and really was NOT an arrogant jerk about things, but as Irene has noted went into a flurry of activity to pull the sound together as best he could.
Perhaps that "gap" in perceptions and expectations has something to do with "professionalism".
Steve Garrison
steveg@toad.net
12/1/99