Keswick - Glenside, PA - 20 Nov 1999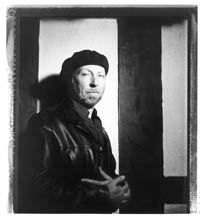 At the risk of ruining
a great thing I wish to report that the Keswick Theater in Glenside, PA is a jewel of a hall. I'm guessing it holds no more than 800 to 1,000 persons and has reasonably comfortable reclining seats. Perfect sightlines, no balcony and the acoustics are phenomenally good. The only drawback is that their bar set up (and thank you for having one) consists of a folding table or two in the lobby area at the rear of the hall separated from the hall proper by a glass partition that does not extend to the ceiling. Any conversation in this area is clearly heard at the rear of the hall and mid-to-front of the hall if boisterous enough.
Sitting in row X this was not a problem during RT's set, but during Patti Griffin's opener it was QUITE the problem. So much, in fact, that the wife and I chose to silently join the crowd at the bar. Despite this niggling complaint, being less than 2 car hours from NYC I think I've found a venue that I will visit often. (The African-Cuban All-stars are playing there in March . . .)
I've been a follower of RT for nearly 30 years ("Unhalfbricking" was my initiation) but have only seen him 4 times, including this show: twice electric (my first show was on the Big Band tour at the dreaded Beacon) and twice acoustic (the first being a free appearance in Central Park where the encore was an incendiary rendition of P. Townsend's "Substitute" that left us agog). I am an operatic basso who performed professionally for 20 years before burning out trying to earn a decent living. I'm now on R&R.
Regardless, I trust my credentials allow me to speak. With the exception that "Persuasion" was moved from the set proper to the encores, which began with "Beeswing", the set list provided no surprises.
Beeswing may have been switched with "A Heart Needs A Home" but at this late date I'm not positive. OH was probably having a pretty good time 'cause he treated us to eight encores, I think. Personally, this show is one of the top three musical experiences of my life as an audience member, right up there with Pavarotti's American recital debut ('73) and great seats for Dylan/Dead at Giant's Stadium ('87) where Jerry played pedal steel on "Tomorrow is a Long Time", something I thought I'd never witness.
The thing that struck me most is RT's command of vocal nuance; it doesn't come across with the same impact on the studio releases. He is either a very canny self-trained singer or has had some good coaching because I heard things at the Keswick that I am only used to hearing in the recital hall: superb breath control, the softening and recasting of consonants in the upper register to avoid vocal strain, a very serviceable legato and a stunning communicative ability. I know many an opera singer who should phrase as well as RT. His programming also appeared designed to minimize vocal fatigue. OH's performance was so professional that I felt at times I was witnessing a first class recital. Which, in effect, I was. Certainly the audience was as rapt as any I've seen, particularly through the acoustic numbers and especially "Persuasion". This is not to suggest that the audience was uncommunicative because it certainly was not. There were sufficient hoots and hollers and artist/audience banter to warm the heart of this former Deadhead. At the conclusion of HOM one audience member was heard to paraphrase John Lennon, calling out "I've got blisters on me brain!" And I agreed.
This was my first opportunity to hear Danny Thompson in person. I purchased "Solomon's Seal" when it first came out and it still resides in my LP collection in near mint condition. (Not because it has not been played; I just learned early on how to take care of vinyl.) Although his intonation wavered at times one must remember it's a mean beast he's playing. I know. I had to play something in my college orchestra so I chose the string bass. What I couldn't play I hummed instead. I want to hear him again.
I was tickled by the fact that DT's stage appearance with instrument resembled the wonderful character of Death in the movie Bill and Ted's Bogus Adventure. ("You may be a king or just a street sweeper, but sooner or later you'll dance with the Reaper".) This was a little eerie given his brush with same a few years ago and I choose to believe it was a conscious decision; an indication of the man's sense of humor (or perhaps the character was modeled after DT?). Regardless, long may he play.
I liked Pete Zorn. Some have said they believe he is not accomplished enough to play with RT, but if OH likes him, so what? As virtually everyone pales in comparison to RT's virtuosity, I don't consider this a valid gripe. Versatile he is, and personally I relished the opportunity to hear a bass flute in person. How often does one get to do that? I thought his contributions were spot on all night.
Teddy. As eerie as I found DT's appearance, the hints of both RT and LT in TTs voice was eerier still. His opening phrase in "A Heart Needs a Home" was so similar in timbre to his mother's it gave me chills. And then, in "Persuasion", the subtle lack of focus in his voice combined with the mature point of RT's to sound virtually as one. Again, it was goose bump time and you could have heard a pin drop as the audience held its collective breath at the song's conclusion. I'll put this tune right up there with "Dimming of the Day" as one of RT's finest, and thank you Tim Finn. You know I had to buy the CD.
Michael Jerome? Stunning! Although he tended to too obviously push the beat on some occasions his work was much fuller than Dave Mattacks's (who, IMHO is a superb time keeper on a par with Charlie Watts). We were able to check this in the car on the way home as I'd also bought the "Two Letter Words" CD. Both are very accomplished musicians but, having been a Deadhead, I am especially attuned to the sound of two men drumming and MJ comes closer to this than DM. It's just a personal preference.
Should I ever have the opportunity to do another recital I'm thinking an evening of RT, Randy Newman and Hunter/Garcia for basso and piano would make a lovely program. I can't think of a greater tribute to these musicians than to want to perform their music.
Paul Schmidt
PSchmidt@Cravath.com
12/8/99