Nashville - 3 October 1999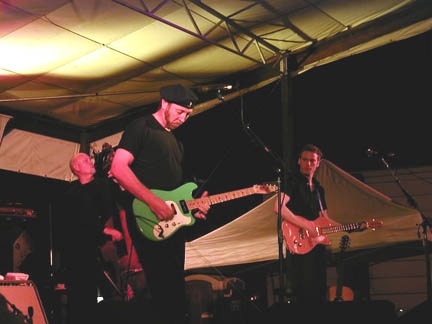 Back from 3rd & Lindsley,
Entire show broadcast!!!! Here's the setlist:

Cookesferry Queen
Sibella
Bathsheba Smiles
Two-Faced Love
Hard on Me
Jennie (!!! YES!)
She Twists the Knife Again
Uninhabited Man
Al Bowlly's in Heaven
Persuasion
Sights & Sounds of London Town
Walking the Long Miles Home
I Want To See the Bright Lights Tonight
When the Spell Is Broken
I Feel So Good
Tear-Stained Letter
------
52 Vincent Black Lightning
Crawl Back (Under My Stone)
A Man in Need
A second encore of "Wall of Death" and "Razor Dance" was on the setlist but not played.
Moment when the uninitiated gave the friends who had dragged them to the show that "I finally get it!" look: first solo of "Hard on Me"
Best RT solo: the brief first one in "Bright Lights"
Most sizzling song: "I Feel So Good"
MVP: Mike Jerome, who keeps up the energy level better than any RT drummer I've ever seen. And I *like* Dave Mattacks, mind you.
Did Teddy saying "fuck" go out on the broadcast? I sure hope so!
I could just be flush with excitement and all, but not only is Mike Jerome everything people have said he is, but the Pete Zorn/Teddy Thompson duo on backing vocals is just *superb*, dare I suggest even better than live Clive & Christine?
More details if I can recover before *Wednesday's* show! Five years between Nashville shows, but this week will help make up for it. See everyone outside at 20th & Division on Wednesday?
later,
Miles Goosens
outdoorminer@mindspring.com
---
Just wanted to let everyone know
that I went to the show at 3rd and Linsdley in Nashville on Sunday and it was fantastic! I will be going to the Uptown Mix show also this Wednesday and hopefully get a chance to meet Richard this time. After Sunday's show I went straight to the door behind the stage, which leads outside and there he was! I was literally 5 feet away from him, but was cut off by some girl who obviously got Richard's attention before I did. Wednesday will be a different story!The setlist was amazing, I was really pleased with the version of Persuasion that RT and Teddy did together, very beautiful. Plenty of tunes from the new record and a nice selection of old favorites made for a very pleasing evening and I can't wait to have it happen all over again. I am hoping since it will be the second show here in the same town that the setlist will be a little different, but if not, it will still be awesome!
cheers,
---
Here goes,
direct from the Nashville "Uptown Mix" festival:
Cooksferry Queen
Bathsheba Smiles
Two-Faced Love
Hard on Me
Jennie
She Twists the Knife Again
Uninhabited Man
Al Bowlly's in Heaven
Persuasion
Sights & Sounds of London Town
Walking the Long Miles Home
I Want To See the Bright Lights Tonight
When the Spell Is Broken
I Feel So Good
Tear-Stained Letter
------
52 Vincent Black Lightning
Crawl Back (Under My Stone)
A Man in Need
------
Wall of Death
Razor Dance
Perceptive souls will notice only two differences setlist-wise between the Sunday show at 3rd & Lindsley and this one: "Sibella" wasn't played tonight, and the second set of encores, on Sunday's setlist but not played then, made it into tonight's show.
Tonight's gig was notably compressed, perhaps because the opening performers ran too long. Since the event has to end at 11 PM ("Uptown Mix" is an outdoor show in a mixed business/residential area between Vanderbilt University and Music Row), my guess is that RT had to do some chopping, especially since he may have wanted to get in the previously-omitted-in-Nashville final encores. There was very little in the way of stage banter and song introductions, "Sibella" was dropped entirely, and "Tear-Stained Letter" had a noticeably shorter sing-along. By doing all this, they fit the normal 2 hr. 15 min. show into a mere 1:45 or so.
While Melissa had just as great of a time tonight, I was a bit disappointed. While the band played fine, and I would probably have been pleased had I not seen Sunday's show, it just didn't have that extra something that Sunday's show had in spades. I think quickly moving from song to song had something to do with that -- while the band didn't rush through any numbers, the absence of banter gave the show a colder business-like feel, rather than the looser fun of Sunday's set. And Teddy didn't even get to say "fuck" tonight! ;-)
And while it's a great setlist, I was really hoping that there'd be significant changes in it since RT had just played here three days ago. Unlike other RT-listers, this isn't a major issue with me, but there was something disheartening about being able to write down the next song on my notepad even before they played a note of it.
Miscellaneous observations follow.
Best Solo: Tie between the short ones in "She Twists the Knife Again" and "When the Spell Is Broken."
I Hate People Dept.: The pair of guys to my right who apparently hadn't seen each other in ages. They did talk about the show and seemed to be having a great time, but I don't know how they knew anything about what was going on onstage because THEY DIDN'T STOP YAPPING DURING THE ENTIRE SHOW. Not even after a half-dozen dirty looks from me. Strangely, neither of them appeared to be the usual Nashville talking-during-show suspects: VandyKids, Music Industry Weasels, or Business Weasels.
Emily Litella Dept.: There were two yappers behind me before the aforementioned guys ran into each other, and these guys could be positively identified as Music Industry Weasels. One was telling the other about how he owned and liked an RT album, SHOOTING OUT THE STARS, and how RT had played here in Nashville on FRIDAY and SATURDAY night. Wonder if during the encore, he was singing "Let me ride on the waterbed..."?
Pete Zorn: I wonder if someone relayed the list's bizarre outpouring of Zorn criticism to him, because at both Nashville shows he played and sang with tremendous passion. Tonight his vocals particularly shone on "When the Spell Is Broken" and "A Man in Need."
"Jennie": Not sure if I like the bass flute solos, though they do give my favorite RT song a new twist. I still think one of the keys to "Jennie" is to keep it spare and centered around the hypnotic bass-and-drum hook that's at the heart of the song.
"Persuasion": Especially sweet-sounding tonight; the words may be Tim Finn's, but Teddy and Richard own this one now, to my ears anyway.
Fashion: All band members in all black.
Opening Acts: David Wilcox did the usual solo acoustic singer-songwriter strummin' navel-gazin' thing. Lots of people seemed to like it, but I'd recommend it only for fans of James Taylor. David Mead, formerly of Joe, Marc's Brother, delivered up very tasty power pop, and despite poor pacing (there were something like four slow ones in a row in the middle of his set), was easily the best opening act of RT's Nashville stand.
Celebrity sightings:
1) Notable axeman in his own right Adrian Belew, with small daughter, at South Street (one of the sponsoring restaurants) before the gig. Melissa and I were still waiting outside to be called for our table when I spotted him coming down the street, so I whispered "there's Adrian Belew!" to her. Ade and child stepped into the restaurant briefly, then walked past us on down 20th, and I could swear that Adrian said to his child "they recognized us." !!! Geez, did I have on my stalker outfit or something? Wasn't like I waylaid him, demanded forty autographs, and told him that only *I* know that if you play "When I Say Stop, Continue" backwards there's a secret erotic narrative about Al Gore...
2) Notable Nashville popster and ubiquitous concert-goer Bill Lloyd, who I think was also in attendance at Sunday's show.
3) Up 'n' coming Josh Rouse, whose debut album from '98, DRESSED UP LIKE NEBRASKA, seems like an RT-list natural.
Only in Nashville Dept.: At Sunday's show, a man not connected with the club came by our table right before RT went on and asked us to give up a seat "for an important singer-songwriter who's here and needs a table." I can't recall the name he mentioned now -- it was a woman, and it wasn't Kim Richey, but it was close -- but he'd damn well better have had a resurrected Hank Williams Sr. in tow before I was gonna give up my seat at my first RT gig in five years!
Caveat: This is still a great band playing a great show, and quibbles tonight were just that -- quibbles. If he were playing the same setlist here tomorrow night, I'd go see the show again.
sleep? what's that?,
Miles Goosens
outdoorminer@mindspring.com
---
I suspect that woman
would have been the wonderful Allison Moorer whom I saw standing at the back. Personally, I'd have given up a seat for her and I can top your story. We arrived at 5:15, 45 minutes before the doors opened. After standing in line, we ran upstairs to the small balcony... good view, less crowded and not directly in front of any speakers. The opening act (another story altogether!) started at 7:30. At 8:15, three hours after we arrived and two hours after the door opened, local TV news anchor/teleprompter-reader Dimitria Kalodimos (for non-Nashvillians, think of an older, less-desirable Nicole Kidman in "To Die For") and two of her girlfriends arrived. While many non-"celebrities" had been standing for the entire evening, the news bitch and her friends were escorted to the balcony where four tables of people were asked to rearrange themselves to accommodate this douchbag. I told Renee that if we were asked to move we were going to flatly refuse as I am not nearly as impressed with this "celebrity" as the serving staff seemed to be. Anyway, she and her very very chatty chain-smoking friends wound up in the space between our table and the one next to us. When the opening act finished, Renee and I stood up to stretch and allow the blood to flow back into our backsides. One of Ms. K's entourage noticed us standing and, with a big toothy expectant grin, asked, "Oooo! Are you leaving?!?!" I gave her a big toothy grin back and said, "Why, no we're not!" She got the message and they kept their distance the rest of the night. Meanwhile John Prine had to stand outside, but did get invited onto the bus to meet RT after the show.
PS - Five years, Miles?!?! Jeez, I could have given you a ride to Chattanooga last spring!
Scott E. Smith
scottesmith@home.com