Chicago - Park West - 25 September 1999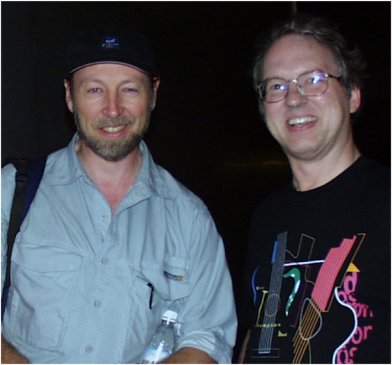 I am just back from RTB's show
at the Park West theatre in Chicago. If there were any fears of a mid-tour slump, they should be put to rest. The whole band was absolutely on fire! The set list was as has been described previously, with the first 5 numbers of MT leading off. HOM was absolutely blistering. RT soloed for 10 (?) minutes, with MJ looking almost as impressive on the skins. In fact, all night MJ was overwhelming-- as people were filing out after the show I heard a number of remarks about the outstanding work he did. A friend remarked that the way MJ flailed his arms reminded him of "Animal"-- the drummer from the Muppets.
Other highlights included a great Tear-Stained Letter, with some fantastic work on the sax from Pete Zorn. PZ was simply outstanding all night. (My buddy remarked that PZ could play anything, including, "a f***ing chair"). After Pete's solo in Al Bowlly, DT was smiling and gesturing at him-- clearly impressed. The whole band, RT included, seemed to be having a great time, and RT and TT added an unscheduled number to the second encore--A Heart Needs a Home.
At one point, predictably, someone in the audience yelled out "Freebird" to which RT responded': "Oh my God, they've jailed Charlie Parker again." He then launched into some (made-up?) song about suicide (I think) where the chorus was "free as a bird" before cutting into the next number. Maybe our recent discussion of the "Freebird" phenomenon made its way to RT-- he certainly seemed prepared.
Anyways, I am off to bed, and I sure someone else will post a more complete review. I have to say, I have seen RT 7 times now, and this was his best performance yet. Those of you with tickets to upcoming shows have much to look forward to.
Good Night all.
Scott L. Watson
Northwestern University, Evanston, IL. USA
s-watson3@nwu.edu
---
OH is having a good good time right now.
He spent the afternoon in our fine city giving an hour-long guitar/songwriting workshop at the Old Town School of Folk Music and the evening tearing up the stage at the 1,100 seat Park West nightclub. I couldn't go to the afternoon workshop (it was only $10 and my friend told me that there were only 70 people there-the theater could have fit another 200 or so; don't we all wish we were there?), but my friend said that RT was in his usual self-effacing humor, and sang three songs: "uninhabited man," "walking the long miles home," and "sights and sounds of London town." He was going to sing "Beeswing" but he and the audience got into a discussion about something and he didn't have time. My friend didn't glean any life-changing insights from the workshop, but he did say that RT seemed to be having a great time and that the fans in attendance behaved themselves nicely. (I would be interested to hear from anybody on the list who attended this workshop.)
That evening-Started professionally but solidly, first five songs from MT, and really caught fire with a positively tortured solo on "Hard on Me." RT seemed to leave us for awhile during his solos, and when he returned after the song ended he seemed dazed for a few seconds. Probably some of the most powerful fret work I've seen him do to date.
From there, pretty much the same set he did in Chicago in June. He actually felt the need to give a fairly lengthy set-up to "Al Bowly" as if 95% of the audience there a) don't know the history of this song and b) didn't expect that he was going to play it, probably maybe even in the sequence he played it in. My wife and I decided that it's kind of awkward but charming that RT is still reaching for a larger audience.
What's interesting for me as an RT-obsessive is how much fun RT seems to have playing the same set night after night. (Is he such a creature of habit that he just needs the same set list?) His band enjoys it too; Michael his new drummer played the hell out of his drums and made creative use of brush sticks on some numbers. Pete Zorn walks around stage like a high school music teacher who's just won the lotto, and it's a treat to watch him sing back-up on these songs-he really gives them his all. DT played some terrific bass solos and did oodles of "you the man!" pointing at RT before and after solos. And Teddy-his pre-Raphaelite curls and stoic melodic voice brightened the stage. Lots of smiling and friendly stage vibes. I wonder what the running gags are on the tour bus...
A few nice additions that brightened things up: "Feel So Good," "Bright Lights," (can't remember if he played this here in June), "VBL," "A Heart Needs a Home." This last one was particularly moving, Teddy and his dad onstage alone together, reprising one of the best songs from Linda's era with RT. Add to the beautiful stage picture the fact that my wife and I danced to this song as our first wedding dance, and well, you know...bliss bliss bliss. Another installment of OH having a good time doing his job. He loves the reception he gets in Chicago and comes here so often it feels like catching up with a musical friend. I love "checking in" with him and I especially love the oomph that a new drummer and Teddy give the proceedings, but I am starting to become an RT fan who just wants him to play songs that allow him to stretch out on electric. I know "SOTL" has probably been played to death and "Hard on Me" is there to replace it, but I still miss the crunch chords of "SOTL." I wish that he would reprise a "Can't Win," "Calvary Cross," "Night Comes In," "Way That it Shows," "Bank Vault in Heaven," anything to encourage him to enter that transcendent, somewhat scary space that he entered during "Hard on Me" last night. But hey that's just me, and I promise not to yell any of these songs out as requests at his next visit.
One more thing: by and large, a very well-behaved and respectful crowd last night. Many times with both RT and able opener Dave Alvin where there was complete silence. Other times the crowd Kinda rare these days at shows in Chicago, but a testament to the essentially cool nature of most of us "amateur critics," I guess.
m.kelly
chicago IL
MStokeK@aol.com
---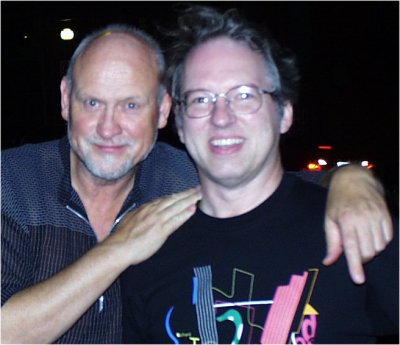 Several of us Chicagoans had the distinct pleasure
of enjoying a double dose of Our Hero this past Saturday. In addition to the Park West concert, RT blessed us with an afternoon session at the Old Town School of Folk Music. The event was billed as a song writers workshop, but was pretty much a free-form audience Q&A session with a few songs interspersed throughout the program. Of the songs covered, the highlight was a fascinating take on "Uninhabited Man". I had previously heard this only in a band setting, but the solo arrangement was nothing short of incredible, with RT rolling all the pieces - dulcimer, bass, rhythm and lead - into a spellbinding finger picking routine reminiscent of VBL. I am not sure how to describe this, but as he played through the UM, it seemed as if RT momentarily departed from the room, almost as if the song had drawn him into another time or another place.
The audience questions pretty much focused on song writing, tunings and such matters. RT seemed comfortable taking on anything the audience tossed his way. There was, however, some hesitation when he was asked to share his feelings on his "producers" Froom and Blake. But following a brief contemplative moment, OH did speak at great length on Tchad Blake's engineering gimmicks, explaining how he would go about obtaining unusual, yet subtle, tonal distortions by passing the sound through a variety of amplifiers and processors before committing it to tape. He then wrapped up the response with only a brief reference to Froom (and to all producers in general?) by referring to him as being just another producer out to collect his $50,000 fee. Anyway, the discussion on Blake's engineering tricks did get me to thinking that Mock Tudor does seem to have cleaner and truer sound than many of the Froom/Blake albums. Has anyone else noticed any such differences?
There was a request from one spectator asking for broader publication of OH's sheet music. RT responded by referring to that aborted third-party songbook compilation, explaining that the music, tabs and even the lyrics were so messed up that he just could not allow it to be published. He then mentioned his plan to write his own comprehensive songbook, promised that it would be published soon and, with a quick hand gesture, indicated it would be about as thick as the Chicago Yellow Pages. This brought an ovation from the audience, which consisted largely of students (and a few instructors) from the OTS.
RT seemed to really enjoy himself during the whole exchange. The audience also had a wonderful time, with the only downer being that hour-long event ended all too quickly. The concept for the session was brought forward by Capitol Records, so perhaps there is a possibility that RT may be doing more of these things as he tours in support of MT.
As for the concert at the Park West, I could pull out a Thesaurus, list all the superlatives in the book and still come up short describing what a fantastic show it was. As was already mentioned here on the list, OH has put on a slew of top-notch shows in Chicago, going back to the "Big Band" tour some 15 years ago. I spoke to several people immediately following the performance and all said this was the best RT show they had even witnessed. Lyn Brehmer, the WXRT DJ who both hosted the OTS discussion and provided the intro for the Park West concert, mentioned on this morning's radio program that Saturday's show was the best of the dozen or so RT concerts he had attended. Chicago Tribune music writer Greg Kot, who was somewhat critical of the Double Door show earlier this year, concluded a glowing review by saying "Even for Thompson, who has favored Chicago with many great performances, this was a cut above."
Personally I still have a warm heart for RT's acoustic shows - solo or with DT - so I hesitate to call this the best ever. But as far as band shows go, there is no doubt that RT and his band raised the bar several notches with their performance last Saturday night. Here's hoping that this one gets consideration to be put out as a Flypaper CD, and not just a few choice selections, but in its entirety.
I have probably used more than my fair share of bandwidth here. But please allow me to toss in one more note related to OH's stop in Chicago. On this morning's radio program, Lyn Brehmer ran a little feature on the two best songs ever written, in his view of course. The first of the two was VBL. A wonderful choice, spoiled only by the fact the second selection was not "Al Bowlly" (but was instead some forgettable song by someone called "The Boss").
Chuck Canning
cecanning@mindspring.com
---
Pictures on this page of Richard Thompson and Danny Thompson with the Two Left Feet Webmaster Willis Howard, himself. Taken after the performance in Chicago at the Park West. Thanks!