Birmingham Symphony Hall
18 October 1999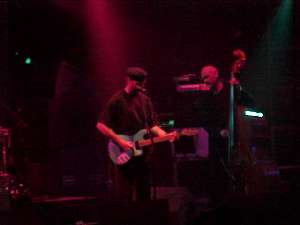 Just got back
from The Symphony Hall in Birmingham - great concert!! Loved every minute of it. Boy, the man can play!!!! I can't understand all the negatives reviews of the current tour, unless tonight's set was vastly different to the previous ones...
Pete Zorn - a one man orchestra.
Danny - brilliant as ever.
Teddy - maturing nicely.
Now I'm one of DM's biggest fans, but the drummer in tonight's line up, (forget his name), is really something else!!!
Good to see Donna and Richard from the list again.
There was also a certain Mr. & Mrs. Pegg, and Mr. & Mrs. Nicol there tonight too. Anyone who didn't go, lost out big style!
Nick Wells
Nick_Wells@hawkse.demon.co.uk
---
Here's the set list
from Birmingham last night (18.10.99)
Cooksferry Queen
Sibella
Bathsheba Smiles
Two Faced Love
Hard on Me
Jennie My Love
She Twists the Knife Again
Uninhabited Man
Al Bowly's in Heaven
Persuasion
Sights and Sounds of London Town
Walking the Long Miles Home
Bright Lights
When the Spell is Broken
I Feel So Good
Tear Stained Letter
--------------------------------------
'52 Vincent Black Lightning
Crawl Back (Under my Stone)
Man in Need
A Heart needs a Home
Wall of Death
Razor Dance
Just to second Dave Smarts review - a fabulous night in Birmingham. We were in the 3rd row, almost dead centre and the sound was crystalline. One of the longest RT gigs I've been to since I discovered OH in 1986 with 22 songs performed. Stand out moments for me were the duets with Teddy (Persuasion and Heart Needs ..) and hearing my two all-time fave RT songs (Jennie and Twists) back to back! Mike Jerome was another highlight - RT NEEDS to keep this man in his live band. I love DM as much as the next fan, but Jerome really kicked the band along, and he looked to be having a lot of fun with Danny.
What can you say about RT's guitar work. I think that Independent review summed it up .... "it sounded like he wasn't playing the strings but the electric current itself, bending the elemental surge of pure energy into whatever shape he desired."
Enjoy the rest of the tour folks!
Dr. Dave Moreman
adm1@staffs.ac.uk