Minneapolis - 28 September 1999 and
Indianapolis - 30 September 1999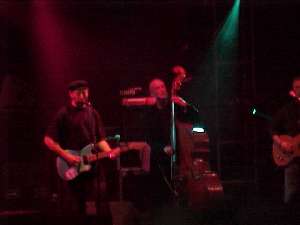 Shattering Live Experience in Mpls.
An enthusiastic audience packed First Avenue last night and I doubt if anyone went away disappointed. OH once again delivered the goods.
Dave Alvin's solo opening set was good, but reminded me that I prefer his work with the Blasters because he didn't sing. Someone requested Andersonville and Dave said he was told to "keep it upbeat, no depressing stuff, that's Richard's department."
The set list held no surprises and the band was again in black. Others have done a fine job of describing the show, so I'll confine myself to a few comments.
I wondered before the show how the harmonica part in CQ was handled live. It wasn't. PZ played tambourine and RT filled up the sonic space quite nicely.Something didn't sound quite right in Bathsheba (can't bring myself to use the initials), someone perhaps wasn't quite in tune. (The band sounded a bit tentative until Danny's bass solo in HOM, which seemed to kick RT into a higher gear.)
As far as I'm concerned, Mike Jerome can play drums for the RTB any time he wants. My wife paid him what is for her the ultimate compliment for a drummer, "he didn't bother me". I thought he really added something to the total band sound. His work on WTLMH helped transform a song that I had thought was a bit weak into one of the highlights.
The song that did sound weak was Sights & Sounds. I had hoped for some extra guitar wizardry to make it exciting, but it was very close to the MT version. Marc, you were right about this one IMO.
Two-Faced Love was another song that sounded even better live, though I like the MT version just fine. RT's solo sent me into that marvelous, mysterious place that only his guitar playing can find.
The song that removed my socks and sent them spinning into another dimension was Crawl Back. The solo on STTKA was right up there with TFL and HOM, but CB was the one that just floored me.
The duets with Teddy melted hearts, I can't remember hearing First Ave so quiet as during Persuasion. (Wife to me (urgently) after the song, "We have this, don't we?")
As for stage banter, RT did a quite amusing version of Sugar, Sugar recast as a Scottish ballad, much to the delight of the crowd. He seemed a bit surprised at the crowd's enthusiasm, saying "you're just still happy about the Ryder Cup", at which point Teddy and Danny pretended to walk off the stage.
There were 3 varieties of T-shirts on sale, all black with nothing on the backs. One has the MT cover art, one the crest from the back of the MT booklet and one is the Cool Cats drawing of the band. All were $20, the cats came home with me.
RT signed my MT booklet afterwards and seemed very happy. The crowd was younger than I expected, the young man next to me in the autograph line was proudly clutching vinyl copies of Henry and Unhalfbricking.
All in all, a very satisfying evening that did nothing but reinforce my feelings for the genius of this wonderful performer.
One very happy RT fan,
Larry Schussler
lschussler@carlson.com
---
RT's live sound
Still recovering from a 520 road trip with an RTB show crammed in the middle at the Vogue Theater in Indianapolis, yet can't resist the urge to weigh in on the live sound thread.
Last night's show featured the same set list as last Friday's show in St. Louis (and as elsewhere, apparently), and I enjoyed roughly equivalent seating for both shows, first row of seats behind the dance floor. The only difference was that in St. Louis the seating was centered perfectly while last night's was off to the right (Danny T.) side a bit.
My point is this: Both shows featured sound that was well above average for club shows (which means way, way, way above what gets fobbed off at arena/amphitheater performances by mega acts), but the St. Louis performance benefited hugely from deeply extended, tuneful bass reproduction. Having Danny's contributions come through LOUD and clear allowed the band to sound locked in or anchored to a degree absent at The Vogue Theater, a converted movie house. In STL all the instruments and vocals, including backing, sounded fantastic, and at a loud but not ear shattering volume. At the Vogue, in contrast, everything north of the kick drum was very good to excellent, but Danny T.'s contributions lacked pitch definition, sounding what is sometimes called "one note" bass. I have no idea whether the differences in sound resulted from variances in room acoustics, PA capabilities or human input. Any ideas?
I feel for people who shell out good money for rotten sound and, based on many RT dates, agree with those who praise Simon T. for consistently good to great house sound.
Interestingly, last night's vantage point permitted a sustained look at the on-stage monitor mixer (T. Dube?) dancing, singing and generally grooving to the performance. Another intimate behind the scenes moment (why do I suddenly feel like a voyeur?): Glimpsed Dave Alvin sharing a cigarette with a rest-taking Pete Z. during a rousing VBL 52. Dave shot Pete a bewildered look whilst pretending to strum along; Pete reciprocated by pantomiming sawing off his own left arm. Mr. Alvin watched just about the entire show, BTW.
Now that I am dead, I will sleep.
mark bayles
BaylesMA@aol.com