Madison - Barrymore Theater - 26 September 1999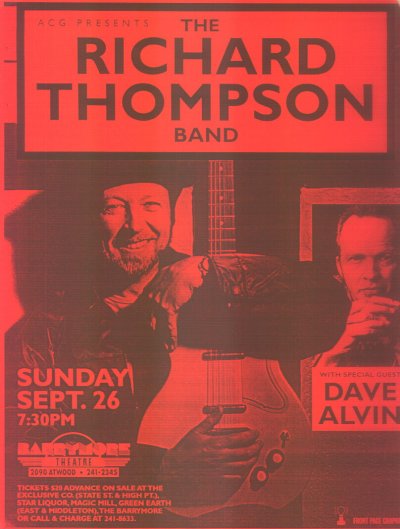 Just returned
from the show in Madison, WI. This was filmed for possible commercial release, and I can already urge you to run out and buy it when it appears. The set list was standard (same as what Gary just posted from the Portland show) and there was only one really extended solo (Hard on Me), but the band was great and the audience was enthusiastic (I lost count of the standing ovations).
The main deviation from what everyone else has posted (unless I missed it) was the presence of a light show, which featured projections of tree-like things, cathedral window-type things, and amorphous squiggly things. It didn't add much and may have been there for the benefit of the film crew (who, by the way, were nicely unobtrusive).
Others have commented on how much Mike Jerome adds to the music, and it's all true. He raised Razor Dance (among others) to a new level and is a great addition. Pete Zorn's reach occasionally exceeded his grasp, but at least he's out there on the edge of what he can do, which is always entertaining.
My first band show, and I'm very happy tonight!
Bill Kirkpatrick
mwkirkpa@students.wisc.edu
---
Caution: unmitigated gushing to follows:
I saw Richard Thompson and band play last night. Make that, I transcended space and time. There simply aren't powerful enough superlatives to describe the experience. I could say it was ineffable, but that would be cheating.
Let me put it this way; even if you are only marginally interested in Thompson and his music, you really ought to go see him live. I realize, of course, that his unique style and folk-twinged, accent-heavy singing are not for everybody, but, man-oh-man, this bunch of musicians is incredible! And Thompson's voice, not to mention his guitar playing, can only be described as ethereal. When he tears into "1952 Vincent Black Lightning" you'd swear he sold his soul to the Devil to play guitar like that (favorite line: "Red hair and black leather - my favorite color scheme"). "Uninhabited Man" (yes, Mathew, he played that live!) was like some kind of primeval howl from beyond this world. God damn, I cried during that one.
As a ripe old 43-year-old, even I felt a bit young at the Barrymore Theatre in Madison, with all the gray hair and shiny pates, but that sensation disappeared with the first strains of "Cooksferry Queen". Thompson's music shows no generation gap.
Now I know why even Bob hedged on admitting to being a guitar player after seeing Thompson. Would anyone like to buy a '66 Gibson Firebird (a somewhat rhetorical question)?
Jeff Runnels
jrunnels@execpc.com
---
Hi everyone,
Just a quick note to let you all know that the videotaping in Madison yesterday went without a hitch. We had 5 cameras, 2 onstage and 3 in the audience. The audience sat for most of the show so we unobstructed sight lines. The setlist was the same as Chicago, St. Louis, etc...and though "Dry My Tears" was in the official setlist, it wasn't played.
As you would expect everyone in OH crew were fantastic to work with, and we all came away from the evening satisfied with what we had accomplished.
This was note a big budget rock spectacle with spinning lights and camera cranes.
Instead it was a modest yet highly professional production. Stylistically, my model for this production was "Later with Jools Holland" on a budget.
The point was to document a moment in time, and I think we nailed it. Also, besides the 2 track audio feed that went to the videotape, we had a seperate audio truck that did a 32 track record.
I commented to Tom Dube after the show that I hoped we had a "Four Letter Words" in there somewhere.
Where it goes from here is up to Richard and his management, so I can't guarantee you'll have a a RTB VHS tape in your stocking this Christmas. Keep you fingers crossed though... I'll keep you posted.
Some quick notes from the stack of papers surrounding me-
Talking to OH:
I only spoke to Richard briefly. He was, as we all know him to be, very genuine and completely unassuming.
He likes the album, likes the tour, and is having fun. He was looking forward to the taping, which was a weight of my shoulders. He liked the fact that he could just walk into a venue and have everything set up and ready to roll.
Tour stuff:
You may already know, but the band WILL be touring on into the new year, and Capitol will be releasing more singles beyond "CBUMS". Finally I'm a guitar geek, so here's the Guitar stuff:
Richard has ditched the Strat in favor of a new Danny Ferrington made guitar. It's quite the amalgam of guitars RT has played over the years. The bridge p/u is a from a telecaster, the middle from a stratocaster, and the neck is a '57 PAF humbucker clone. The headstock is set up like a telecaster so he can do his pedal steel bends behind the nut. Very cool.
His amp is a brown tolex Fender Vibrolux(60's), and his pedal board has his acoustic DI, a Dunlop Univibe, and a new Mesa Boogie V-Twin pedal.. You'll notice this last item on most of the leads, but particular on the solo for "Man in Need" where it boosts his signal to something just south of an Octavia. My ears perked up when his first kicked this in!
That's it for now.
If you have any questions please post them here and I'll do my best to answer them.
Cheers,
Ken
(seen wearing the hat marked "producer/director")
LaBarre.net Omnimedia
http://www.labarre.net
ken@labarre.net
---
Hi Gordon!
"HOM" was amazing...The night before the show I had a dream that OH walked up to the mike during a break in the solo and whispered,"In the darkness the game is real....".
The way I shot the solos was showing both hands/ full guitar with dissolves between different angles.
With "HOM" I felt I couldn't stay on his hands the WHOLE time, so I dissolved around the stage to for what I call "color".
In other words, a close up of Danny grooving, MJ watching Richard's every flourish, Teddy and Pete forcefully strumming, etc...but don't worry you see the "Full Monty", as it were.
BTW-There is so much going on in the band that I could point a camera anywhere and had something good. I tried to capture the things that you see at a RTB show that make you feel good about witnessing a mature group of accomplished musicians performing. Things that you remember subconsciously about these people and the devotion they have to this great body of music and to each other. I know that a big part of why I'm a fan.
As far as what will be release that is up to RT and his management. I really have no say. If they want me to help with post-production, marketing, etc...I will, no doubt about that, but it's not my call. I'm just a cog. As far as Capitol goes though, well I don't think they'll be interested.
This is a very modest production by big label standards, really not glitzy enough. I was there to document the music, not sell a band image like a tube for toothpaste, a can of vegemite, or a pint of Stella.
I hope that this comes out via a Flypaper/ Fledg'ling for all of you. Heck that's why I taped it, I'd like more people to see him, and enjoy his music like I do.
As for the audience requests, yes I got some interaction, but not much. Didn't want to put the folks of Madison on the spot y'know. They are nice un-assuming Midwaestern folk. What's the Python skit..."Blackmail"? I can hear Micheal Palin now, "To a Mr. and Mrs. Jed and Betty Bag of Doughnuts...caught on tape in the audience in Madison, Wisconsin muffing the words to "Tear-Stained Letter" for all the world to see...."
As far as "angel" and "gumption" is concerned, well...I'm flattered, but really anyone can do this. You just have to be in the right place at the right time and be open to it's possibilities. I refer to it as "living in the pocket".
It's not always possible, but it's worth trying because when you are there it's heaven.
Cheers,
Kenneth A. La Barre
klabarre@facstaff.wisc.edu
---
i was privileged
to be in the audience sun night at the barrymore. twas a joyous thing - during the second encore tears just started streaming when he was playing with teddy (what was that song please?). i am struggling with a passion to try to get to milwaukee weds though i'm sposta be working... hmm.
from where i sat, 6 rows back, your camera crew was quite unobtrusive except for piquing my curiousity (which you've answered) and occasionally causing me to scrutinize the scene a little closer, as though i were looking through the lens.
i am wondering if the 32 track audio taping was done by audio for the arts who frequently tapes shows for a local radio program, "mad city live". there is talk on the radio about the video appearing (on public tv?) in an experimental tv version of "mad city live" ala austin city limits.
the idea gives me hope that your video will indeed become available and i can relive the magic. a huge thank you to you and the muses that inspire you. i am left with a warm glow, a cherished memory, the band's autographs, and the hope of seeing it all over again. perfect.
peace love & soul
betty bag
(mary) mluther@itis.com
---
As the year closes,
I realize I was remiss for not sharing my view of the September 26th Richard Thompson Band performance at the Barrymore, with Dave Alvin doing a super friendly, honest and laid back opening set. I didn't have anyone to go with, so I grab a neighbor. I think he liked it, but we don't talk much anyway and I haven't run into him lately.
Since I became new to the list soon after the concert, I don't know if someone had already shared the experience of the show. Here's mine.
I don't know how to start, other than by just saying I got lost in the show. Maybe that's why I said very little about it. I seldom can go to a movie or show and not have my thoughts drift back to the problems of the day. It was different that night.
The Barrymore is an old theatre turned into a dark concert hall. Nothing fancy, nothing to distract one from the main act. That night, once the show started, nothing else mattered. It was theatre and music at its best. Just a few things I remember from the concert:
The lighting gave it a surreal atmosphere, like a theatre production, which it was.
The musical dexterity and instrumental professionalism of the band members was unreal. I can't wait for the video to come out to see their work close up.
I had never heard son Ted sing with dad before. it was beautiful. The respect and kindness shown by dad and son for one another was emotionally inspiring.
The crowd was great, appreciative, knowledgeable, well mannered, for the most part, and funny. But OH was funnier, and had great comebacks (even though I think a few went over my head) and disciplined the audience at just the appropriate time. He did that with clear spontaneity and with no humor, of course.
The Vincent Black Lightning song was a surprise highlight for me. It was a discovery as I hadn't become that familiar with it before. The opening with the 5 MT string of hits was perfect for me as I had just picked up MT and was not overly familiar with the songs. Now when I play them, I just have to close my eyes and I can reexperience the show.
I was hoping the show would go on and on. RT obliged. I was a nice and lengthy show for a Sunday night.
The highlight of 1999 for me. Happy New Year 2000 from a longtime RT fan in Madison, Wisconsin.
Mike N
neums1@juno.com