Cropredy - 13 & 14 August 1999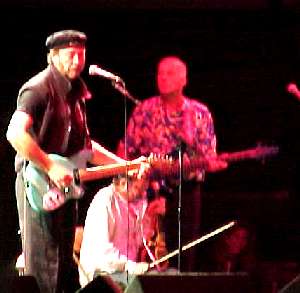 Friday night Richard and the band
coincided with some of the worst weather of the year. It lashed it down with rain just before he was due to start causing some (very quickly and efficiently fixed) sound problems. It looked like the weather would ease but regrettably it didn't. Even I admitted defeat after a while and listened to the end of the set sitting in the car - fortunately the car park was near enough for the sound to carry.
Having not heard Mock Tudor (not even an nth generation copy) I'm not familiar with most of the new the songs and titles but my first impression is that if the new material he played at the start of his set is from it and arranged similarly then this could well be the most commercial album he has ever made. (yes this is a double edged comment, but only a first impression. despite rumours and high hopes Mock Tudor was not on sale for a Cropredy pre-release so I have still not heard it).
Saturday night the weather was kinder so his guest spot with Fairport was on a fine clear evening (even though the ground conditions were awful - mud mud and more mud). And what a spot, he was on stage along with Swarb for Walk Awile and Sloth. I can live without Walk Awile but Sloth makes me shiver. And in amongst the set with Fairport was Crash the Party, From one extreme to the other.
I'm sure there will be plenty of set lists posted and at 10 past 4 am, having just driven home up the motorway I'm in no condition to report in any detail except to say he was on top form, a great set in difficult conditions on Friday and a stunning guest spot with Fairport on Saturday.
Chris Woods
psa12@keele.ac.uk
---
It started going wrong
when we arrived and saw signs saying "Camp sites closed due to floods; diversions signed" We ended up in a field just behind the main arena field but with the canal in-between and a long way round by path.
This palaver made me late for the RT list meet but I got there in time to say hello to Pam, Phil Parker, Martin Jonas, Loiusa, Jesse, Tony Swift, Chris Woods and others (apologies for not remembering who they were) It threatened to rain all afternoon but didn't. Just before RT came on it rained horribly, and continued throughout his entire set. To add insult to injury it stopped raining just after he finished. I was about 10 rows from the stage, and I got drenched. My kagoul was wet, the clothes under it were wet, my rucksack and the spare clothes inside it got soaked. Get the picture? It was like, wet wet wet, with an extra portion of water on the side
RT review: nobody told me Mike Jerome was black! So what if he is, I hear you cry, but to show you how rare that is in UK folk-rock circles, he was the only black performer at Cropredy this year, and other than Edward 2 I can't think of many others on the UK circuit. I enjoyed watching his drumming style, especially with his high backlift but I can't honestly say the effect was any different than when Dave Mattacks occupies the seat. The anticipated extra funk didn't make it to row 10; maybe it got diluted in all that rain.
The set was pretty much what I'd have expected from the US concert reports. Mock Tudor still isn't released which is a bit daft. He performed lots from it but I wasn't in any position to write a set list without an underwater pen & paper (Did I mention it was wet?)
Highlights for your sodden scribe were "Al Bowly", "Jenny my love" and the closer "A man in need" Most entertaining bit was when RT came on to play 52VBL He played the intro and sang "Said James to Red Molly ........ what??" as he realised he'd got the names the wrong way round.
On Saturday during the Fairport set Jerry Donaghue played and his daughter Christina sang "For shame of doing wrong", I guess in the Sandy Denny arrangement. Later RT and Swarb appeared and we were treated to the bizarre and rather disconcerting sight of Swarb, on a chair, breathing oxygen though a mask whilst playing. I couldn't help thinking that someone who need oxygen to help him breathe needs to rest, not to be about to launch into a set of jigs & reels.
This line up played "Walk awhile", "Sloth" and "Dirty Linen" I think Chris Leslie played mandolin as well, and helped with the singing since Swarb obviously couldn't. RT missed a vocal cue somewhere and they played an extra bar till he came in. Possibly like me he was put off by the presence of Swarb, wondering if he was going to expire at any minute Swarb went off, Ric Saunders came on, and this line up (ie current FC plus RT) played "When I get to the Border" and "Waltzings for dreamers" These were lovely, especially as the instrumentation was close to the recorded one (give or take a few crumhorns) so for instance the out-tro on "Border" was great with RT trading licks with Leslie on mandolin.
Then a real surprise and a Festival highlight for yours truly: the same line up played "Crash the party" with Ric and Chris playing the Kirkpatrick accordion riffs on twin fiddles. This was absolutely brilliant and really shook the place up.
I'll report the other acts separately; stay tuned
Martin Smith
mrasmith@tesco.net
---
Just back in The Netherlands
after the Cropredy weekend, making up my mind after a sort of overdose of state of the art British folk-rock. I am fully satisfied, but not yet sure what I wanna let you know about it.
I had the chance to see OH perform four times in a little more than a week and believe me, what a hero he is. Last week Lokeren (Belgium) with Danny, old stuff mainly.
Last Wednesday at The Mill in Banbury (Oxon) with Swarb and Fairport Convention, last Friday with the superb new band and lots of MT-stuff and Saturday evening, again with Fairport Convention.
I didn't make complete set lists in Britain, but I remember by heart he did Walk A While and Sloth with Dave Swarbrick and Fairport, waltzing's For Dreamers and Crash The Party without Swarb, but very much to my surprise he also did a stunning version of "When I get To The Border" both during the warming-up on Wednesday evening at The Mill and last night in front of the thousands of peaceful music lovers in the Cropredy audience. Backed by (and completely leading) FC.
Amazing isn't he ?
Regards,
Flip -
flipfeij@mail.zeelandnet.nl
---
It all seemed more expensive
than I remember; 2.50 for a pint of 6X in a plastic glass in the middle of a field? £15 for a Cropredy T-shirt? Come on guys, be reasonable.
I liked the Friday acts better; here's my take on the bands Blazing Homesteads; missed some of it; seemed typical Cropredy opening fare, ie big on enthusiasm, somewhat less than top notch quality.
Chris While & Julie Matthews; I love this act. Chris has a fabulous voice. They provided me with a Festival Magic Moment by singing a gorgeous mid-paced version of "I only wanna be with you" as a tribute to the late.
Dusty Springfield. It was lovely, anybody of my age or over in the UK would know this song, and you could see vast numbers of people singing along.
Jacqui McShee's Pentangle: Pentangle were always a jazz band, now they are more upfront about it. I like their recent albums, and they played the material very well. Ric Sanders joined in a few tunes, his electric violin meshing well with Jerry Underwoods soprano sax. Their bluesy version of "I got a feelin" was particularly nice, with a touch of late-period Miles Davis evident in the groove. They went down much better than I'd expected for a band with such jazz leanings. Jacqui's singing was spot-on.
Dave Swarbrick & Kevin Dempsey; I didn't expect to enjoy this as I don't like Swarb / Carthy's work, but I was very taken with Kevin Dempsey who had a delightful singing style (very reminiscent of James Taylor) and an accomplished guitar technique. He was about a third of the way through his first solo song when a broken string caused him to change the words to "Oh bollocks!" He played it out on 5 strings very impressively. Swarb sat throughout; he played well and seemed chirpy enough, but when he tried to speak he was having to take a breath after every 2 or 3 words. Obviously singing was not on the agenda.
The Dylan Project were terrific. It was the touring line-up (Pegg Nicol, Steve Gibbons, PJ Wright) plus Gerry Conway on drums and Rabbit Bundrick on keyboards. PJ really rips it up on electric slide guitar, and the set built really well, finishing with Highway 61 and Rolling Stone. Someone in the crowd had the nous to shout "Judas!!" but it didn't register on stage.
Barrage closed the Friday concert (after RT, when the rain decided to stop) and also repeated their set as the Saturday openers. A lot of people lapped this up, but I couldn't see past the novelty aspect; its like, OK we've got 7 front line fiddlers, what are we gonna play? They play "Ghost riders in the sky" Yes, very good, now do me a favour and go away.
Paul Mitchell Band; eminently forgettable, the only interesting feature being Maaaaaaaart Allcock doing an impressive pedal steel impersonation on his keyboard.
Anna Ryder: she is very talented, displaying some facility on guitar and piano. At one point she played a blues, using her left hand to play bass and chords on an accordion, whilst singing and playing fills on a trumpet held in her right hand. That's a good trick if you can do it. Her stuff sounded pretty distinctive to me. During the FC set she played French horn when they performed her song Sailing Boat.
Robbie McIntosh band were very good; interesting line-up of drums, bass, pedal steel / vocal, harmonica / vocal and guitar / vocal. Having a full time harmonica player would normally be considered a luxury unless you were a flat-out blues band, but this guy played blues, country, and generally pulled his weight. They played some Freddie King / Jimmy Reed blues stuff, and encored with Jimmy Dale Gilmore's "Did you ever see Dallas from a DC9 at night?" The 3 lead instruments are able to riff really well, in unison or harmony which sounds great.
Ralph McTell; I know FC love him, but I find him too earnest. It rained during part of his set, and he burst out laughing as he sang "way down in sunny Florida..." To be fair, he encored with a song about Joseph Spence, and played a groovy Spence instrumental to close it (Great dreams of heaven, I think).
Maddy Prior Band: they went down very well. Her 2 musicians conjure up a real soundscape especially when Troy played searing slide guitar, in a Dave Gilmour style. As I was trudging up the by now treacherous muddy hillside she appeared to be performing some kind of a rap Fairport: They seem to get this closing spot every year. Do they own the bloody festival or what? I can't work out what they are any more, and I don't think they know either. They know what they used to be, and they can still do it eg the tunes they played with Swarb and RT. Some of their new stuff (mostly Chris Leslie written) is folk based but stuff like Kristina Olsen's "Dangerous" is like pop music I guess. Don't get me wrong here, I don't believe fans have the right to tell bands what to play, only the right to not buy the records or the gig-tickets if they don't like it. One thing is certain though, FC are a very good backing band. Some people they backed were Steve Ashley, Tom Leary plus 6 young Irish dancers, Jerry Donaghue and daughter. One thing I noticed is that the admirable Chris Leslie no longer plays electric guitar (not that he ever looked comfortable with it) instead concentrating on madolin, mandocello (?) and fiddle Sorry this post is so long; I think I got water on the brain. As a whole, not that I'm anybody's idea of a Cropper veteran, I'd have to say the whole experience was badly devalued by the weather. Better luck next year, eh?
Martin Smith
mrasmith@tesco.net
---
I wouldn't have stayed in the field
for anyone else. Apart from Richard's performance with Fairport on Saturday, and his own spot with the RT Band ( Thompson, Thompson, Thompson, Zorn, and Jerome ) on Friday, he also guested with Fairport at their warm-up gig at the Banbury Mill on Wednesday - along with Swarb. Did a similar set as on Saturday plus ( or was I dreaming ) When I Get To The Border. Seeing him in the warm and dry from the second row of a smallish theatre was a much more pleasurable experience.
Swarb came on with oxygen bottles, but seems a lot better than his recent appearance at the Swarbaid concert in Birmingham.
Anyone on the list get the set lists ?
Martin
MRIGDEN@aol.com
(Oh - we also had a performance of Bathsheba smiles as Richard's sound check while we were queueing for wristbands on Friday.)
---
Maybe this one.
Fairport Convention are a bunch of wonderful people. They are all very accessible, friendly, joking around but at Cropredy99 I came to the conclusion that - musically spoken (and we're talking about music here whenever we can, aren't we ?) they're absolutely operating in a minor league than RT does. Simon Nicol is one of the wittiest Brits I know, a very pleasant personality, he has a steady beat on his rhythm-guitar but he's a very, very poor singer. Dave Pegg plays his bass very efficiently and sings supporting harmony. Ric Sanders is an amazing fiddler, but he cannot stop running around nervously, joking, laughing, adding remarks to Dave Pegg's Final Words To Cropredy (on behalf of himself & his wife Chris the wonderful Cropredy-organizers) and making musical mistakes & correcting them at the same time. Gerry Conway is a gifted drummer who must have been born with drumsticks in his hands and who must have been promising someone above he'd never be doing anything else than providing the world with rhythms.
Chris Leslie is a very serious man, a multi-instrumentalist & folkie pur-sang, who studies stories to make songs about, he's an acceptable singer and he's the only one who's writing new songs for the group, giving the band the opportunity to move on artistically, make a new album etc. A curious bunch of guys, seemingly enjoying themselves all the time and carrying on the torch that once was set on fire by "Tyger" Hutchings, Simon Nicol & OH.
When Richard Thompson joins their company many things change. I've witnessed this twice the last few days. Richard is a non-drinker, a non-smoker, he has written a tremendous amount of catchy songs, he has a philosophy on playing, keeping the times needed, he can sing better than any other, play better than anyone else, he can change tunings in a wink, he can find a fine stand-in for the inevitable DM, he's anticipating all the time, he's Fairport as soon as he appears on stage, he's the musical director.
When Richard comes up, Simon Nicol plays his "we've always been the best of friends"-role, joking about Richard's leave from FC to enable him to always go around saying he's an ex-Fairporter and indeed, they both were there when a few young intellectual suburbian London lads gathered (back in the sixties), after listening to the music of Bob Dylan, Joni Mitchell and Phil Ochs and decided to have their own go. The idea that there's no need to sing something else than harmonies really seems to give Simon a tremendous relief.
Last night, while FC + RT + DS played "Sloth" Simon & Richard were discussing all sorts of things when ol' Swarb was fiddling his bit. They looked like playing buddies, enjoying themselves, very much like in the old days. Peggy acted efficiently. He doesn't speak very much to RT on stage, but he's playing what he's supposed to play & singing what he's supposed to sing.
Ric Sanders is fully respecting RT's musical leadership. He jumps around a far bit less, can't help announcing "Crash The Party" with something like: "Now we're gonna party" but always waiting till his Richardness's adding "Disco !" or if the director had to say something else before that.
Gerry Conway and Chris Leslie prove to be the best musicians when RT's around. Gerry keeps the rhythm, provides the surprising back-beats that make Richard happy and Chris accurately fills in many instrumental and vocal parts that give the performance a needed completeness.
It came right from Simon's heart last night, when he said he was feeling so privileged RT had come to make Cropredy99 a success and when he thanked Richard for starting This Group.
On the other hand it came right from Richard's heart last Wednesday while doing the warming-up gig at The Mill in Banbury, that he couldn't get away anymore with the simple gear (few effect machines) that was available there. I think it was Simon who said nothing had changed, because that was exactly the same grief RT used to have when playing together in the ol' days. FC seem to get along well with fewer wishes, both musically & technically. Making mistakes is not considered disastrous
RT is always trying to get things more perfect. He's got a never ending drive & ambition.
Now, after Cropredy, they're going different ways again. Fairport's working on a new album, with much Leslie-stuff. I am silently hoping for some guest-appearances on the vocal parts.
RT'll be promoting his MT-album with a band that already holds the new generation. Teddy is a great singer.
Next year we'll see if we can get to Oxfordshire again. This whole thing may go on till death us do part.
Regards,