Cambridge - Corn Exchange - 17 October 1999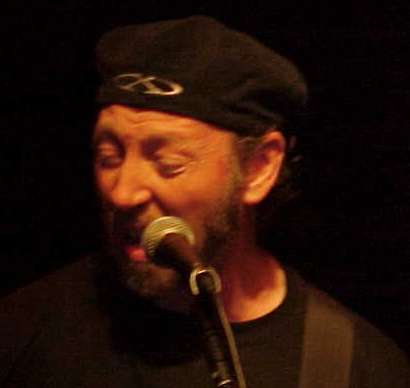 Just back from the Corn Exchange
so here's a few thoughts. Disappointing start to the evening. The merchandise, such as it was, was an absolute rip-off. There was a notice on the desk to say that the prices had been increased due to "concession" but here's the range, all prices in UKP.
Mock Tudor T-shirt 14-00
MT sweat shirt 25-00
Celtschmerz CD 18-00
Nothing else available, no programmes, no other CDs. I asked the soundman if I could copy a set-list and he said "No, we don't have one yet. We're doing a new one tonight." So there's a full set-list below. If it's the same as before then the soundman is a lying Scotsman!
Liz Horsman kicked the evening off, accompanied by an acoustic guitarist and a guy on a Rhodes synthesizer. I thought her vocals were sometimes drowned out by heavy bass from the synth and the balance made her sound very nasal and muddy.
Set list:
Romanticize
Living in Between
Rarely (?) I couldn't catch what she said so I'm guessing here.
Heavy High
Over the Hill (John Martyn song)
I Try
Intoxicated
The RT band took the stage accompanied by Julian Dawson, who appeared to have sprained/broken his right wrist/thumb, on harmonica. The whole set was filmed from the stage (at least two cameras were used) and I think there was an audience-effects microphone on the sound desk. Something large and hairy on a stick anyway ;-)
Set list:
Cooksferry Queen (5-piece + JD on harmonica)
Sibella (5-piece)
Bathsheba Smiles
Two-faced Love
Hard on Me (absolutely blistering! magnificent playing by DT, MJ & RT)
Jeannie My Love (nice vocals from TT, bass flute by PZ)
She Twists the Knife Again
Uninhabited Man (TT on Apellacian[sp?] dulcimer)
Al Bowley's in Heaven (nice playing PZ on sopranino sax, bass solo by DT)
Persuasion (RT & TT alone)
Sights and Sounds of London Town (RT, DT with PZ on mandolin)
Walking the Long Miles Home (All 5 + JD)
I Want To See The Bright Nights Tonight (5-piece, PZ on baritone sax)
When the Spell is Broken
I Feel So Good
Tear Stained Letter (5-piece + JD)
Encores:
VBL 52 (RT only, a lesson on how to play!)
Crawl Back Under My Stone (5-piece with MJ showing some remarkable brushwork)
Man in Need
A Heart Needs a Home (RT with TT)
She's Not There (RT with JD)
Wall of Death
Razor Dance
Lowlights:
Bass drum too heavy at the start of the set, drowning out the other drums and DT's bass.
Highlights:
Hard on Me, VBL 52, Tear Stained Letter,
The guy next to me holding a plastic 'pint glass' half full of beer between his teeth while he applauded. You can guess what happened ;-) To those of you going to Birmingham later on today - SIT STILL, we don't want the seats damaged!
Regards,
Dave Exton
dave@grunthos.demon.co.uk
---
Phew!
Good to hear that in Mr Thomson's word we were "swindled" out of our second encore by the 10.30 curfew at Nottingham. I can stop the self flagellation for being a bad audience member now.
"Swindled" has an application for Cambridge too. The t-shirts were £14 (£12 in Nottingham) sweatshirts £25 (£20 in Nottingham) the Celtsthing CD £18, I think, and I think less in Nottingham.
Cambridge was a much better show than Nottingham (probably because he was fired up for the official videoing that was done). Interesting to have one of the cameraman in the second or third row of the standing audience. Should be a good film. Which you'll need to see if you were stood behind the microwave oven sized shoulder held camera.
They seemed to be filming mainly the new numbers (although I think didn't do Walking the Long Miles Home) plus a few others such as Persuasion and Vincent.
Having only been to Nottingham and Cambridge it was good to see at Cambridge just what the rubber glove was for at Nottingham. Were we swindled out of Julian Dawson at Nottingham because of the 10.30 curfew? Would he have added too much time in Cooksferry Queen for instance???.
rgds
Terry Kendrick
t.kendrick@netcom.co.uk
---
I don't know
whether standing or sitting is best anymore. After Nottingham and Basingstoke, I was really looking forward to standing at the Corn Exchange, Cambridge. I was surprised (stupidly) that by going in at the beginning of the break (we decided to listen to Liz Horsman from the bar) I couldn't push my way to the very front. I ended up on the side about 5 people back. It was so squashed that I felt uncomfortable dancing. I still did it, and I apologize for those around me who I bumped into at regular intervals. I couldn't see very much of the stage, which didn't worry me too much as it was my 3rd concert in 5 days. By the end, I was very hot and my feet hurt, but it was brilliant.
When we waited at the stage door at Nottingham, Teddy walked out on his own looking very miserable and marched off, looking as though he didn't want to be noticed. Richard came out a long while later in good form. He signed my picture of him and me at Ross (and asked pleasantly " is that us?"). I asked him to play Amen, that's all, Close the door at Cambridge and he said he might. (I think I've sussed out his new tactic. He agrees to all requests and then carries on as before) I also asked why the solo was prematurely faded on the album, had he made a cock-up? He said you could be pretty sure that when you get a rapid fade-out, its because something's gone wrong and that sometimes its best left to the imagination. When Michelle and I asked for a couple of other songs he said he wouldn't have time at the concert, but he'd come round to our house to play them. ( I still dream!) It was nice to see Simon in red trousers, a splash of colour in the otherwise totally black outfits. I love the way he sings and dances to all the songs. I noticed a bit of pogoing going on there.
Feel sad that that's all (amen close the door) , for the time being. No more concerts for me for a while. Can't quite listen to the studio stuff yet, just memories (non magnetic) for the time being. But what memories!
Isabelle Knight
iknight@btinternet.com
---
Second posting
to this list coming out of Lurk mode. I thought Cambridge was an excellent "show" but a few thoughts spring to mind. Merchandise can only be described at this point as going into rip off mode and grossly over priced. Also there were cameras last night- two on stage and one in the crowd at the front. Was this gig taped for TV or video? if so can we find out when it will be shown/ released or what plans are afoot?
Liz Horseman's sound was pretty terrible and I was fearing the worst for RT sound but it seemed in contrast much clearer. Shame because she could have benefited from the clearer sound but instead left me pretty cold overall even with the inclusion of a John Martyn song.
After reading the post I cant believe that shirts and merchandise can differ so greatly in price from venue to venue...where can I buy a sweat at a reasonable £20...anywhere on the net? I didn't buy anything last night out of principle.
Anyway, overall an excellent night with some excellent music!!
Paul Leitch
pleitch@globalnet.co.uk