Basingstoke - 13 October 1999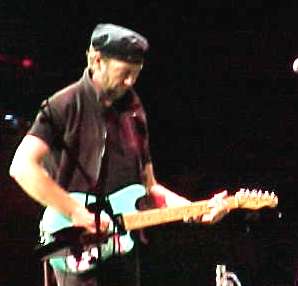 Location:
The Anvil Theatre,
Basingstoke
(A fairly nondescript town in Hampshire, compared by OH to Dresden after the bombing - but it's not that bad)
The band : Michael Jerome, Pete Zorn, Danny, Teddy, and Richard T.
Playlist: Cooksferry Queen, Sibella, Bathsheba, Two faced love, Hard on me, Jenny(?) Valerie, Uninhabited man, Al Bowlly, Persuasion, Sights and Sounds of London Town, Long walk home, Bright lights, When the spell is broken, I feel so good, Tearstained letter, Vincent lightning 1952, Crawl back, Man in need, Heart needs a home, Wall of death, Razor dance.
Really excellent sound. Appreciative audience (mostly in 35-50 age range except for one or two younger people including my 16 year old daughter, all white too so I don't think OH is reaching a new listener base). Not a lot of banter with the audience, though there was some of the usual self-deprecating stuff about having to listen to him "grind through the recent mediocrities to get to the good one near the end". He played for 2hrs 22 minutes and I thought the show was brilliant. Support was Liz Horsman singer songwriter from Ipswich. She sounded interesting and debut album "Heavy High" might be worth investigating.
A great night made almost perfect by Southampton beating Liverpool 2-1. The only slight disappointment is that having made an arrangement with Simon the sound man to get OH to sign my original copy of Henry ("so you're the chap who bought it"), I was later overcome with embarrassment and bottled out. Ah well, I suppose I can wait another 28 years...
Martin Roscoe
mar@mroscoe.prestel.co.uk
---
I was there
with 3 others as well. We were nearish the front, in the centre - row H. We all felt that the volume was turned up to the detriment of quality. Maybe it was better further back. Particularly during some of his electric guitar solos, I often seemed to be listening to white noise, and couldn't really distinguish any notes - just a sort of painful buzz in my ears. This seemed a terrible waste, apart from it being unpleasant. Apart from that, it was very good. A bit more chatter from RT would have been nice. Teddy seemed to be a good singer, but looked unsure of himself on his guitar at times. I wasn't that impressed by Liz Horsman. Once or twice her songs seemed as though they were about to get going, but they never quite seemed to take off.
I don't have any particular feelings about the drummer, but I overheard someone afterwards complaining about rock drummers who just pound away with no subtlety.
Martin Couchman
m.couchman@ic.ac.uk
---
WOW. What can I say?
RTB in fine form. Obviously enjoying themselves. Can't remember the set list, but no surprises. I was worried he'd drop Sibella (one of my favourites) but he didn't. It came second as it should. Lots of banter.
It was fantastic hearing these songs live after listening to them constantly for the last few weeks. I couldn't believe the solos in HOM. I was still impressed with VBL52 even though I'm sick of the song. (Forgot to mention that I was in the middle of the front row, so the view was incredible) I'm pleased to say I made another convert. I took a friend whom I'd made an RT compilation tape for a few years ago, not convinced. But after last night... well he bought Celtsmertz there and then and was planning to buy Mock Tudor today. (I'm surprised they weren't selling them there). Even though I knew what to expect (I was at Cropredy and the 101 club) I was still stunned. What really got me was when he'd lulled us into a false sense of security with a few jolly numbers and then, without warning, lunged into When the Spell is Broken. I loved the arrangement of Razor Dance (particularly Danny's contribution).
The only problem I had was having to sit still throughout. (To make up for that I'm going to Cambridge which I believe will be standing) Sorry for the incoherent ramblings, just wanted to say what a treat you've got in store if you're going to catch him on this tour.
We met fellow listee Martin Woodward, but no other Dee shirts in sight.
Isabelle Knight
iknight@btinternet.com