Vancouver - Richard's on Richard's
15 September 1999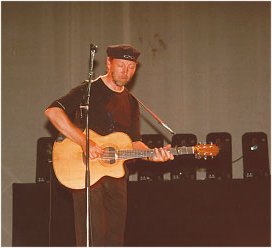 Richard @ Richard's On Richards
Hi - I've staggered back from the 9/15/99 show at Richard's on Richards in Vancouver, BC. I'm delurking just long enough to post some comments and impressions. I think this is my first post to the list, so bear with me...
The set list was similar (identical?) to the one posted for the Portland show:
Cooksferry Queen
Sibella
Bathsheba Smiles
Two Faced Love
Hard On Me
Jenny
She Twists the Knife Again
Uninhabited Man
Al Bowlly's in Heaven
Persuasion
Sights and Sounds of London Town
Walking the Long Miles Home
I Want To See the Bright Lights Tonight
When the Spell is Broken
Feel So Good
Tear Stained Letter
Encores
1952VBL
Crawl Back Under My Stone
Man In Need
A Heart Needs A Home
Wall of Death
Razor Dance
Requests for Killing Jar, Galway to Graceland, Calvary Cross, Smiffy's Glass Eye, and Beeswing, among others, were ignored, as was my little sign requesting Meet On The Ledge. Happily, inane requests such as Free Bird were kept to a minimum.
A decent crowd, considering RT gets virtually no radio exposure in Vancouver. (Don't get me started...) Richard's on Richards is not a particularly good venue to hear OH, IMHO. It's normally a dance club, and its bar and grill continues to function even during concerts. During the performance, both the waitstaff and certain disinterested patrons constantly made noise which for me distracted and detracted from some of the more subdued numbers such as Persuasion, and A Heart Needs A Home.
Those of you who are seeing this tour in theaters, where the audience tends to pay rapt attention, are doubly blessed. One other minor quibble: the sound quality was a bit subpar, in my opinion. compared to other concerts I've heard, including other RT shows on earlier tours. They seemed to be having some trouble with the monitors but I'm not entirely sure what the actual problem was. I'm rather ignorant of how these things work - are components of the sound system provided by the venue, the artist, or both? Another reason might have been the acoustics of the venue itself.
But enough whining...Overall the show was wonderful. I'll briefly reiterate what others have already said more eloquently:
a) The band ROCKS!! Overall the music has a harder edged sound that I recall from the YMU tour in '96. What a beautiful wall of noise...
b) Mike Jerome is a (great time) keeper! Wow! He really attacked his drum kit with ferocity...
c) Stellar work by Danny and Pete
d) Great harmony vocals by Teddy (and Pete too!)
Random, semi-coherent thoughts: Transcendent guitar solos on Hard on Me, When the Spell is Broken, Tear Stained Letter, among others. I particularly enjoyed She Twists the Knife Again, having never heard it performed live before. Two Faced Love was stunning and much appreciated. (I'm one of those barbarians who thinks TFL is one of the stronger cuts on MT). During IWTSTBLT, RT started to sing the chorus instead of the second verse, but quickly recovered. That bass flute (?) thing that Pete Zorn plays on Jenny is pretty impressive. I don't know if "Dry My Tears and Move On" has been included in earlier shows, but it was omitted tonight, which is a shame since I think it would go over quite well live. Feel So Good was pleasingly raucous and very well received.
I noticed that there seemed to be a lot of young people at the show, young in this case being defined as being my age or younger (I was born the year FC's Full House was released, you do the math...), more young people than I am accustomed to seeing at RT shows on previous tours, where I sometimes felt I was one of the youngest people in the audience. A lot of them seemed to be at least somewhat familiar with his canon, and nearly all of them responded enthusiastically to the set. For what its worth, some of the most enthusiastic members of the crowd were younger women, who were, I assume, at the show of their own volition and not dragged there sulkily by their RT-worshipping boyfriends. Has anyone else noticed this? As far as I'm concerned, this is a positive demographic trend in RT's audience. ;-)
For the Canadians on the list: a Much Music reporter and camera crew was wandering around the audience pestering people, presumably on their opinions about OH. Is Much Music actually doing a feature on RT?
After the show as I was leaving a woman with a tour pass who I think may have been Nancy Covey but I'm not sure (in my post-concert daze I was too much of a spazz to find out who she was and actually introduce myself) noticed I was waiting to talk to Danny Thompson and she graciously introduced me to him. I was able to stammer out a few awestruck words of thanks and praise to DT about how wonderful the show was before I went on my way. I envy you people who can actually carry out coherent conversations with your musical heroes. :-)
Finally, as far as I could tell, no tapers were hauled away in disgrace, there was no mention of the anti-taping policy, and I didn't notice any tapers anyway. The only fracas I saw came after the show when one of the club employees (?) became irate and had to be physically restrained by his coworkers from attacking a female companion. Take your partners for the Razor Dance indeed...
Sorry for rambling, thanks for your indulgence. Back to lurk mode again.
-Bending my back in this hellhole city... - Andrew Page
P.S. Are t-shirts from this tour being sold at other shows? I don't think that there were any last night, but I don't know if that has to do with Canadian customs regulations. If t-shirts are being sold at US shows, and anyone knows how I might get hold of one, please email me privately. My 1996 YMU tour shirt is getting a bit threadbare...
P.P.S. A parting lament: Those of you who actually live in an area with a radio station that regularly plays RT and the other great artists often mentioned on this list should get down on your knees and give a little prayer of thanks tonight. All of you, atheists and agnostics included :-) As far as I know, (prove me wrong, people!) there are no stations in the Vancouver, BC/ NW Washington area that play this stuff, which is to me is absolutely criminal. So much good music is not being heard...I used to live in Baltimore, and WRNR provided the soundtrack to my life, probably 80% of my CD collection can be attributed to music I heard for the first time on that station, that wasn't played anywhere else...But here in Vancouver, I'm in limbo now... (sniffle... sob... sigh....)
Andrew Page
apage@ix.netcom.com