Portland - Aladdin Theater - 19 September 1999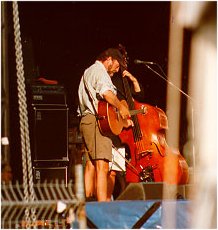 Well, let's see, where to start.
I'm obviously the slacker here; I didn't get home until about 1 a.m., and decided to sleep in a bit.
The show was very focused and VERY rock. This is not your father's Richard Thompson. Mr. Jerome adds much to that rock atmosphere; he is indeed a great r&r drummer. My daughter, age 19, was absolutely enthralled by him. Liked Teddy too.
Zorn had a couple of new instruments: a bass flute and a sopranino sax. The flute was almost lost in the mix, at least from where I sat, which was 7 rows back, center section. What I heard reminded me of Hubert Laws' Seventies work. The sopranino was absolutely darling, and made some incredible sounds. I went up afterward and Pete unpacked it for me and showed me; he's obviously proud of his new baby -- only had it four weeks, he said. The mouthpiece is about the size of the upper half of my thumb. Japanese made, the instrument. Pete also got just about the highest note out of his baritone sax I've ever heard from that instrument.
Those with me were similarly bowled over by Persuasion and Heart Needs a Home father-n-son duets. Very nice. Teddy's not very animated, but apparently not as zombie-like as he was in the earlier summer dates. This from Ed from Santa Cruz, the only other list-member I met.
We hung around afterward, as only about 20 others did. PZ and DT chatted quite a bit with folks. There was one woman, obviously an RT virgin, talking with Pete. She asked him who writes the songs, and he said RT writes all his own material (he didn't do Hamlet, thanks be). "There were songs in there that were 20 years old, but I defy you to figure out which ones they were," he said, and he's right.
Midway through Crawl Back, the second song of the first encore, RT's effects box went out on him; as he attempted a solo, nothing came out. He motioned for the band to keep playing, reached down and unplugged from the box, turned around and plugged into the amp, and played the solo. It changed the sound drastically of course; the guitar was very bright and straight-sounding. In Man in Need, the next song, the guitar sounded like a Telecaster, very Bakersfield, Buckaroos type of sound to it.
The harmonies at times were exquisite, particularly the three-part singing on Bathsheba and Man in Need. The latter was head and shoulders above the recorded version -- a snarling, wailing plea -- as was most of the show.
Heart Needs a Home was a proverbial "pin-drop" moment. Exquisite.
Everybody on stage was dressed entirely in black.
We finally caught up with RT out by the bus, where he signed a couple of things for us. He said they'll do the same show when the return Sunday. "Those are the only songs we know," he said, or something like it. By this time he was wearing a tan baseball cap, shorts and a tropical-style khaki shirt. My wife, Debbie, noticed the shorts; I didn't notice anything below the waist.
For more, you'll have to read my review at www.folk-tales.com , in a week or so.
Gary Whitehouse
gwhite@peak.org
---
Just got off the phone with Meg re the Portland concert:
Martin Sexton: Just dreadful. Awful. Sang a song about his wang. The person she attended with walked out.
RT Highlights from someone who has never seen RT before:
Persuasion: the duet with Teddy was Heaven!
RT did Man in Need!
Opening with Cooksferry Queen: God, it was hard but was it great! Her friend agreed and was immediately dancing all over the place.Hard on Me: Meg's least favourite track on the cd but live it was a killer solo.
Tear Stained Letter: Killer solo.
Bathsheba Smiles: oh yes!
After the show, Meg and her friend played groupies and ran around backstage.
First out was Teddy. He signed our MT copy and chatted for awhile. He said that while he had recorded his own cd, he was concentrating on dad and expected that his release would be 4 months down the road. Next came Danny who also signed our MT and chatted amiably. Meg described him as a gentleman. Then, while chatting to a roadie who gave Meg a copy of the set list, RT appeared. He signed our copy of MT and the set list. Meg gushed that the concert was just exquisite and mentioned that she had come from the Yukon to see him. His response was, "You're kidding, the Yukon?" He signed the MT packaging, "to his best bud, Brent. (I figure to sell this for big bucks<g>)!. Afterward, the same roadie said to Meg that while RT could not bring the band to the Yukon, he could come solo. The interesting part of all of that is that I am already at work on trying to get RT here next year for the last year of the 20th C.
There you have it. Gary, Meg looked for you but couldn't place you. Regrets she says.
Megan and Brent Slobodin
bckmslobodin@polarcom.com
---
Portland got another wonderful
Richard Thompson Band show last night.
Ripping versions of most of MT, putting the studio versions to shame (I must be the only person on this list that thinks the production of MT is a stinker, but what do I know, I like Mitchell Froom and Mirror Blue...).
Teddy brought out a great energy in his Pa. Richard's sidelong glances across the stage towards son, resulting in a beaming smiles from a proud father, were charming.
Re: the heavy NO TAPING announcement from the MC before the show--when Richard first introduced Teddy, he did so as "Virgin Recording Artist Teddy Thompson." I wonder if the new more intense enforcement of the no taping policy might have a bit to do with Dad wanting son's career off on the right foot without any hassles from Virgin?
I must disagree, somewhat, with the previous post about Martin Sexton. I though he was a good opener, and brought quite a bit of energy to the stage for a guy with a guitar. Physically he reminded me of Lowell George, sweating out each song. While his lyrical content was predictably derivative, I found his guitar work to be very nice. His ability to sing with a wide patterned microphone was impressive and very effective. As for the song about his whanger, I missed the direct reference. I must add that later in the evening OH sang a few about his as well...
Chris Will
hdfixer@relay1.teleport.com
---
From my ex-wife,
who attended last night's show in Portland as an RT virgin (as opposed to a Virgin recording artist, which is how RT introduced Teddy). -- Gary (BTW, she's nearly deaf in one ear from a childhood illness)
I really, really liked him. I'm sure I would have enjoyed it even more had I been familiar with his music, because my hearing is so bad that I couldn't get much of the lyrics, except maybe the choruses. But honestly, there wasn't a song I've heard before. So not only did I miss the whole RT thing, I missed everyone else covering his songs, too. I liked his stage presence. I liked the serious musicians he has playing with him -- not a bunch of guitar-string whacking, hair bobbing know-nothings. I thought it was so interesting watching what passed between him and his son -- all non-verbal, but very rich. And I liked his songs. I'd like to hear them now as recordings, because no matter how tight a group plays on stage, I think it's sometimes easier to listen to recordings -- I tend to really appreciate the way a song is arranged, appreciate the lyrics, and on stage, particulary when you don't know the artist, you're getting kind of a free for all.
Gary Whitehouse
gwhite@peak.org
---
Here is the set list,
given to Meg by a roadie:
Cooksferry Queen
Sibella
Bathsheba
Two Faced Love
Hard On Me
Jennie
She Twists the Knife Again
Uninhabited man
Al Bowlly
Persuasion
Sights and Sounds of LT
Walking the Long Miles Home
IWTST Bright Lights Tonight
When the Spell is Broken
Feels so Good
Tear Stained Letter
Encore
VBL 1952
CBUMS
Man in Need
Encore
Wall of Death
Razor Dance
Megan and Brent Slobodin
bckmslobodin@polarcom.com