Santa Cruz - PalookaVille - 7 September 1999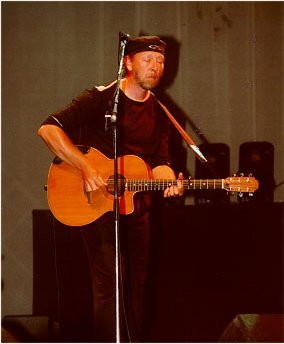 Our man in Santa Cruz - mini review
Hi all,
(a) Welcome me to the list (b) Die with envy as I just saw RT & band last night from a distance of about 25 feet. Any closer and my eardrums would have met in the center of my head.
3rd time I'd seen RT, second with band, and WOW. Well of course geepers too. I didn't take extensive notes on the setlist. A number of tunes from MT but not the whole thing. Wall of Death. Bright Lights. Jennie. Feel so Good (with repeated first verse). 52 Vincent. Heart Needs a Home. Man in Need. Tear Stained Letter. Razor Dance. about 4 songs I don't think I'd ever heard before. etc. 2:15 total set length. Generous!!
Pete Zorn was with the band which I hadn't expected. Great addition. Playing bass flute now!
New drummer whatsisname made me forget about that other guy Dave whatsisname.
Danny Thompson, glad to see returned to health and laying down fat sizzling slabs of bass lines. Greasy!
Teddy, cute kid, great singer, probably plays Van Halen solos at home. Just kidding. I wonder what he might ultimately do independent of his dad. Mighty long shadow to stand in.
Anyway don't delay, see the man today!!!
Best wishes,
Gary Worsham
gworsham@jps.net
---
I did better than take extensive notes.
My wife asked the roadie for a setlist after the show and he said sure, take Richards (I told her since it was that easy she should have asked for a guitar too). The first 5 are the first 5 tracks off MT. Parenthetic comments are notes on the setlist written in marker pen:
Cookferry Queen
Sibella
Bathsheba
Two Faced Love (2 - I - U)
Hard On Me (BITE-STOP-SHAKE-SWIM, CIRCUITS, UNSTOP-UNBRAID-UNSTICH)
Jennie
Twists The Knife Again
Uninhabited Man
Al Bowlly
Persuasion - RT & Teddy
Sights and Sounds
Dry My Tears [this was crossed out in red marker, bummer, I wanted to hear
it again]
Walking The Long Miles Home
Bright Lights Tonight
When The Spell Is Broken
Feels So Good
Tear Stained letter
----------------------------
Vincent Black Lightning
Crawl Back (THINK ASK MIND, TALK FUSS SWEAT, CARE DISCUSS FORGET)
Man In Need
----------------------------
Wall of Death
Razor Dance
I don't think he deviated from this set list at all so you can probably save a lot of breath yelling out requests. Wait, now that I think of it he and Teddy did play Heart Needs A Home, I think after Wall of death.
I saw the show at the Roxy in Hollywood in June and thought it had more energy. I think it may have had something to do with the fact that there were seats in Palookaville, no real stage standing area. And these are seats that were designed to fit Martian butts because I don't think they fit anyone's who was there. Standing would have been much better. RT made some quip about his fans getting older and requiring seats, I didn't hear it exactly. There was some guitar/effects problems during Hard On Me where after they were resolved he compensated by BLOWING OUT MY EARDRUMS (but it was a good thing and I'm sure that hearing will come back eventually someday maybe).
This was my wife's first RT concert and she liked him but she was really impressed with the opening act, Martin Sexton. A drummer with Martin doing guitar and vocal. Incredible vocals, his voice was another instrument. A good guitarist but no flash, he left that for his voice. He managed to play a pretty good bass line and accompaniment simultaneously. He didn't talk much between songs but he appeared pretty torn up emotionally while singing.
John Schulte, who better start making up the 8 hours he owes at work spent driving to and from the show.
johns@condoreng.com