London - The 100 Club - 12 August 1999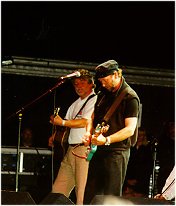 100 Club (Phew what a scorcher !)
Dear All,
Just back from the 100 Club gig. An absolute blinder of a gig. RT on top form. Can't remember the set list, but there was alot of new stuff and a fair smattering of golden oldies too. The new stuff is remarkably 'up beat', nice and rocky. This was helped by the wonderful drummer RT now has. Don't mistake this as an anti DM comment , it most certainly isn't. But this young black drummer seemed to add a certain 'Je ne sais quois' to the rhythm section.
Great to see Danny back on stage too, as good as ever. Pete Zorn was his usual multi instrumental self. They didn't do SOTL so we were spared the mandolin solo !!! This was the first time I had seen Teddy Thompson too, a competent rhythm guitarist and a very fine vocalist. RT and Son did a very fine rendition of 'Persuasion', alternating on vocals. TT has a voice not dissimilar to Neil Finn.
All in all a great night and well the 4 hour drive up to the smoke to see, and a bargain at £10.00.
The ones I can remember (Before the beer took effect !(Not in set order.)
Bright Lights
She Twists The Knife Again
Bathsheba Smiles
Tear Stained Letter
52 VBL
Persuasion
I Ain't Gonna Drag My Feet No More
Atmos was excellent, very sweaty, just like a club gig should be.
This boy should go far.
RTF (RT Farty)
rt_farty@hotmail.com
---
I second RTFarty's enthusiasm
Fantastic show. I took a Canadian friend - a musician himself - who had never heard OH before and who summed up the show : "Pure Magic". Couldn't have put it better myself.
However, the beer must have been strong, RTF - "Ain't Gonna Drag My Feet No More" wasn't played, although Isabelle did in fact corner Richard afterwards to request it for Cropredy yesterday (she didn't get it then either).
All in all a fabulous couple of days musically. RT twice in 24 hours. I'm still buzzing.
Mich
michelle.hemstedt@btinternet.com
---
Derrick & Pam & a few others
were at the pre-Cropredy London RT-gig and I heard Derrick's experience there the day after while standing in front of Cropredy's bar (the largest I have ever seen) and I read something about it too, but for all of us who couldn't be there I just stole this copy from the FC-list. It originates from The Guardian:
Dangerous Brilliance
Richard Thompson
100 Club
Richard Thompson occupies a unique place in British music. From his early days with Fairport Convention back in the late 60s, through to his work with former wife Linda, and the solo albums he recorded in the late 80s and 90s, he has developed a cult following who hold him in the awe that others reserve for Bob Dylan. He has become a guitar hero to rival Knopfler or Clapton and one of our finest, most distinctive singer-songwriters, capable of mixing echoes of English folk, rock, country and even reggae in his sturdy, rousing and doom-laden work. But he has never become a superstar in commercial terms - he has always been too unpredictable.
Next week his career takes another twist with the release of his first album of new songs in three years. Mock Tudor is a concept album of sorts, inspired by memories of London and suburbia, but recorded on the American West Coast. It's an album of typically bleak, often very un-English songs, some dressed up with a tight and very American country or R&B treatment and will, I suspect, prove yet another boost to his gloriously erratic career. It's his best album of the 90s and almost matches I Want to See the Bright Lights Tonight, back in the 70s or Shoot Out the Lights, in the 80s.
He will be touring in October, but as a preview to the new album he sneaked into the 100 Club in London's Oxford Street for a show that ranks as one of the concerts of the year. Thompson often appears solo, or with his brilliant double bass player Danny Thompson (not related), but is currently teamed up with an inspired band that also includes a black Texan drummer, a multi-instrumentalist capable of moving from sax to mandolin, and Richard's son Teddy (a potential star in his own right) singing and playing guitar.
It was a brave move to kick off with tracks from the forthcoming album - songs that only a handful in the club would have yet heard - but they already sounded like established favourites. Cooksferry Queen was treated with even greater confidence and attack than on the album, while the slow, pained ballad Hard On Me became the launching pad for an even more adventurous, dangerous-sounding guitar solo.
Thompson, as ever, was a charming contradiction. Dressed in black, like the rest of the band, and looking like some wild artist in his beret and beard, he switched from very funny introductions to bleak songs of London losers or pained and broken love affairs, while matching rousing electric guitar playing with intricate solo acoustic work. He sang and played as well as I've ever heard him and new, sad songs like Dry My Tears and Move On were a match for old, sad 80s favourites like the brooding When the Spell is Broken. This was an inspired and masterful set.
Robin Denselow
Guardian, 14 August 1999
Regards,
Flip Feij
flipfeij@zeelandnet.nl