Dublin - Hall of Fame - 9 & 10 August 1999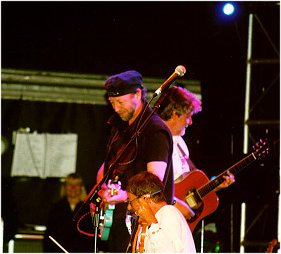 Well, fellow-listees,
As fate would have it I ended up being late for the RT gig in Dublin last night, so I missed about the first 45 mins. I was told that it was mainly the new songs, and I walked on while he was playing an excellent version of Al Bowley...
I didn't write down the set but the songs I remember are listed below. There was very little chat between songs but RT seemed in good form. Had a brief chat with Pete Zorn after the gig and, as those of you who have met him will not doubt agree, he's a very nice bloke. I also spoke briefly to Simon and to Michael the drummer.
The gig came at the end of the worst day I've had in many years so I didn't get as much out of it as I might have - ah well, I'll just have to go to the UK in the Autumn.
The songs I remember NOT IN ORDER OF PLAYING
Al Bowley
TSL (great guitar)
Galway
Persuasion
VBL (a bit pedestrian)
Bright Lights (v. good)
If you don't want me
Sights and Sounds
Man In Need (last song - wonderful version)
Brendan Teeling
Civis Dublinensis Sum
brendan.m.teeling@may.ie
---
Just back from the trip to Dublin
for the 2 RTB shows there. Both nights were excellent. Identical sets were played on both nights (no surprise there I suppose), and my guess is that they'll play the same set of songs again at Cropredy...
01. Cooksferry Queen
02. Sibella
03. Bathsheba Smiles
04. Two Faced Love
05. Hard On Me
06. Jennie
07. She Twists The Knife Again
08. Uninhabited Man
09. Al Bowlly's In Heaven
10. Persuasion
11. Sights And Sounds Of London Town
12. Dry My Tears And Move On
13. I Want To See The Bright Lights Tonight
14. When The Spell Is Broken
15. Tear Stained Letter
16. 1952 Vincent Black Light [RT solo]
17. From Galway To Graceland [RT solo]
18. Crawl Back Under Your Stone
19. Man In Need
Couple other bits:
* During the first night Richard played on his old Strat during the first 6 songs. During the second night, he didn't play the Fender at all.
* During the 2nd night (just before the band started to play) somebody announced on the PA that flashlight photography and taping was not allowed, which produced some giggles (one from me, too) - some things never change in the RT camp...
* Lotsa laughter for Richard's story that he would play many songs from his "Extraordinary new CD, which is not...NOT, in the shops. It's a new sales tactic!"
* "Uninhabited Man" (about music icons who'd died during the sixties) brilliant new song (I assume) with some lovely guitar playing (acoustic guitar for this song). One of the highlights of the show (both nights).
* I was impressed with drummer Mike Jerome: living proof that one does not need a giant drums set-up to get good results. He did appear to be slightly "bored" when all he had to do on some songs was keeping time...
All in all, two very good nights (the 2nd show being slightly the better one). Sound was good in general. The 2nd night was louder as the 1st one which suited me just fine!
There was raving review 'The Irish Times' this morning (about the first show) which ended with something like that those in Dublin that "didn't attend were fools." And so say all of us in the audience (about 500 each on the two nights).
And on that note I'll sign off.
Cheers,
Caesar Glebbeek
univibes@indigo.ie