Lokeren - Flanders - 5 August 1999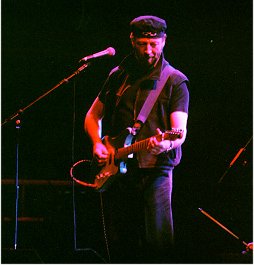 OH's just left the festival
site at Lokeren, Belgium, after a curious 20-songs set, together with Danny the bass player. He was taking care of his own transport, himself at the steering wheel, leaving waiting fans hopelessly behind. Our French friend Denis got his DT-video-inlay autographed, but he had to resist a few young nasty security people for that.
A curious gig after all the news from the US about the band-gigs, the appearance on stage of Teddy & the new drummer. Lokeren (and in fact The Benelux) was kept satisfied with a mere copy of last year's performance at Klinkers In Brugge plus Danny & only a handfull of Mock Tudor-goodies. The main goal for this one-off seemed to be the Benelux-press, that have to get their September-issues loaded with RT-stuff of course & they had the opportunity to make their interviews between the 7 o' clock soundcheck (RT in shorts) & the beginning of the music (RT wearing a pantalon, if you know what I mean).
O.K. we had our Sights and Sounds, Walking The Long Miles Home, Batsheba Smiles, If You Don't Want Me I'll Dry My Tears And Move On but the rest was sheer back catalogue, a paid rehearsal of some promotional sort that was hardly acceptable for the group of amateur critics from France, Belgium, Germany, Britain and Holland, that had gathered in the city of Lokeren in Dutch-speaking Flanders between Antwerpen and Gent especially to listen to their renewed favourite singer-songwriter.
We had hardly any stage banter and a tight security before, during and after the performance to allow The Thompsons to move on while we were drying our tears. Of course RT played well. Of course it was nice to see Danny on the continent in perfect shape & pointing at Richard everytime he mentioned who was playing the upright instrument, but most of us hadn't come for the routines of I Feel So Good, Hamlet, Turning Of The Tide, The Ghost Of You Walks, Genesis Hall, All Bowlly, I misunderstood, Shoot Out The Lights, Razor Dance, VBL, Two Left Feet ("Hey Magritte, he's from here, isn't he ?"), She twists the knife again.
During the ol' audience participation polka the audience did a great job without a mentionable rehearsal which brought OH to some sort of enthusiasm, he enjoyed it, smiled at Danny and thanked for it, saying "Lokeren" did a better job than "Glasgow".
But then they continued with the back catalogue.
Promoting a new album must be possible without neglecting your live audience.
I am so sorry,
(especially to KiWiGary for sounding so spoilt).
Regards,
Flip-
(expecting a first category appearance at Cropredy)
PS I brought a few less-RT-regulars to Lokeren and they enjoyed themselves. They liked the food, the beers and the music.
PS It was great to see Derrick again (who'll be attending three RT-concerts in 8 days), Richard & Cathy, Olivier& Heidi, Emanuelle & Denis. We all share a strong love for OH.
For you completists:
1. Sights
2. Bathsheba
3. Feel So Good
4. Waltzing
5. Hamlet
6. Ghost Of You
7. Turning
8. Genesis
9. VBL
10. If You Don't Want
11. She twists
12. All B.
13. Jimmy S.
14.Shoot
15. Razor Dance
16. Misunderstood
17. Two Left Feet
ENCORE
18. Wall of Death
19. Walking The Long Miles
20. Sorry, can't read or remember ( = not a new song)
The capo stuff of the new songs may come from Richard C. after he dried his tears after returning from abroad.
Off to bed,
Flip-
flipfeij@zeelandnet.nl
---
Yes, some of us
were disappointed by the set-list. If "Mock Tudor" was not about to come out, I suppose you could call it a balanced program of songs from all periods, including four from the new album, but I guess that we expected to hear all the as yet unheard novelties and were upset not to get them.
There are no complaints at all about the singing and playing. RT was in outstandingly good voice - powerful, aggressive, tender by turns in all the right places.
The interplay between him and Danny was based on intuition and almost telepathic mutual understanding, and Danny's bass-playing enabled Richard to concentrate a bit less than in solo gigs on combining a kind of basso continuo with the tuneful passages on the upper strings of the guitar.
For the completists, here's a rundown on the songs:
1. Sights and sounds of London Town (capo 5). RT told the usual joke about having sponsorship from the London Tourist Board.
2. Bathsheba Smiles (no capo)
3. I feel so good (capo 3) introduced as "a song about friendly psychopaths".
4. Waltzing's for Dreamers (c 3) - major contribution from Danny.
5. Hamlet (c 3) - no, not again, I hear you cry! At least it was without the usual lengthy spoken inttroduction - and Danny played an excellent solo, the only new thing about this song for many years!
6. The Ghost of You Walks (no c)
7. Turning of the Tide (c 3) Danny left the stage at this point: RT commented that he wasn't paying him enough to keep him on stage the whole time.
8. (solo) Genesis Hall (c 5) introduced with the usual flattering references to Fairport convention and Sandy Denny.
9. (solo) VBL52 (C 3, dropped tuning of bass strings, use of thumbpick) - introduced as a song for the motor-cycling fraternity.Danny returned
10. I'll dry my tears and move on (c 2)
11. She Twists the Knife again (no c, tuned up bass strings again)
12. Al Bowlly (no c, great solo from Danny)
13. Jimmy Shands (c 3, dropped bass strings for open playing); this "nordic blues" (not a new joke) may be a bit tired, but RT's picking of Scots dance tunes (with thumbpick) was brilliant, a word I use rarely.
14. Shoot out the Lights (c 2): RT looked across to Danny, said the one word "Shoot", and launched into the song.
15. Razor Dance (c 2)
16. I misunderstood (c 3)
17. 2 left feet (c 3, thumbpick). I've heard this song too often but again the guitar playing was extraordinarily good. One line I had not heard before: "I took you to Riverdance, bought you a seat Still you dance with 2 left feet."
18. Wall of Death (c 7)
19. Walking the Long Miles Home (no c)
20. Ghosts in the Wind (no c).
As you may have guessed, I was close to the front.
As one of the few who have not heard Mock Tudor, I look forward to hearing the new songs that I have not heard, and can't wait to hear what the band does with those that I have heard solo.
For Bink: on a sartorial note, RT was not in unrelieved black: apart from the usual tartan guitar strap, his black sweatshirt had a white collar and white stripes along the shoulders.
Richard
("Old fan inside an old man")
Richard.CONDON@DG21.cec.be
---
The small Belgian town of Lokeren
boasts few tourist attractions: a museum one might wile away a rainy half hour in, and a nature reserve. When hosting its music festival the town centre is sealed to traffic and devoted to sideshows and rides. With the stage in a car park, the audience background chatter and distant rumble of generators make it the perfect fairground setting for the Wall of Death.
The set performed was vintage Richard and Danny, with a modicum of Mock Tudor. Any novelty was reserved for the small details. It was the first time I've heard the Matty Groves riff alternated with Roll Over Vaughan Williams in Two Left Feet; a doff of the cap to the strong Fairport fan base in Belgium, and a hint of things to come at Cropredy?
I was unprepared for how very catchy the opening Sights and Sounds of London Town is. It passes the old grey whistle test with flying colours and remained in my head throughout the long drive back to England. Onward to London and Cropredy! It's a brave man who disses a Glasgow audience less than two weeks before playing there!
Derrick Leigh
dleigh@powernet.co.uk
---
Having decided to visit Holland
before heading to Cropredy our good friend Koen suggested and arranged for a fabulous visit to Belgium to catch RT at Lokeren. Having not seen OH live since fall 97 I thought the set was positively fabulous despite what I seem to be reading on the list so I have locked Koen out of his Office cum Archive while I make comment about the Lokeren gig.
... I feared the worst when we arrived as there was a carnival atmosphere afoot with no one paying attention to anything and losts of carrying on. I thought that it would be a rough gig but the crowd was very attentive and applauded several solos and older songs. Fabulous camera work/video screen work was a welcome bonus and the sound was near perfect( all this for something like 2 Canadian Dollars !!!)
so here's some highlights
1. Absolutely stunning version of Genesis Hall - Richard's 2nd or 3rd arrangement of this one - a riveting and assured performance that found OH digging deep vocally and emotionally. This was as good a highlight of any of the 15 RT gigs I've seen in the last 10 years.
2. A very powerful Shoot Out the Lights - best acoustic version I've ever seen. Solos showed that Richard must have been practicing a great deal during his summer vacation. Danny was to have taken the last solo and passed leaving RT to come up with something very spontaneously.
3. Ghost of You Walks was a real improvement on any other version I'd heard with a new sort of ending.
4. Totally Fabulous and unexpected I Misunderstood ( more of a sort of hit in Europe than in North America methinks ) nicely done.
5...and lastly a very intense and wonderfully played version of She Twists the Knife Again with all kinds of nifty little solos thrown about here and there ( although OH nearly lost it at the pre-solo bridge thingy )all in all a very very good RT gig and what it lacked in set list surprises in made up for in what seemed to be some very very fine playing and singing...
.....thanks again to Derrick Leigh for the ride back to Gent !!!
Chris HOuston
---
So, some *did* have a wonderful time
(despite some mumbling and grumbling uttered by others earlier on the RT list about the Lokeren gig). I don't have a lot to add to what Chris wrote, apart from saying I thought it was an excellent and well balanced set of old and new material.
Great gig :-)
Koen Hottentot
koho@xs4all.nl
http://surf.to/koho/