San Francisco - Slim's - 1 July 1999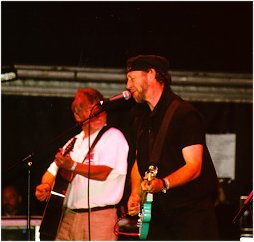 Last night was the final gig
of the short 3-week "Mock Tudor tour Pt. 1." Slim's was the venue, San Francisco the city. I was there, Nur was there with D. Other familiar faces for those of us who were first in line to get in. Doors opened at 8, RTB hit the stage at about 10:15.
In short, it was exceptional.
The set list was the same as other gigs, with the inclusion of 1952 VBL, and the exclusion of Dry My Tears (set was getting to slow so they skipped it and played something from the new album that wasn't on the set list. Damned if I can remember right now what it was...), Razor Dance, and Walking the Long Miles Home (on the set list but not played). The show still clocked in at just over 2 hours, and some of the extended jams went on much longer than I would have expected.
Highlights for me were the new numbers, especially the beginning of the set with 5 new ones in a row. Sibella's a great song, but Bathsheba's a classic, imo. Being familiar with the songs made them even more enjoyable.
Everything else was almost a letdown after these two numbers. Richard gave us a nice career retrospective/preview of the new album. Teddy was a nice addition, but looked like he dressed in the dark -- Big-collared shirt, baggy wrinkled trousers, filthy sneakers an elementary school-age student would be happy with, he just looked tacky.
The new drummer is excellent, and a welcome change to the lineup. He can certainly hold a rhythm better than DM, and some of his fills and flourishes gave me big smiles. I think STTKA was included in the set to show off his exceptional, non-pulsed efforts. He's great!
I actually leaned against the stage between Richard and Pete because I figured this was my chance to really see the band up close. I wasn't disappointed.
<smiles>
At the mid-point where the set list read "Dry My Tears" they played "Walking Along My Town" (not sure if this is the same as "Walking The Long Miles Home", the last song on the set list).
Dry My Tears (set was getting to slow so they skipped it and played something from the new album that wasn't on the set list. Damned if I can remember right now what it was...), Razor Dance, and Walking the Long Miles Home (on the set list but not played).
At one point late in the set someone asked Richard if they could ask him a question, and he said it was not a good time ("you know what I mean?"). The guy asked the question anyway (something about one of his guitars, did he have an add'l string or something), and Richard got really pissed off, but he just slowly said "It's.... not..... a.... good.... time.....And it's technical, so you wouldn't understand it anyway").
Jeff Soldau
lava@well.com
---
Well, after YEARS
of only "hearing" him perform, last night I got to see-and-hear-and-feel him perform at Slim's in San Francisco. He is quite a character, but then so is Danny, and their stage antics bring everybody else in the band along.
Teddy has quite an excellent voice, and it was nice to hear it as lead in more than one spot. His voice was particularly appropriate on the Finn/Thompson tune (Persuasion) where he got to do a fair amount of vocal soloing. His voice has a quality not unlike the Finn brothers' voices. It was really a treat, as well, because I had just been listening to the particular Tim Finn album I have it on. In fact, I pulled it out to play at the same time I pulled "Rumors and Sighs" and I didn't know it would be in the program. One of life's little "coincidences."
Zorn is quite the versatile musician and back-up vocalist. And I agree that the drummer laid down the rhythms you'd expect and seemed to be having a good time, especially working with Danny.
It was hotter than hades in Slim's and we were packed elbow to eyesocket (I felt sorry for the shorter folks, but then as tall as I am, I ended up behind someone taller than I). RT commented on the heat more than once, in his inimitable (sp?) style.
Never having been to see RT live before, I didn't know what to expect, but I must say it was well worth the sore feet and craned-neck I have today.
I was impressed to see so many women at the show, and I didn't get the impression that they were there simply as companions of some "guy/fan." We had one woman nearby who danced the whole evening (in a very tight circle, due to the density). I guess I've been going to too many more "Prog-Rock" oriented shows in the last few years, where to see a woman at all, is an exceptional thing.
Of course, there's no way they could have played everyone's requests, but they sure worked a lot of songs in. And so I heard no real complaints afterwards, as I sometimes do at these shows, except one guy who thought the mix was fairly bass heavy. And yes, someone else said, how does Danny get a stand-up bass to vibrate a whole building, and their companion said, "Did you see that rack of amplifiers and electronics behind him?"
Anyway, maybe not so many spoilers after all, good for those who shun such info -- and perhaps a disappointment for those who enjoy it. I'll not go any further, except to say I went forward for a set list, but got there too late.
I'm just glad I was still on the Flypaper mailing list, as I had been off this list in the last few years. That list enabled me and two other friends (who are bigger and longer term RT fans) to get tickets and attend/enjoy the show. We were all very glad. So thanks, Flypaper, whoever you are!
So as the old Bob & Ray comedy duo would say, "A good report from Webbly Webster."
John Lukes
jal48@yahoo.com>
---
It was actually "the frisky tomcat of ..."
[Andrew Teton wrote: "RT said: "We're all sweaty up here, and you know what that means. The frisky kitten of ambition has met the scalpel of time."]
Thought I'd point that out as a way of subtly saying, "Hey kids, I was there, too!"
What a fine June of live music I've had (he said in a self aggrandizing tone). Elvis Costello, Tom Waits and RT all in one month. TW and RT will surely be my concert highlights of 1999. But I digress...The show was indeed incredible. I've seen him play with a band many times since my first experience at Rockefellers in Houston 1983, and this ranks as one of (if not) the best performances.
Truly, truly inspired playing by RT. As many have mentioned already, "Hard on Me" was utterly jaw-dropping at times. Many other great new songs, as well. Most all immediately likeable, one or two may need additional hearings to make a final call. No blatantly bad ones, of course.
RT in fine comedic form. Particularly liked his offering up of Zorn for those with "undersink plumbing problems" after he played that enormous flute on "Jennie".
And I'd be remiss not to say "WHAT A DRUMMER!" (DM who?) Don't remember the name of the new song they played once the drummer finally arrived, but it was as much a showcase for Jerome as RT. You couldn't stop watching him as he banged away, playing with brushes like no one I'd ever seen. His playing really made that song go, and set the pace for an overall edgier RT band than one has seen in the 90's. "YES!" (To quote the recently re-hired Marv Albert.)
The opening act, Paul Thorn, was at times very funny. Very droll southern monologues before every song and lots of wacky asides during most. Had the wife and I laughing out loud numerous times during his set. Don't believe his songs would hold up to much repeated listening, but were definitely very entertaining in the moment, nontheless. Much more so than the typical opener one sees at a club gig.
And last, but certainly not least, I will second the motion that the Roxy experience really sucked, for lack of a more thought out and sophisticated description. But, as I kept telling myself during the unpleasant bits, in the end it was worth standing up in a sweaty nightclub for over 4 hours, thankyouverymuch.
Now for the Op/Ed portion of this review:
Did anyone else in attendance that night get the feeling that RT didn't plan to play "Vincent" as an encore, but was goaded/harassed into it my numerous requests. Was easily the worst version I'd ever heard, though even IT had moments. When Teddy came back on with the rest of the band immediately after, he quickly said something into RTs' ear, which I interpreted as an expression of surprise at his playing "VBL". Hadn't others noted its' absence in earlier shows?
Those who were at the LA show, talk amongst yourselves, and decide if you think I'm full of "frisky tomcat" droppings.
Thomas J. Lindley
tomjl@earthlink.net
---
I thought I'd send out
the Slim's setlist as I didn't see anyone post it yet. It was my first time seeing RT with a band, and my jaw is still dropped... his soloing was particularly jaw-dropping on Hard on Me and Tear-Stained Letter. Bathsheba Smiles always sounded good, but was stunning with a band. That was my favorite of the new material, but it looks as though it'll be a very strong album in general. Hope You Like the New Me left me a bit cold at the Petaluma show in January, but everything else has sounded great.
Slim's, SF, CA 7/1/99:
Cooksferry Queen
Sibella
Bathsheba Smiles
Two-Faced Love
Hard On Me
Jennie
She Twists The Knife Again
Uninhabited Man
Al Bowlly's In Heaven
Persuasion
Sights & Sounds of London Town
Walking The Long Miles Home
Big Chimney
I Want To See The Bright Lights Tonight
When The Spell Is Broken
Tear Stained Letter
E: 1952 Vincent Black Lightning
Crawl Back Under My Stone
Wall Of Death
Man In Need
The usual ample supply of quick humorous comments, several about how sweaty most of us were... He introduced Big Chimney as a song about economic policy in the Thatcher era, said he was sure we were familiar with the steel working vernacular, mentioned the "Pig iron, pig iron" chorus, and then wondered aloud, "Why wasn't this a hit?"
Looks like I'll be on the east coast when RT hits Philadelphia.. does anyone know if it's acoustic or electric? Not that the answer matters as far as deciding whether to go or not, that's a given, but I'm curious.
Rob Hodil
rhodil@earthlink.net