LA - Roxy - 30 June 1999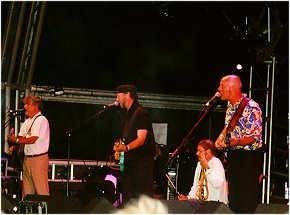 This is another in the litany of rave reviews
from RT*s current magical road shows. I saw the last night*s show at The Roxy in Los Angeles and it was everything other listees promised and then some.
Through this list I was invited to ride down with John -Thanks again! - who brought along his young guitar playing nephew and a coworker he is ingeniously *converting* to The Cause. John is meeting his quota and more. I also met some other list members in line and it was great fun chatting with them.
This series of concerts has received close scrutiny and excellent reporting in this list. With that in mind, I*ll just share a few impressions to serve more as foot notes to earlier reviews.
To start with I have never seen OH with a band before, so this was like a second baptism. It was riveting. I kept thinking *Everyone is on this list because this man is a musical force of nature - and ~~this~~ kind of mesmerizing performance - with these wonderful new songs and magnificent earlier gems - is exactly the reason why .*
The sweet searing kiss of That Guitar Playing was extraordinary; the prowess and lockstep tightness of the band was a joy. The locomotive power of the rhythm section was visceral. Danny Thompson is... well, Danny Thompson! And the new drummer is fabulous. Together they provided a sumptuous bedrock to the music. It reminded me of the sort of effect I associated with seeing the marvelous Kodo Drummer of Japan. Yes, that good!
OH was Himself and then some. He was obviously comfortable and having a great time. For example, when the drummer was a little slow getting to the stage to kick off the show, RT just switched on the spot and did a couple of acoustic numbers first, starting with *Persuasion.*
The new songs - truly a delight. Strong material and probably among his most accessible in a long time. People have been raving about *Sibella* and after hearing it last night I can only say: yes, Yes, YES! Indeed, if it were a single it could be his *Dancing Queen.* (OK, sorry, apologies all around for that remark, but the song really feels like it could score on radio.)
Another treat was to hear sweet harmonies from Teddy and Pete, these enriched songs in a lovely way. And while the band is truly outstanding, it is OH himself, whether doing laser surgery with his solid body guitar or mesmerizing with his acoustic -while always pouring himself into delivering the lyrics - who makes the show.
A splendid time was had by all. The show was generous at 2:15 minutes, and unstoppable. RT pulled a string out of the nut on his guitar (or blew a tire the way he was playing!) while doing *Big Chimney* from Industry (he nearly cried in gratitude when people applauded the song announcement.) An alert roadie swapped guitars on him while OH never missed a word an just a few notes.
But all good things come to an end, or as RT said: *We*re all sweaty up here, and you know what that means. The frisky kitten of ambition has met the scalpel of time.*
The show was indeed tremendous, but I do need a moment to vent about the venue:
*The Roxy is poxy.* From the moment we arrived we found the ticket pickup and seating lines completely disorganized and no employee of The Roxy even ventured outside for the first two hours. This should have been a 100% fun evening, but it got off a rocky start as people*s irritation and discomfort grew.
By the time *Will Call* tickets were finally being given out (anywhere from 30 minutes to 90 minutes later that we had been told on he phone) various lines had begun to sprawl and sub-divide like some many ugly viruses. People were not thrilled to have their place in line usurped after almost two hours. I said to someone: *This feels like *Lord of the Flies,* but I don*t think this will have the same cheery ending.**
The inside the Roxy completely the reverse of everything you want in a music experience - almost every seat and squashed standing area is undesirable. The Roxy seems designed so that 90% of all the people will (a) have their view blocked, and (b) block someone else*s view. While the audience contained many real fans, there also seemed dozen of plastic shiny Hollywood moguls-in-training who chattered throughout the evening, took calls on their cell phones, swept in and out constantly like a colony of ants, and were in every way obnoxious. This really broke the moment for me many times. Even RT remarked, only half kiddingly *This places feels very Hollywood, very greasy, no - slimy, no - sleazy, that*s it. Sleazy - that*s how it feels.*
But the beauty of the music dissipated that and the show was great. And as I sit here in my office today I feel it is vastly cooler with my *Richard Thompson Performing Tonight *Mock Tudor* Tour * poster I grabbed on the way out.
Mock nothing! This was the Real Thing!
Andrew Teton
ateton@instadv.ucsb.edu
---
Thompson keeps it real with "Mock Tudor" tour
HOLLYWOOD (Variety) - After folk-rock guitarist Richard Thompson, onstage at his sold-out show Wednesday night at the Roxy, announced that he was going to concentrate on new material, he joked that his audience's reaction couldn't have been any blanker had he announced he was performing "Springtime for Hitler" from Mel Brooks' "The Producers."
Self-deprecating cheek aside, Thompson thoroughly assuaged any skepticism that might have existed in the crowd and quite likely ensured a number of first-day sales of his upcoming CD by the time he concluded his two-hour set (including a 20-minute encore).
Thompson, a venerable, crafty songwriter who for 30 years has maintained fan base that falls in the "diminutive but loyal" category, has maintained an admirable level of excellence in his recorded output. His most recent efforts have been somewhat melodically anemic, but "Mock Tudor" (Capitol), due Aug. 24, signifies a heartening return to form.
Touted as a look back at Thompson's life in London from the '60s to the '80s, the new work features only a couple of tunes that suggest any real reminiscing. "Uninhabited Man" elliptically concerns fallen fellow musicians (two singers whom Thompson had dated died in accidents in the '70s). "Sights of Sounds of London Town," destined to be a future fan favorite, offers a portrait of a gallery of luckless rogues; introducing the song Wednesday, Thompson drolly announced that it was "sponsored by the London Tourist Authority."
Instead, "Mock Tudor" has Thompson doing what he does best -- harsh, alternately cynical and heartbreaking reflections on love and life. Producers Tom Rothrock and Rob Schnapf, who have worked with Beck, the Foo Fighters and Elliott Smith, have punched up Thompson's sound without forcing a strained, more "contemporary" sensibility upon him, and the result is perhaps his most consistently satisfying effort since 1991's "Rumor and Sigh." Thompson's concert got off to a rocky start, however, when his band took the stage but drummer Michael Jerome was nowhere to be found. Initially nonplused, Thompson quickly settled into a brief acoustic set. He dueted with his son Teddy (a vocalist as expressive as his pop, with a contract of his own with Virgin) on "Persuasion," a song Thompson collaborated on with Tim and Neil Finn (whom Thompson, taking a shot at his employers, referred to as "former Capitol recording artists").
Once Jerome surfaced, the group exploded into "Mock Tudor's" opening number, "Cooksferry Queen." The ensemble immediately worked up a head of steam -- the rhythm section of Jerome and Thompson's brother Danny, on stand-up bass, propelled the music with muscle and authority all evening -- and the show's false start was quickly forgotten. In all, nine songs from the upcoming album were featured, with Thompson offering particularly impassioned performances and incendiary guitar solos in new numbers "Two-Faced Love" and "Hard on Me."
Older material was eventually incorporated into the set. The ballad "Jennie" was re-imagined into something more brawny yet still wistfully evocative; "Al Bowley's in Heaven" evinced even more of a jazz flavor, benefiting from superb soloing from Danny Thompson and versatile instrumentalist Pete Zorn on clarinet. "She Twists the Knife Again" was given a typically blistering reading, but the biggest crowd-pleaser was "1952 Vincent Black Lightning," in which Thompson proved he didn't need to solo on electric guitar to be electrifying.
Thompson largely eschewed material from his inspired years with ex-wife Linda (it must be interesting psycho-drama for Teddy to perform those numbers with his mom absent). Only "I Want to See the Bright Lights Tonight" made it into the set before the encore, but the evening did conclude with the one-two punch of "Wall of Death" and "A Man in Need."
Even Thompson's way of bidding his audience good night was entertaining: "The frisky tomcat of fate has come upon the cruel scalpel of time."
Presented inhouse. Band: Richard Thompson, Danny Thompson, Teddy Thompson, Pete Zorn, Michael Jerome. Reviewed June 30, 1999.
Reuters/Variety
04:07 07-02-99
David Kronke