Glasgow - Royal Concert Hall
20 October 1999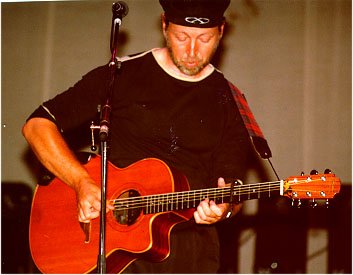 RT et al played
a set to an enthusiastic Glasgow audience which, IMHO, I consider to be one of the best I've ever seen him deliver. At the centre of the third row with his guitar about eye-level 10 feet away he played for 2 hours 17 minutes with an intensity and passion fired a discernable notch higher than on previous sightings, including the recent boxed set TV recording in same city. The set-list is below and, as might be expected from the laminated copies on the stage, was as previously stated at most other UK shows on this tour. In my position the sound was very good and neither of the two of my sons (10 & 12) with me considered it especially loud either, nor did we observe any bloodied collars on exiting the building.
As has happened on a number of times in the past he freely entered into a bout of verbal sparring, initiated by welcoming all the Celtic and Partick Thistle supporters and expressing his hope that "the other bastards lose". (These being Rangers supporters, some 50,000+ of whom were watching their football team enjoy a rare trouncing of PSV Eindhoven opposition in the European Champions league). In a city with a strong tradition of sectarian divide manifest in football support this was a potentially contentious line which not all performers might be advised to mimic. Clearly the man knows his audience though. His inferred allegiance to Celtic was earlier reported in the Herald on Sunday newspaper which mentioned that his grandad had in fact played for the club - seemingly before the p was added to the name. (The article was otherwise rehashed dross). He maintained a running football commentator role by ad hoc reports in his usual wry manner..."Rangers are winning - but play is still in progress with PSV in attack...." Latterly he gave the score as "4-1", which knowing Scottish teams' typical fortunes, was thought to be against Rangers. A cry from a home taper not to reveal the score, surprisingly perhaps, did not bring about auto ejection - some taping is OK, but instead a non-verbal report (look away now) show of fingers on each hand. Hands were then tantalizingly crossed and only latterly correctly identified "home team, away team"
Earlier he dealt with a complaint that the "sound is crap", initially by showing concern and advised that the sufferer move around the hall to try other seats (although not too many were free). The retort and subsequent dialogue that this had been done, and that "the sound, not the playing, was still crap" raised doubts about pre-concert consumption - Teddy boldly suggesting that the complainant try outside the building; Richard that he had all his pints. Subsequent trading in one-liners resulted in RT defensively protesting that "we're not Morcambe and Wise" (70's UK TV comedians of a sort) The audience response, "Naw, they're deed" proved the stopping point where RT decided to disengage - he seems to enjoy the test of the tradition of quick, sharp asides that prevails in the area.
Throughout the set the banter onstage and off was upbeat - the band and audience clearly relaxed and very much enjoying themselves. My parting hope is that a live version of this set is released - I continue to be impressed by the extent to which the man can lift his recorded work live. If the chance exists - don't miss him on this form...
Set list: Glasgow Royal Concert Hall 20/10/99.
Cooksferry Queen -RT, TT, DT, MJ & PZ
Sibella
Bethsheba Smiles
Two Faced Love
Hard On Me
Jennie My Love
She Twists The Knife Again
Uninhabited Man
Al Bowlley
Persuasion - RT & TT
Sights And Sounds Of London Town - RT, TT & PZ
Walking The Long Miles Home - RT, TT, DT, MJ & PZ
Bright Lights
When The Spell Is Broken
I Feel So Good
Tear Stained Letter
- Encore -
VBL 1952 - RT
Crawl Back - RT, TT, DT, MJ & PZ
A Man In Need
Heart Needs A Home
Wall Of Death
- Encore -
Razor Dance
Jimmy Young, Stirling
j.a.young@stir.ac.uk
---
Finally,
after watching (via this list) the tornado that is the RTB sweep across America then over the Atlantic to England it was now time for RT to return to his father's homeland. This was the fifth time that I'd seen RT in Glasgow - and, overall, it was, IMHO, his best gig there- ever. I had 3 friends in tow - one complete novice, one who admitted to having the "juggling the balls" album and one lapsed fan ( last gig 1981). It was a pity that not everyone brought 3 friends along to the Glasgow Royal Concert Hall as there were empty spaces.
The GRCH is a modern venue built and run by the local council basically as a replacement for the sadly missed Apollo ( now that was a venue!)
The audience were all seated . No dancing - but a great chance to hear every note from this great band.
The set was the same as previous gigs. RT didn't say anything to the audience until after Sibella. He then remarked that we must all be Glasgow Celtic and Partick Thistle fans as the competing attraction was a live TV game - Glasgow Rangers v PSV Eindhoven in the European Champions League.
Updates on the score were provided by RT throughout the gig. Does RT make similar references to local events when he is in the States? The MT quinology of songs concluded with HOM and the reports of the blistering solo were correct. RT went for it so much that he broke a string. It didn't seem to make much difference to him. He could probably play a solo on one string and it would still sound great!
There then followed a surreal banter between RT and a member of the audience. Some wanker at the back of the hall bellowed that the sound was "crap" and had been throughout the UK tour. RT suggested that he move to a position behind Simon at the mixer. The guy continued to bellow. RT then suggested that as he was marginilised in the audience he was probably marginilised in the rest of his life. The audience lapped up RT's spat with the guy. Personally, I thought the sound was good.
This "dialogue" encouraged a few more punters to shout at/to RT. The strangest was a guy (obviously drunk) who requested John Denver's Annie's Song. RT asked him whether he might prefer Sometimes When We Touch or, indeed, a medley of both songs.
As someone else on the list suggested, PZ's bass flute on Jennie is a bit naff. However, his choice of instruments for all the other numbers was impeccable.
It was the acoustic orientated songs that impressed me most at this gig. UM was brilliant particularly MJ's drumming. For some reason, RT pretended that instead of UM they were going to do Uninhabited Oddyssey. Good to see that they've been watching Spinal Tap on the tour bus.
The jazz version of ABIH was terrific. Has anyone mentioned on the list that, melodically, it is very similar to Brother Can You Spare A Dime? The reports about Persuasion were spot on. What a great voice TT has. Presencewise, throughout the gig he appeared to be very focused on his contribution. Or maybe having End of the Rainbow sung to him every night as a child by his Dad has scarred him for life!
Some clever arse (i.e. me ) shouted out for "Streets of London" just before he launched into S&SOLT. I was rewarded with a quick snatch of Ralph's song.
The souped-up version of IWTSTBLT was great and brought the biggest audience cheer of the night. I have to report that, on scanning the audience, most of them appeared to be of an age that they bought IWTSTBLT when it was first released. Obviously the Britney Spears Fan Club (Glasgow Branch) haven't yet discovered RT.
CBUMS is better live - more guts to it.
VBL 1952 showed that, in the hands of a master such as RT, the Scottish Ballad form is not dead.
After the gig. I spoke to the guy who was the lucky recipient of RT's set-list. He remarked that the gig had sort of peeked early. I would have to agree. As the last encore Razor Dance wasn't the best choice. I would expect that on subsequent tours, the quinology of songs from MT won't be retained allowing HOM to be the last song played before the audience walk the long miles home.
My travelling chums were all mightily impressed by the RTB. They remarked that it was fortuitious that RT had played most of songs from the compilation tapes that I had given them as training for the gig. Being an honest sort of chap, I gave full credit to the RT list for the advance info on RT's current set. I know that some record shops are going to be cleared of their back catalogue of RT albums today.
Roll on the next tour!
Gordonus
PS - For the first time in my life, I didn't take a tape recorder to an RT gig. I decided to respect the artiste's wishes. Mind you - I did swither a bit as I left my house to go to the gig :-)
PPS - My friends and myself finished off the night with a fish supper and a slug of Irn Bru. We decided to pass on the deep-fried Mars Bars.
"Gordon Campbell"
GordonCampbell@ukgateway.net
---
A few years ago,
I introduced this friend of mine, a German woman living in London, to the wonderful world of RT. Since then, she's attended as many London (and Crawley) shows as possible, and I've sent her comments to the list before, with good feedback. I like these kinds of comments because they're *not* from 'us', they have a kind of spontaneity and lack of pretense that 'our' reviews sometimes lack, the product of fresh eyes and ears.
"Yes, the concert was great - RT IS great on stage, and so are the other musicians. "Jenny" was one of the highlights of the night for me because after RT did the first verse, it was Teddy coming in with "Now you pin up your hair like you did when first we met..." and it was like you saw the young RT "when first 'they' met"... I thought this was very clever. Pete Zorn did not ruin a thing for me; he was brilliant, very vibrant, 'dancing', at the same time very modest. His voice/singing in "Wall of Death" was sooooo eerie, but also very light hearted - great stuff. Yes, I liked "Shes Not There", too. Very heart-felt AND easy going. And I liked the drummer, I don't know his name. It was amazing to see/hear how this very young, black guy was so very much in tune with this music, how he lifted it up to another level, almost. Everyone in the band seemed to enjoy his play. Another highlight among all the other highlights was "A heart needs a home" (RT and TT)- but I guess that this is more to do with personal preference/history than anything else...
There was no need for binocs this time, we had seats in the fourth row... It was quite loud, yes, AND crazy - the good kind of crazy... Before getting into "Al Bowlly's in Heaven", RT encouraged people to come and dance (well, I guess he was taking the mickey)... He explained that it was a foxtrot... No one actually did dare to dance, so it was just another nice thought... a great move - had it been a movie."
---
Gordon,
I think that I must have been just in front of you when you were talking to the lucky recipient of the set list. My views of the gig were that I have some sympathy with the guy who complained about the sound. I found that on the loud numbers (such as HOM), I couldn't really hear the guitar clearly and it got lost in a general noise. For the quieter and acoustic numbers, the sound was much better.
On the basis of the different opinions already expressed, obviously it did make a difference where you sat. I was in row E. As my children (aged 9 & 7) decided after I had booked my tickets that they really wanted to go, they sat beside my wife in row Q. I must admit that since this was their first ever rock concert, I was a bit concerned as to how they would enjoy it. I needn't have worried. Apparently, the sound was excellent back on row Q (they were near Simon!) and my 9 year old was positively buzzing. I know you don't rate Razor Dance, Gordon, but it probably made the night for my kids. I have now seen RT on innumerable occasions and it is wonderful as a fan of his since I was about 14, to bring along my children to their first RT gig. I'm sure it will not be the last.
Looking forward to seeing Boxed Set on the 9th Nov.
Thanks Richard and the boys for yet another great evening. The icing on the cake was Aberdeen getting their first win of the season (6-5 at Motherwell). RT also went up significantly in my estimation with his comment about Rangers.
Colin S Campbell
Edinburgh
colin_s.campbell@virgin.net