Bloomington IN, 24 June 1999
Buskirk-Chumley Theater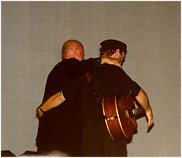 Greetings worthy Thommophiles:
I tried to send this review (written for the Bloomington Herald-Times) to the list a couple of weeks ago, but I never saw it appear. It's pretty belated now, since the brief US tour is history, but a pal of mine here in town asked me to try sending it again with a "better late than never" admonishment.
Here is the (rave!) review (along with a caution that I am but a lowly sportswriter, and don't write about music professionally):
By Andy Graham
Herald-Times Staff Writer
Not many musicians would -- or should -- start a concert with five new, unreleased songs. For brilliant British folk-rocker Richard Thompson, no such qualms. Thompson began Thursday night's show at The Buskirk-Chumley Theater with the first five songs, in exact sequence, from his upcoming release, Mock Tudor (due in stores August 24). The album, judging by the tunes from it showcased Thursday, should be well worth the wait.
The new songs are strong, which given Thompson's over 30-year history of masterful work is no surprise, and his current five-piece band presents the material powerfully.
Longtime Thompson cohorts Danny Thompson, the superb double-bassist, and multi-instrumentalist ace Pete Zorn, are along again for this brief U.S. tour. They're joined by Thompson's son Teddy, who adds rhythm guitar and gorgeous harmonies, and by talented Texan drummer Michael Jerome.
"If you don't mind, we'll play a lot of new songs, to help us learn them," Thompson quipped to the capacity crowd. "And it'll be a real growth experience for you, too."
The opener, "Cooksferry Queen," sported a roaring blues riff (an unusual characteristic for a Thompson song). It cooked, and then it was just a matter of moving from strength to strength: "Sibella's" pounding bass-drum intro. The glorious chorus of "Bathsheba Smiles." The choogling Dire Straights-style shuffle of "Two-Faced Love." The crushing rock of "Hard on Me," during which Thompson, a virtuoso guitarist, truly unwound for the first time. Thompson's playing is grounded in the modalities of Celtic traditional music and features Django Reinhardt-style flourishes. He can go from the Middle Ages to the Middle East to Memphis in the course of a solo, and make it work wonderfully. He avoids blues scales more than most guitarists - and frequently departs from scale entirely, only to inevitably find his way back with passionate assurance.
If Thompson's adventurous playing is sometimes rooted in the distant past, the recent past is the foundation for Mock Tudor's songs. They mainly document experiences Thompson and others shared growing up in London during the 1950s , 60s and 70s. Thompson dedicated "Uninhabited Man," perhaps Mock Tudor's most affecting song, to "the musicians we knew who didn't make it out of the 1960s and 70s, such as Nick Drake and Sandy Denny." Denny was the wonderful lead singer, and fellow main songwriter along with Thompson, for British folk-rock pioneers Fairport Convention.
"Uninhabited Man" featured Teddy Thompson on Appalachian dulcimer and, two songs later, Teddy joined his father for beautiful acoustic balladeering on "Persuasion," which was co-written by Richard and former Split Enz and Crowded House member Tim Finn.
"This was done for an Australian movie starring Bryan Brown which went nowhere," Thompson deadpanned, then added with with typically droll self-deprecation: "The familiar Thompson touch."
Thompson delved back a bit further into his repertoire as the evening progressed. A couple of highlights were "I Want to See the Bright Lights Tonight," the title track from the 1972 album which initiated his productive decade-long professional partnership with ex-wife Linda (Teddy's mother), and "When the Spell is Broken," the leadoff track from 1985's Across a Crowded Room.
The main set culminated with the rollicking Cajun-inflected stomp, "Tear-Stained Letter," from 1984's Hand of Kindness. It produced a spontaneous standing ovation.
A five-song encore ensued, capped by a pair of nuggets from Shoot Out the Lights, the 1982 masterpiece with Linda, "Wall of Death" and "Man in Need." The show was over the two-hour mark by then, and ended with another standing ovation. Thompson and Bloomington audiences have had a mutual-admiration society going for years.
"Bloomington has long been one of our favorite towns," Thompson said, "and it's always a pleasure to be back here playing for our old friend Lee (Williams, legendary Bloomington music impressario and booking agent for Buskirk-Chumley)." Hopefully, Thompson's management won't mind his making future return trips to town, even if that would constitute preaching to the converted. And no doubt the number of local converts increased Thursday night.
Fair warning to local record retailers: Better stock up on Mock Tudor come August.
SET LIST
(main set)
Cooksferry Queen
Sibella
Bathsheba Smiles
Two-Faced Love
Hard On Me
Jennie
She Twists the Knife Again
Uninhabited Man
Al Bowlly's in Heaven
Persuasion
Sights and Sounds of London Town
Dry My Tears and Move On
Big Chimney
I Want to See the Bright Lights Tonight
When the Spell is Broken
Razor Dance
Tear Stained Letter
(encore)
Waltzing's for Dreamers
Hamlet
Walking the Long Miles Home
Wall of Death
Man in Need
Andy Graham
graham@mail-gw2.njit.edu