Pontiac MI - 7th House - 22 June 1999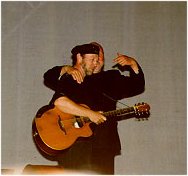 Just returned from Pontiac
and, as someone who has seen RT more than 20 times over the years, all I can do is moan in pleasure. It was almost a fantasy, RT and band in top form playing a magnificent bunch of new songs.
Boy, did it rock - I think the addition of Teddy on rhythm guitar and the funky new drummer (and maybe his new producers too) really inspired RT to find the rhythm in the music. It reminded me of the first time I heard the electric versions of "I Feel So Good" and "Read About Love" - he can really blister when he wants to. Songs which are so-so acoustically -- I'll Dry My Tears and Crawl Back Under Your Stone -- really catch fire with the band. And Teddy's backup vocals make it sound like a mid-60s British invasion band (maybe they should call themselves Richard Thompson's Todger).
I thought he might keep Bathsheba acoustic, but it's got rock'n'roll under the surface. Hard on Me is the new guitar showcase, and a mighty one at that. Uninhabited Man has a lot of depth - couldn't catch it all on first hearing. I think others have gone through the songs, but boy was he in fine form and humour last night. When someone requested "If you don't love me" (thye meant "if you don't want me", the first line of Dry My Tears and Move On, he improvised "If you don't love me, I'll stick my head in the oven, I'll join a witch's coven ..." and Big Chimney was a roaring surprise. I was grinning the entire show.
7th House was a fine venue and it was great to meet Bill & Irene & Rebecca.
Finally met Danny T. who is very friendly and approachable, and didn't bother OH, who seemed just as convivial but hardly needs to be disturbed during dinner by an admirer.
On the basis of what he played last night, Mock Tudor is going to be an amazing CD, and perhaps his most unified work to date. Is it August yet?
Ian Pearson
ipearson@inforamp.net