Atlanta - Old Smith's Bar - 20 June 1999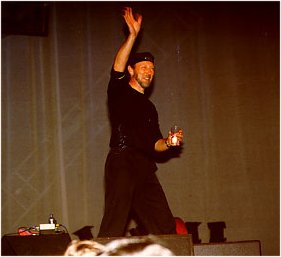 I launch this review
with much trepidation, after catching up on my unread mail for the past few days. If you don't want to know what went on at the concert, please don't read any further.
Smith's Olde Bar is *tiny*. My husband counted and estimated about 150 people, but it could've been a little higher. We got one of the few tables--lots of people standing through the whole concert. Someone in line said Ticketmaster had had 7-10 tickets on Saturday, but they must've been gone, as several people were scavenging for tickets. You go up a narrow little staircase to the upper barroom. (Mind reeling with possible allusions, but I won't go there.)
I forgot who the warm-up act was. Two guys playing guitar. Good for what they did, but what a thankless job! They only played 30 minutes. Same setlist pretty much as the Stephen Talkhouse show (although I didn't write it down). We did get an extra song in the encore--RT and Teddy doing "A Heart Needs a Home". We did, however, get treated to some extra bits of songs that I sincerely doubt will appear on any legitimate album, such as a stanza to the tune of (I think) "My Way", and, after comments on things manly men enjoy (or maybe it was in the context of Southern men), a chorus of "I love sport and guns and breasts," which ended with "Happy Father's Day." I think it was in the context of introducing Mike Jerome as being from Texas. "He's one of you people, a redneck" and some other stuff. Really funny. (Except that I never saw a *less* redneck crowd. Not even the biker types the Variety seems to draw in for 52VBL.)
He also encouraged everyone in the audience to "Hug a father," and Teddy complied. RT seemed more relaxed and at ease and just, well doggone-it, having a great time, than I've ever seen him before. Teddy and Pete shared grins when one or the other failed to come in with a backup line. The audience was very appreciative--best sing-along ever of "Tear Stained Letter," in fact singing along from the beginning.
He did "Hamlet," but didn't introduce it with anything but "Here's a bit of culture now," and went into the song. None of the banter as at the last Variety Playhouse show. Applause when he started "Bathsheba Smiles," so he stopped and said, "Hang on, if you've heard this one, you stole it!" I guess he forgot he did this on the last tour, as well as "I'll Dry My Tears and Move On." Oh, and Teddy did wonderful dulcimer work on one song, but I forget which.
The new songs were wonderful, and I look forward to the new album (again he confirmed the August release date). I finally got his autograph afterwards (and Danny's and Mike Jerome's), although I was so awe-stricken and there were several other people waiting, so I didn't say much. He had on a khaki explorers-type shirt (lots of pockets) and shorts, but I didn't even look at his legs! Oh well. Maybe next time I can act like a human being around him. By the way, speaking of clothes, Mike Jerome had on a Stephen Talkhouse T-shirt. And I was the only Dee-shirted person around. Danny commented on it, asking if I was one of those "netters." (I guess it could have been "nutters"... nah)
Summary: excellent!
Donna K. Fitch
dkfitch@samford.edu
http://davisref.samford.edu/dkf/donhome.htm
(listening to: Two Letter Words)
---
"The seas and the weathers are what is; your vessels adapt to them or sink."
--Tim Powers, _On Stranger Tides_