Boston Fleadh - 19 June 1999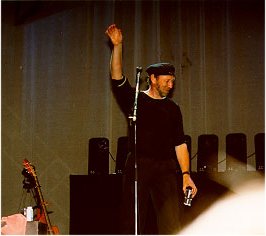 Well: it was a good day.
Perfect weather for an outdoor concert, a fairly mellow crowd (at least through the daylight hours), a better site layout than I had been expecting at a racetrack, and enough good music between the three stages to keep me amused for eight hours. The beer was ripoff priced at $6 a pint and food was equally expensive, but I was prepared for that.
RT's set was relatively brief (45 minutes or so) and he seemed a little rushed at times -- very little between-songs commentary or humor. But he seemed to be enjoying himself at the signing table afterwards, and is quoted in today's Boston Globe as saying "It's so great to play for a listening audience. People come prepared to listen to and interpret all types of music". The set highlights for me were two of the new songs I hadn't previously heard live with a band, a crunchy version of "Bathsheba Smiles" and a fairly bright, bouncing "Sights And Sounds Of London Town". I'm sure someone will post a complete setlist -- I was too busy enjoying it all from the edge of the stage fence to keep notes. But I did notice the absence of 52VBL -- the first time I've heard RT in a decade that he *didn't* do it, so maybe it's getting a well deserved rest.
I continue to really enjoy Teddy's harmony singing -- he has enough of his mother's voice that the blend is wonderful -- and while there's only one Dave Mattacks, new drummer Mike Jerome sounded like a good fit, especially after so little on-stage time with RT. Danny Thompson was superb as always, and Pete Zorn remains a thoroughly competent multi-instrumentalist. (I mean, how many people ARE there on the plant who can play both sax and mandolin?)
The non-RT highlight for me was either Eileen Ivers' Irish-American folk/rock (with equal emphasis on both the Irish and the American for this Bronx-born fiddler, who brought on one of the African-American tap dancers from "Riverdance" during one tune set), or the powerful seven-piece Irish band Kila with their strong Gaelic harmonies backed by hypnotic percussion. It was good to see listmembers Pam, Elyse, and Doug, and I'm sure there were others I didn't run into among the teeming hoards.
--Tom Nelligan
nelligan@ix.netcom.com
---
I'm adding a "me too" to Tom's excellent message!
I don't remember the full set list in order, but it included the following:
A Man in Need
Sights and Sounds of London Town
Bathsheba Smiles
Hard on Me (during which he broke a string)
Two Faced Love(?)
Crawl Back Under Your Stone
Persuasion
Wall of Death
Bright Lights
Tear Stained Letter (these last three included vigorous crowd participation, at least up at the edge of the stage)
Great show. Great band. Very tight, very well balanced.
Next week in New York....
Pam Winters
pmw@annapurna.com
---
The Boston Fleadh was ok,
not nearly as good as last years NY Fleadh other than it did not rain. Richard was great, I hope the pictures turn out. I see that Teddy uses a Danelectro U2 reissue guitar, nice choice. I really hate the fact that it turns from folk-for-the-family to kegger at the setting of the sun. I love Guinness, in fact it is the only alcohol I will drink other than an occasional pint of bitter here and there. And I do not pretend to be Irish. But come on, show some manners! I hope it rains every time they have one if it means the drunks will stay home. I guess that means Shane will not show either as if he wanted to anyway, and I am a huge fan.
Poison the head Andrew
The following was just my opinion. I mean no harm to those who talk, push, or shove during a performance, other than death.