Chicago - June 23, 1999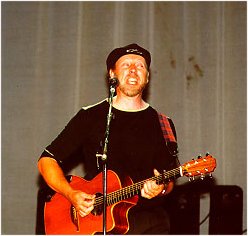 I'm another fan frustrated
by the lightening fast *sold out* status of RT*s forthcoming June 23 Chicago concert. Originally booked at Martyr*s, the concert is now to be held at The Double Door. I spoke with the booking agent there hoping the sound of my pathetic voice and sniveling would help my cause to get two tickets.
Wrong. But not his fault he says. He told me the arrangement with the promotion company strictly limited sales to 375 tickets, although the venue holds substantially more. He told me that instead of a generous number of *comp* seats available for insiders, they were specifically told there were to be no seats of this sort, no guest list whatsoever. He told me (and I*m paraphrasing) he was informed *...they don*t want this concert to be out of control.*
!!!
OK. Interesting. Unusual. I*m sure many of us have seen him in larger venues. But I don*t know this club, perhaps there are only about 375 good seats before people start being stacked at a bar or something. I dunno. The booking agent told me he was staying in touch with the promoters and were hoping to convince them to free up some more tickets and that I should check back.
Andrew Teton
ateton@instadv.ucsb.edu
---
RT Chicago Fans, once Martyred, now in Double Bind
Andrew Teton wrote: > He told me (and I*m paraphrasing) he was informed *...they don*t want this concert to be out of control.* <
No shit. 'Out of control'? An RT gig? OK, this LIST maybe, but a GIG? Maybe that new drummer's gonna stir things up quite a bit than we anticipated and Garry and the rest of us will see our grunge wishes realized at last. Imagine RT stage-diving...
-Marc Bergman
---
I had purchased tickets for my friend
in Chicago to attend his first RT concert last night at the Double Door. My pal Scott has 2 strong RT CDs in his collection and a compilation tape I made for him, but had never seen OH in concert.
He sent me this brief report:
"Thanks, pal, for making us your guests last night. Concert was FABULOUS....no quarter asked (or given!) His take-no-prisoners band (yeah, four guys plus himself) was pure nitro (drummer and bassist in particular). RT was spewing bile and phlegm and passion while simultaneously slashing everybody in the place (SRO) into roadkill with his stiletto guitar. Whew! Lots of new material from the forthcoming album. Oh, and guess who sang harmonies, took a few verses as lead, and played a little guitar: "Teddy Thompson", whom I presume to be his mid-20s son (by Linda, perchance?)."
It is always fun to reexperience the power of a RT performance through the virgin nervous system of a first timer.
Andrew Teton
ateton@instadv.ucsb.edu
---
RT played the Double Door in Chicago last night
great show with a very enthusiastic, appreciative crowd. The new songs sounded great - can't wait until August!!!
I heard on the radio this morning that Linda was at the show - apparently standing right in front of the stage. I wasn't that close, so I didn't see her - can anyone who was there confirm???
Mike Brooks
Mkebrooks@aol.com
Thu, 24 Jun 1999