FolkScene, June, 1999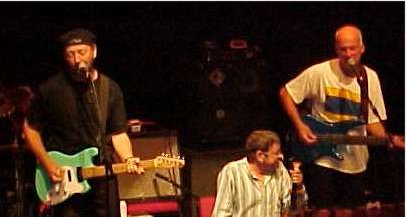 Hey all,
I managed to listen to RT last night on Folkscene here in Los Angeles. He played/ talked for about an hour.
Here is the track listing:
1. Sights and Sounds of London Town
2. Bathsheeba Smiles
3. I'll Dry my Tears
4. VBL '52
5. The Uninhabited Man
6. Strict Tempo Song (sorry, can't remember the title)
6. Walking the Long Miles Home
7. Beat the Retreat
I also taped the show, but unfortunately I had to do so on some pretty mediocre stereo equipment (i.e. a boom box) so anyone seeking a tape might be better off taking Dwight up on his offer. If you wan't my somewhat problematic copy, however, email me..
Some commentary:
SASoLT was outstanding, as it was when I heard it in Chicago last fall. I just hope the mock tudor version will have the same raw energy he manages when he plays it solo.
I'll Dry My Tears: RT said that he had originally written this song for someone else to record, but liked it so much he kept it for himself. To be honest, I've heard this song 3 or 4 times live, and never liked it much before, but his version last night was really quite good, with some very nice guitar work which spiced up what I previously thought of as a rather dull song.
The uninhabited man didn't really do much for me, but it was the first time I have heard it. RT said it was about people who were destroyed mentally by drugs and the rock and roll lifestyle.
He launched into the song off strict tempo after a request from the host, so at least we know that he can still play some of that stuff from memory, even if we never see it live....
Walking the Long Miles Home-- Haven't heard this one previously, and I thought it was very good.
The release date for Mock Tudor is August 24th, and the tour band will include Teddy, Danny, Pete Zorn and Michael Gerone (sp?). Teddy told me on Friday, however, that he would not be playing with his father here in Los Angeles, so maybe he is sitting in for some gigs but not others. RT described this summer tour as a mini-tour to get the Buzz up about the album, and promised a more thorough tour schedule in the Fall.
That's about all for now....
Scott Watson
SCWATSON@skadden.com