Ram's Head 17 May 1999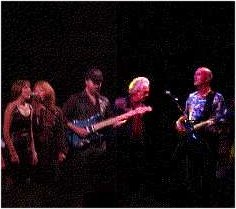 Just back from Annapolis,
where my wife and I were delighted by RT's early show tonight. After a delicious repast on the back patio (how could I not order tonight's featured entree? "Rock Thompson" - grilled, blackened rockfish with a sweet red pepper and mango salsa... excellent!), we adjourned to our stage-front table (thanks to Dee and Pam W. for the early notice on this show) for a 90-minute set. Opened with "Sights & Sounds of London Town" "Bathsheba Smiles" "Cold Kisses" "I Feel So Good" and then a nice surprise with "Genesis Hall". Richard mentioned that the new album would be out in August, but, curiously, didn't mention its name, nor make even an oblique reference to "Mock Tudor".
At this point my recollection of the rest of the set becomes jumbled, but other tunes included "Hamlet" "Vincent Black Lightning" "Pharaoh" "Keep Your Distance" "Valerie" "Meet on the Ledge" (with an amusing attempt by RT at coaxing a sing-along out of the crowd... it just wasn't happening... wrong tune for that, IMHO... but RT's stage antics were priceless) "Ghost of You Walks" and "Dimming of the Day". The encore was "Bright Lights" and "Beat the Retreat ". I know I've missed some, including a couple more from the new CD... sorry. After the show Simon Tassano helped my wife get RT's autograph, and chatted with us outside the venue for several minutes.
I had been soloing at RT shows for the past several years because my wife had decided that she found too many of RT's songs misogynistic or otherwise unacceptable. I have long attributed this to her not being in a good mood when we attended a particular show at Wolf Trap back in '89 or '90 or some such. Anyway, having attended both sets at The Ram's Head in November '97, I was convinced that if she'd come with me tonight, she'd enjoy the restaurant, the venue, the show, and renew her enjoyment of RT. It worked! She (and we) had a great time. If only we could've stayed for the second show...
Anyway, many thanks to RT for a delightful evening (the banter and mugging tonight were non-stop and quite amusing; the music was sublime), and to Simon T. for his kind attention. And I must report that Pam appeared to be the very model of sobriety (at least throught the first set).
So now I'm eagerly looking forward to the band's album-promotion tour. Here's hoping they play in the DC area!
Cheers - Jake Quinn
Mon, 17 May 1999
jquinn@erols.com
---
OK, I am not making these up.
Set 1 (thanks to Linda Cohn for the notes)
Sights and Sounds of London Town
Bathsheba Smiles
Cold Kisses
I Feel So Good
Genesis Hall
Hamlet
If You Don't Want Me (or is it called "I'll Dry My Tears and Move On"?)
Pharaoh
1952 Vincent Black Lightning (6 cycle brands mentioned?)
Keep Your Distance
Meet on the Ledge
Walking the Long Miles Home
Valerie
Ghost of You Walks
Dimming of the Day
(encores...)
I Want To See the Bright Lights Tonight
Beat the Retreat

Set 2
Cooksferry Queen
Waltzing's for Dreamers
Bathsheba Smiles
God Loves a Drunk
Turning of the Tide
Smiffy's Glass Eye
Sights and Sounds of London Town
Shoot Out the Lights
1952 Vincent Black Lightning
Uninhabited Man
Don't Sit on My Jimmy Shands
She Twists the Knife Again
How Will I Ever Be Simple Again
Razor Dance
I Misunderstood
(encores...)
Woman or a Man
Walking on a Wire
Two Left Feet
Review, of sorts
I used to work with this guy Karl--the same one who introduced me to RT's music and lived to regret it. Anyway, Karl was a connoisseur of fruit. He brought two pieces of fruit for lunch every day, and I used to love watching him peel it. And he remembered not only which peach variety was best, but also which year was the best season for those peaches. He could reminisce about the D'Anjou pears of 1993, and it was interesting to listen to him, but it wasn't as good as eating the pears yourself. Furthermore, the excellence of the 1993 pears didn't stop him from eating pears in other seasons, whenever they were at their fullest flavor.
I think these RT shows are kind of like that. Whether or not someone commits them to Memorex (licitly or otherwise), it's never the same as being there. Different people can prefer different songs, and over time the frequent attendee can detect nuances in the flavors of each song.
I'm happy to report that, RT-wise, this is a damn good season for peaches, and pears, and gooseberries. As with the solo shows that occur around the time of a new album release, this show featured many songs with a hard-driving sound and brisk, almost staccato arrangements--as if he were used to playing them with a backing band.
The two songs in the second set that were totally new to me--"Cooksferry Queen" and "Uninhabited Man"--were knockouts. Someone--was it Barry Beisiegel?--said afterwards that "Uninhabited Man" was the best RT song he'd heard in ages. I repeated this compliment to Richard afterwards. "Everything tonight was superb," I said. "And I'll be at the show tomorrow night. But no pressure." (He did say "You'll be there tomorrow? I'll try to play some different ones." My God, what's left?)
He really seemed to want to please us, in that first show (which was, after all, his first show in a while), and it was a bit uncomfortable. He seemed to be having trouble with the room, feeling like people weren't really responsive, and his response was to make a number of self-deprecating remarks. It didn't affect his playing at all--he was right on target. But I was surprised that he asked for requests, fairly early on, and seemed willing to consider them. That was when the "Meet on the Ledge" debacle occurred.
I may have accidentally played a part in this...someone at the back yelled out "Meet on the Ledge!" and, forgetting I was within talcum powder-smelling distance of Our Hero, I blurted it out, as a sort of question. RT ducked below the lights and glared at me in mock reproach. But then he played it. He expected a great singalong on the chorus. His performance was strong and true. And then he prompted us to sing.
"MEE--" I began, but I couldn't hear anyone else. I think we all had that reaction at once, because the chorus just died. And he tried to resuscitate it, but it wouldn't work. He finally led us through it with a bunch of indescribable comic flourishes...it was clear it wasn't going to come off. And he went into a rant--you know, one of his "I'm not really mad" rants--about how this was an old song, he'd only sung it three times in concert, he thought that tears would be flowing and people would be fainting, etc. It was just on the edge of not being a particularly pleasant moment. I hope it doesn't keep him from ever trying the song again! I don't know why we all froze up like that.
Anyway, he dried his non-tears and moved on. He had no hesitation about new material, old material, almost any material. After teasing a guy in the audience--I don't remember why--he offered to let the guy pick a song. The guy wanted to hear "The Angels Have Taken My Racehorse Away." RT allowed as how he couldn't do it without a band, and gave him another pick. This time it was "Woods of Darney." The excuse this time was "I don't remember it all." Finally, RT chose one on his own--I think it was "Valerie."
What did he say about the first show, at the beginning of the second? What was the adjective? "Dreadful"? "Dire"? Not true, of course, but he seemed eager to mend fences. The second show was more powerful than the first. How does he build power like that? His playing and singing become fiercer without losing their subtlety. I don't know why he doesn't just keel over. And then he hung around for autographs and such afterwards.
Bimbo alert!!!! There were these little Lewinskys by the stage door, several reams to the wind, and one of them was having the area west of her thong autographed by some guy, apparently failing in a quest to get Thommo to do so. He did pose for a photo with them after some cajoling.
Non-bimbo alert!!!! I got a kiss. I'd say I'd never wash that cheek again, but I don't remember which cheek it was. I know it was nowhere near a thong, thank you very much.
He seemed happy after the show--I think he thinks he did OK. He did more than OK! What an excellent harvest he brought us.
Pam Winters
pmw@annapurna.com
P.S. I didn't drink, and it was a real hardship. I love the beer at the Ram's Head, and last time I was there I sampled all of their home brews. I'm trying to be good--I've got too much driving and socializing to do over the next couple of days. I'm glad I had Jake Quinn around to rag me about it! Great seeing Jake, Barry, Linda, Steve Garrison, the Fergusons, Gina Thompson, David Baime (come back to the list, Gina and David!)...did I miss anyone?
--He said the new album would be out in August. He never mentioned the title (as Jake pointed out), and when I asked him about it later, he said something like "My audiences don't need those sort of show-biz gimmicks" in a mock, but not Tudor, fashion. Damn! I should have asked him if it would be out for Cropredy.
--He took off his paisley brocade vest (waistcoat) between sets 1 and 2.
--He played 10 seconds of "The Shadow of Your Smile" and a wee bit of "Loch Lomond." His perfunctory rendition of "Dixie" met with alarming acclaim.
--He talked about Dusty Springfield and recommended the Springfields album--"selectively...every third song. Or every tenth song."
--He said we seemed very young. Clearly the lights were in his eyes.
--I think I heard rumors of a fall band tour, but I'm not sure. I was trying to eavesdrop, but I'm not nearly conniving enough to be really good at it.
--He's a very nice man. Very decent.
Pam
---
What I want to know is
how was Walking the Long Miles Home? A new song I don't remember hearing anyone mention before. .. asked Thomas Whelan
Of the new tunes that I hadn't heard before RT's shows on Monday in Annapolis , this was actually my favorite. In terms of what I'll define as new songs, that would include Cooksferry Queen, Uninhabited Man, and also Sights and Sounds of London Town, because I didn't see any of the shows late last year where he first performed it. Damn. How to describe the song? I'm thinking it was fairly mid-tempo. Also, I could have sworn that the refrain he kept singing was something like "Walking The Long Bus Home" as opposed to walking the long MILES home. He introduced the song talking a little bit about growing up in post-war England, and since cars were in short supply, one took the bus everywhere. This song seemed to be about staying out late and missing the last bus, and thus having to walk home. Richard then described how he had said similar things about this song back in LA, and being met with blank stares because nobody knew what a bus is or could imagine a world where everyone didn't have their own car by the time they were sixteen and a half. Sorry I can't be more illustrative about what this song sounded like. How 'bout this: it's a really good, new, RT song! ;-)
Both shows at Rams Head overall were fine. Possibly not quite to the level that we were treated to at the Birchmere in August of '97; I think the audience in Annapolis was a bit more reserved and maybe that, combined with the fact that these were the first shows in a few months, kept them just shy of the level of those '93 d'anjou pears, to cop a metaphor. It seems to me that for the most part, RT's crowd is very well mannered and mostly polite (hell, we're all middle aged) - sometimes too much.
The exchange that Pam couldn't recall, right before RT declined to perform the one guy's requests of 'Angels Took My Racehorse Away' or 'Woods of Darney' was actually quite amusing. ( I was sitting adjacent to this person's table, so followed the exchange pretty well.) Richard had just finished playing, actually, the new song Walking The Long Bus/Miles/Whatever Home, and heard these peoples' voices murmuring. So he sort of says 'what are you saying?' A woman at the table says, loudly, 'They're talking about you, Richard.' Then the guy says 'Talking about your recent birthday, a big one' (or something, I'm paraphrasing all of this). RT then launched into his take on how the imagined conversation took place: "Well, it's a shame, really, why he even keeps on going!" "Shadow of his former self." "Quite Right! I remember seeing him in '73 -- now he was great then." "All downhill from then, that's for sure." "Why does he keep touring? Must be the money." ... Something along those lines. Supurb, self-deprecating humor as usual, and unfortunately no doubt lost in the translation.
Anyway, it was a pleasure, as it always is, to see this talented guy sing and play his guitar.
Dave
Deegan.Dave@epamail.epa.gov
---
Well, I don't need the pressure
of anything as demanding as a review of the second Ram's Head show, coherent or otherwise, but I can offer a few observations as a first-time RT show-goer seated at the table adjacent to Pam's. First, I thought his voice was very strong and his playing absolutely brilliant. But I was struck by swings durings the show between electrifying intensity and intimacy [GLAD, for instance, and SOTL] and what seemed like almost self-conscious distancing from the audience (and it was a young RT audience, some of us of 1952 vintage and prior notwithstanding). Smiffy and Jimmy Shands had that effect, as well as his clowning with "Dixie." Then there was a wonderful moment when OH started one of his terrific chunky-chord lead-ins (was it Turning of the Tide?) and audience members started to applaud. He stopped and said "Awright, then, what is it?" The crowd laughed, and he resumed playing the intro, but began crooning: "The shadow of your smile ... when you... are gone..." I howled.
After the Jimmy Shands sing-sort of-along ("...aaah, he's an accordionist! Do we care?") he asked for requests (yeh, right). There was a cacophany of requests, real and facetious ("Do people yell out 'FreeBird' at every concert, or is it just me? Who did that, Lynryd Skynrd? Who did 'Whipping Post?' I've never heard any of this stuff, anyway"). But when someone (thank you, someone) called out "She Twists the Knife" his eyes widened, he nodded (end of conversation), and then he smoked it! Whew!
This is plenty from me, but I also got a good laugh early on when he talked about how at every recording session, every producer says of every song "Hmm. That's the single." A recurring motif through the show, even after Smiffy. Various pop artists got mentioned by the audience, leading OH to comment on Brittny Spears (I must have a death wish to try and spell BrittnySpears and LynrdSkynrd in the same post): "Didja know she's 41? What a makeover they've done! And then the Sex-change! BITTER? I'M NOT BITTER!!!"
This is way too much from me at one sitting. Thanx for your forbearance. Who else has some recollections or observations?
Steve
P.S.: You also wrote: Have y'all seen "The Purple Rose of Cairo"?
"Y'all?" Welcome back from Harrisonburg, Pam, and not a moment too soon!!
---
Nice to see all the list members
at the Rams Head. As Pam reported, I got a flat tire just as I parked, but the gas station 3 blocks away put my temporary tire on for me during the early show. All the way home I had to drive at less than 50 mph so a lot of cars and trucks flashed their high beams and gave me the finger.
Definitely 2 good shows, despite some poor audience singing and more forgotten lyrics than usual by RT, not unexpectedly since he hasn't been touring. It reminded me of 1980, when Springsteen forgot the lyrics to "Sandy" mid-song, sent someone backstage to get a lyric sheet, and started over.
On an unrelated topic, any list members live in Iceland? (I'm going on vacation there this summer). Please contact me off-list if so.
Bruce Gilsen
m1bfg00@frb.gov
who's seen Alejando Escovido, Medski Martin and Wood, and RT in the past week