The Deep South
Winter, 1999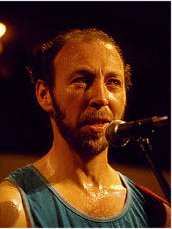 RT played last in Tampa night.
Your intrepid reporter neglected to bring pen and pad to record a proper set list, so I will have to (bees)wing it.
I was led to believe there would be no opening act, so I was initially disappointed to see someone else take the stage. This disappointment was followed by bafflement when it turned out to be a local woman -- well local if you take into account she was a Russian immigrant -- carrying a squeezebox! A solo accordion performance was a first for me, but it was actually quite entertaining as she played classical music, tangos, even a gypsy love song! For her encore(!) she played "Hold That Tiger"(?!?!). Seeing a squeezebox onstage gave one visions of RT being backed by the melancholy drone, but these visions were not to be realized.
The theater (or theatre, if you prefer) RT was playing in was built in 1914. The three previous times I've seen RT were in a smallish club in St. Pete so I was somewhat nervous about he would sound in a larger venue. There was no need for concern, the sound was incredible -- like he was right in front of you (which he was of course, but you know what I mean).
First things first: Binkster, he was wearing pink hot pants and smoking a stogie in honor of being in Ybor City. Hmmm. No, that was the accordionist, I think. He was wearing black slacks, black shirt, a silver vest, and a beret/balmoral/tam/beanie. No ambiguous Tinky Winky triangle. Sorry, by the time I thought of his footwear I couldn't see his feet.
Okay, now for the real reason you're reading this. The music was a nice mix of new, the familiar, and the unexpected. I didn't keep the setlists from last months shows, but if memory serves he did play some things here he didn't play there. So here it is to the best of my admittedly faulty recollection (that is, not necessarily complete or in order after the first three).
Sights and Sounds of London Town -- my first exposure to this one. Finger picking in the style of VBL. A good one.
Bathesheba Smiles -- after reading about it here for a while my first impression of this "Misunderstood" paced song was it will sound even better fleshed out by a band arrangement.
Cold Kisses
I Feel So Good
Dog Eat Dog in Denmark
The Ghost of You Walks
If You Don't Want Me -- the weakest of the new songs IMO. A pretty basic song by Thompson standards reminding me a little of "Why Must I Plead" that it was not improved by it's simplicity. I did like the line about the flame of love -- "you hide it in your heart, not hold it in your hand." [I do not vouch for the accuracy of the quote].
Keep Your Distance
Shoot Out the Lights
Genesis Hall -- preceded by some disparaging remarks about the recent NBC TV movie about the 60's.
VBL1952
Pharaoh
She Twists the Knife Again
Jimmy Shands
God Loves a Drunk
When greeted with groans as he announced the "last" song, RT said it was just that he had to "tinkle.....point Percy at the porcelain....exercise the ferret......"
Two Left Feet -- someone wished RT Happy Valentine's Day as he started this one up and he briefly went into Dan Hill's "Sometimes When We Touch." Ouch!
First Encore:
Hope You Like the Brand New Me -- my favorite of the new songs. My friend Matthew and I both agreed it had something of the stark feeling of "Killing Jar" on the second FFKT FWIW.
Razor Dance
Second Encore:
Beeswing
Best Comment of the evening: Made in response to a fan -- not your humble reporter -- yelling out something to the effect that RT is the best guitarist in the world -- "You mean better than Mick Abrahams?"
I didn't see any other Dee shirts in the crowd, but if anybody else was there maybe they can correct any misstatements on my part.
Granted he did play some of the warhorses, but the man can't just play to (or placate) those on this mailing list; he can't assume that every one in the crowd has seen him (multiple) times before. Besides, as my friend Matthew said, while one may occasionally tire of hearing VBL, it's still a kick to experience him playing the damn thing in front of you.
As Gordon Soley used to say: "So long from the Sunshine State."
Tim Wild
Sat, 13 Feb 1999 10:14:39 EST
SSmallw278@aol.com
---
Hi all,
Tim did a great job describing the Tampa show, including the appearance of the unannounced opening act accordionist. Kinda surreal, actually, to be in this funky old theater waiting for RT to come on, and listening to a Russian immigrant singing a German polka. She should have come back out for Jimmy Shands (who is now "ninety-something", BTW).
<<I didn't see any other Dee shirts in the crowd, but if anybody else was there maybe they can correct any misstatements on my part.>>
Poor planning on my part...the Dee shirt was in the laundry ;-)
No misstatements that I could see. I don't write down set lists either...Tim did a better job than I could at remembering ordering and such. All I would add is that "Turning of the Tide" was in there somewhere in the middle.
Re: <<Best Comment of the evening: Made in response to a fan -- not your humble reporter -- yelling out something to the effect that RT is the best guitarist in the world -- "You mean better than Mick Abrahams?" >> Also noted were RT's comments about Peter Green being "a few coupons short of a toaster...great finger work, though."
Highlight for me was the wonderfully intense version of "God Loves a Drunk" (even given the few folks in the crowd that were demonstrating that God loves *them* during the song).
All in all, a wonderful Friday night in Tampa.
Bill Waldron
bill@bwaldron.com
---
Last night RT did a very good show
at the New Daisy in Memphis (which, btw, was decked out with seats for the occasion). A particular high point was an encore cover of "It'll Be Me," which Thompson introduced as having been "recorded just up the street. I'm playing this one for me, not you." It was a high-energy excellent (killer?) cover. Thompson did not indicate awareness that the Killer himself was on the marquee of the New Daisy for a March show.
The warm-up act, Will Kimbrough and Tom Womack from the Biscuits (?), did an acoustic, two-guitar, Americana-ish set. It was inoffensive and unexciting.
Thompson came out at 9 and opened with two songs from the new album ("Sights and Sounds of London Town" and "Bathsheba Smiles") followed by "Cold Kisses" and "I Feel So Good."
He made a large deal of playing his first Memphis show, first by noting that he was aware of Memphis music from his father's record of "Beale Street Blues" since he was (indicating a small person with his hand) "about negative zero" years old, and that he was really excited about playing on Beale Street "until I actually got here." (anyone has seen the street since urban renewal and tourist-ification will get THAT one). At one point he started playing "I Can't Help Falling In Love With You," affecting a BIG Elvis voice. Good Elvis imitator. After the title line of that one, he shifted into the first couple of lines of "Love Me Tender." Early in the set (maybe after "I Feel So Good"), he announced that, although he'd never been to Memphis before, he'd written a song about it, then apologized for having done so without visiting ('but it's fiction!"), and noted that he has since learned there really are people like the woman in the song ("it's convergent evolution. Don't worry your heads about what that means.") and then played "Galway to Graceland." After about two songs, someone in the middle of the hall shouted "Where's Gallway?" He looked out, the guy repeated the question, and, affecting to concentrate, RT said "Don't know," then (firmly) "The West Coast of Ireland." He then berated the guy for not listening to the songs, and concluded "Somewhere, there's a village that's missing an idiot."
After a persistent guy down front requested Fairport tunes (even though I was nearby, I couldn't hear him), Thompson looked at him and said "That's from 1967!" indicated he didn't remember much of it, and "If I played that, you'd be more embarrassed than me." Much later, the guy requested "SIr Patrick Spens," after which RT looked shocked, said "That's it," looked at the sound board and said "Security! Security!" The first Fairport request brought out "Genesis Hall." A later outburst of requests from all over the audience lead to someone shouting "Free Bird," Thompson obliged with some silly fast guitar followed by a parody verse ending "she smells like hay" and then part of the chorus. He then asked where "those guys" were from, and made a disparaging remark followed by "they're quite rich." Elsewhere, he noted he was going to do a "lighter" set than usually because it was Valentines, said he'd play a Neil Diamond medley, and did the bit from "Sometimes when we touch".
The introduction to "Jimmy Shands" lead to some comments about southern accents when he invited singalong ("That's one syllable, not five") and the observation that Vivien Leigh was British.
Enough between song comment. Other than the Jerry Lee cover, I particularly liked the performances of "God Loves a Drunk," "Genesis Hall," and "I Feel So Good," which is a song that works far better for me live than on record. There were a couple of places where he seemed to drop bits of the treble runs on very fast measures, but other than that his playing was outstanding. I suppose that "Two Left Feet" and "Jimmy Shands" stay in the setlist for the guitar work-outs, and I love the polka bits in "Shands," but I've heard those songs enough, and don't feel the need to hear "Dog Eat Dog" again, yet that was popular with folks who'd not seen an RT show before. I don't think he quite nailed "Dimming of the Day," although I was glad to hear it. Having put too many complaints for a review of an excellent show, I'll stop and give what I could piece together of the setlist after I got home. The running order is only approximate and a few songs are missing. I know two new ones are missing. He played two more new songs that I don't know by name and I think he played a song from You Me Us that I've not named. Here's what I recall:
"Sights and Sounds of London Town"
"Bathsheba Smiles"
"Cold Kisses"
"I Feel So Good"
"Gallway to Graceland"
"Genesis Hall"
"Walking on a Wire"
"Ghost of You Walks"
"Vincent Black Lightening 1952"
"She Twists The Knife Again"
"Dog Eat Dog In Denmark"
"I Misunderstood"
"Dimming of the Day"
"God Loves a Drunk"
"Jimmy Shands"
"Wall of Death"
"It'll Be Me"
"Two Left Feet"
Tom Freeland
thf4@watervalley.net
---
The final song, from encore #2,
was "Hope You Like the New Me," which was a disturbing note on which to depart, but...we all did so, as the p.a. played, what else, Crowded House doing "Don't Dream It's Over." Alas, it was. On to Conway Tuesday night!
Jack W. Hill
Little Rock, AR
jack_hill@adg.ardemgaz.com
---
Here's a review of last night's RT show
BY JACK W. HILL
ARKANSAS DEMOCRAT-GAZETTE
CONWAY, Arkansas - No one was heard muttering about not having gotten their money's worth after the Richard Thompson concert Tuesday night in Staples Auditorium at Hendrix College. Admission was free, so the show by one of England's greatest guitar wizards was a remarkable value, and would have been a stunner, no matter what the price.
Thompson delivered just short of two hours of music to the nearly 700 hard-core fans, curious types and college students in search of a well-rounded musical education somewhere outside of the mainstream. In a room designed to make anyone sound good, Thompson sounded great, effortlessly coaxing amazing notes and chords out of a single acoustic guitar, while standing, sometimes awkwardly and almost Elvis-like, on a stark stage decorated only with one stand holding a water glass and another holding a towel.
He opened with "The Sights and Sounds of London Town" and "Bathsheba Smiles," two songs off a new album, Mock Tudor, set for release in May, then delivered the chilling "Cold Kisses," in which the narrator goes through his lover's old letters and photos to determine how he measures up against her boyfriends from the past.
Warming to the topic of dysfunctional personalities, Thompson roared into his snarly "I Feel So Good (I'm Gonna Break Somebody's Heart Tonight)" and then calmed down with the haunting "Ghost of You Walks." As members of the audience began to shout out requests from his 30 years of recordings, he joked that he "would not perform any of the hard ones" and "no songs from albums that sold less than 200 copies."
With a technique on guitar that hinted at times at the baroque and was always dazzling and majestic, Thompson was truly awe-inspiring, while his song topics ranged from the humorous "Don't Sit on My Jimmy Shands" and "Two Left Feet" to the sad and disturbing "God Loves a Drunk," "Keep Your Distance" and "I Misunderstood," a provocative salute to all those who have heard those heart-breaking words, "Can't we just be friends?" Fancy fretwork dominated his "1952 Vincent Black Lightning," his tale of a doomed motorcycle-based love affair. Perhaps his best-known album, Shoot Out the Lights, was represented with the title cut and "Wall of Death," a part of one of the two encores.
"The Turning of the Tide" and "The Dimming of the Day" provided two thoughtful, melodic moments, and Thompson even did "Meet on the Ledge" from his Fairport days, which surely must have thrilled his Little Rock Folk Club fans, who for years have used the song as their session-ending anthem. Opting to end on a disturbing note, Thompson sang another new one, possibly named "Hope You Like the New Me," on which he detailed how someone has taken over another's identity, from wife to jokes. It wasn't the sort of song calculated to send fans humming down the sidewalk, but it gave them something to consider. Thompson clearly showed why he deserves the adulation he has accumulated, and Hendrix professor Danny Grace is to be commended for arranging such a tasteful and mesmerizing show.
---
didn't see RT in Tuscaloosa,
but DID see him in Jackson at the New Stage Theater, 2 days later. One Paul Thorn, a country/blues/folk ex-boxer from Tupelo, MS opened for him. Frankly I pity anyone who opens for RT. What a daunting assignment! Anyway, the local boy held up admirably, and in fact, proved himself to be quite a humorous and talented young man. Needless to say, it was incredible to see RT again. He opened with a couple of songs which may be from the new record,("Sad, Sad London, Bathsheeba). He interjected a couple of other new songs during the course of the evening. Ended with Razor Dance and "Beeswing". Since it was such an intimate gig (the theater seats about 350), I was able to get my old Gibson guitar autographed after the show. I'm taking my first lesson from Martin Simpson on March 6, so maybe RT's autograph will give me good luck. Richard said to say hi to Martin. talked a little about guitars and strings and tunings and he was off. Said he often can't eat on the day of a gig, as he is too nervous and wired up (not his words, but something to that effect.) He also said he was coming to my town, New Orleans, in April/May. I think his wife does a Jazzfest tour out of CA. Sorry I didn't write down the set list. I can tell you that seeing him in a theater as opposed to a smoky bar is a wonderful experience. I hope he keeps playing those venues. For the most part bars suck. gotta go,
JO in
NOLA
Jnyguitar@aol.com
---
Feb 17th concert
On Fri, 26 Feb 1999 "Donna K. Fitch" wrote: "Did anyone attend the Feb 17th RT concert in Tuscaloosa? I had to work, so I didn't get to go, but I'm anxious to hear a report."
The show was at The Chukker, a small bar in Tuscaloosa, Alabama. They brought in seats (about 150) for those who bought advanced tickets, and sold standing room tx to another 50 or so. It's a small room, and the show was outstanding. I don't think I've ever seen Richard having more fun on stage.
I didn't keep a set list, but it was similar to what I've been seeing fromthe list (although, I tried to avoid reading set lists before the show). Heopened w/ "Streets of London Town" and "Bathsheba Smiles" off the new record. He also did "I Stole Your Style" later in the set. Some of the other songs, I remember were (IN NO PARTICULAR ORDER):
She Twists the Knife Again
Wall of Death
I Feel So Good
Shoot out the Lights
Put 'er There, Pal
Pharoah
Turning of the Tide
When the Spell is Broken
Keep Your Distance
Two Left Feet
Ghosts in the Wind
Easy There, Steady Now
Waltzing's For Dreamers
1952 Vincent Black Lightning
Bees Wing
Meet on the Ledge !!!!!
I'm leaving out a lot. The show lasted almost 2 hours including two encore sets and he did several audience requests (such as Meet on the Ledge). The sound was great (Simon Tisano was doing house sound) and Richard was in GREAT form.
Philip
pfoster@uab.edu