Petaluma, CA (and Santa Barbara)
January 21, 1999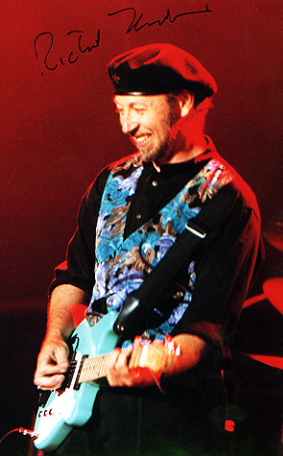 Interesting show from RT in Petaluma last night.
SOL (same ol' list) complimented by 4-5 new numbers, all but one heard previously.
Greg's gonna post the set list soon, but I'll just say...according to Simon this was RT's first gig this year. There was a bit of unexpected "rust" showing where a few wrong notes were hit (during the end of Ghost...for instance), which I don't recall seeing from RT before. In fact in the middle of Ghost RT seemed as if he hit a bit of a blank, going from playing the song seemingly w/o thinking about it to realizing "Oh, how does this last bit go again??"
And though RT forgot the words to Jimmy Shands (meaning it's probably ripe to drop from the set ;), the guitar solo in the middle was a brilliant as they get. I helped a bit when he forgot the second verse by yelling out what I was thinking the next verse was..."No that's the forth verse, you smart ass!" Richard said...I remembered the second verse and called it out, redeeming the moment for myself, just in the nick of time.
RT played two encores for just about 1:45 total playing time.
Set list, Greg?? :-)
Jeff Soldau
lava@well.com
---
I didn't even notice any mistakes
in "The Ghost of You Walks" (for a moment, I thought Jeff was referring to "Ghosts in the Wind," and that I'd somehow missed that number), although I did appreciate the beautiful introduction that RT has added to this song. I don't remember hearing it before, but I haven't seen him since last summer. It seemed to me that there was slightly more guitar playing happening last night, and I would theorize that it was because of the throat problems RT was obviously experiencing -- accepting Ricolas from a front-seat audience member and frequently clearing his throat off mic. He still managed an impressive performance. In fact, when he hit that low note in VBL: "my Vincent... to RIDE" the last word came out in a rasp that would have done Tom Waits proud. I'm a bit worried about the prospects for tonight's show in Santa Barbara. I have front row seats, so perhaps I'd better stock up on throat lozenges.
Could someone who's seen him more recently let me know how long he's been doing this amazing arrangement of SOTL? I've heard it attempted acoustically before, of course, but never with that amazing tremolo effect on the bass string.
Someone's got to tell RT, though, that he should no longer be introducing Jimmy Shands as "Mr." Give the peer his due, I say. Who knows, perhaps RT's turn will come some day?
My favorite RT quote (in reference to Jeff's eventual production of the correct second verse to "Jimmy Shands"): "I knew you had to be good for something." Words to live by.
Jim Bradbury
jbradbury@earthlink.net
---
Howdy Folks,
Mystic Theater set list 1/21/99
Sites & Sounds of London Town
Bathsheba Smiles
Dimming of the Day (Beautifully Played w/ very strong vocal)
I feel so Good (played w/ a vengeance)
Ghost of You Walks
Richard asks for and receives a "throat sweet" says, "it saves the show. ReeeColaaaa"
Dog Eat Dog in Denmark
God Loves a Drunk
1952 Vincent Black Lightning
If You Don't Want Me
Keep Your Distance
How Do You Like the New Me
Don't Sit on my Jimmy Shands
The diligence of a fellow list member, Jeff Soldau, and myself enabled Richard to finish this song, as he had quite clearly forgotten the lyrics. At First we shouted out the Fourth verse, but then got it right. The RT list - allowing Our Hero to finnish songs and no be stranded on stage struggling with lyrics.
Genesis Hall
Bees Wing
Two Left Feet -My set list reads, "Damn He's good at the Fiddley Bits"
Encore # 1:
The Long Miles Home (New song - title confirmed through RT Sound man)
How will I ever be Simple Again
Razor Dance
Encore # 2:
Shoot Out the Lights (First time I've seen it acoustic - very nice solo using harmonics, I've not seen or heard his use of Harmonics before)
Don't Roll Those Blood Shot Eyes at Me
I enjoyed meeting the list members I did at the show. Thanks for the seat Jeff.
Oh, I almost forgot. I initialized someone into the cult and... Er It was a friend's first RT show. He was thoroughly amazed although he had pretty much lost his voice due to a cold he managed to croak, "Awesome".
Also, RT will be touring with a band with the coming new release according to Simon RT's Sound man. Any Ideas who will be in that band? It is strange that he has kept the same band line up for the last two tours, as in the past he usually changes the line up for each tour.
Greg Morgan (Who usually doesn't post all that often, and is therefore absent from the long list of people who post and how often they post and who organizes his CD's in inverse alphabetical order by artists middle initial.)
---
I was hoping
the show in Petaluma would be as distinctive as the show in Mendocino was at the end of 1995, where RT played two 50 min. sets to the same audience and debuted a lot of material from YMU, but it wasn't (quite).
The Petaluma show was excellent. I had a perfect unobstructed sight line and the sound was decent but not spectacular. RT was nearly in top form save for the raspy voice and slightest rustiness. I was amazed by his playing and most particularly his picking technique, which has improved if you can believe it. There's more to it now than even the brilliant flash of
1952VBL.
"Hope You Like The New Me" seemed to be the most challenging number in terms of performance and lyrics. Playing a somewhat obtuse pattern on the guitar, the song confronts the listener with the idea that an image can be borrowed or stolen. I guess it'll take a few more listens for it to sink completely in.
When RT launched into his Jimmy Shands is 90 spiel, Greg and I looked at each other, nodded and laughed, and right then RT quickly corrected himself and said "91" and made a little joke about no one really caring anyway.
SOTL was quite splendid due to the percussive strikes against the guitar strings towards the end of the song that just boomed into the room. The pickup on his acoustic has a tiny mic in the soundhole that's pointed towards the strings, as well as a normal acoustic pickup. This mini mic allows us to hear more of the nuances of the guitar strings, and RT used it to great effect during SOTL.
Towards then end someone requested Simple Again and I thought RT would close the show with it. It was nice when he came out and performed SOTL as an encore. Closing with Bloodshot Eyes reminded me of the "simular set list" problem, but all in all I was very happy with the show.
Jeff Soldau
lava@well.com
---
Tonight RT performs here in Santa Barbara,
and our daily paper had a feature article on him, running about 650 words. It's the best article I have read.... since last week's article! I have been searching the newspaper's newly deconstructed Web site to see if it is available for all to read. If I cannot dig up a URL to supply for folks to read this article, I'll contact the paper to see if they'll allow the text to be posted on Dee's Fabulous Site!
Until then, I don't wish to be "Flip" about copyright issues (!) so I am inserting a only very short quotes for "...reviews purposes only" as the lawyers say.
Explaining why he was on the beach in Barbados: "I'm here for my sins. I'm not a dour person. Love is more complex than you find in the average 3 minute pop song. To do justice to the human condition, you have to express slightly more complex ideas, even on a subject as supposedly as simple as love."
The article states he'll play some new material, and says RT said it will be a test case to see how the new songs fare. "Audiences have a way of setting you right with songs. You may think you have a classic, but your intention doesn't communicate well enough. Audiences are the real acid test of a song."
Describing "You?? Me?? Us??:" "The two discs are complimentary. They belong in the same package, but not on the same record. The whole reasoning was behind it was that without having to compromise, the electric stuff could rock without pause, and the acoustic stuff could breathe without being interrupted. A Jimi Hendrix freakout doesn't exactly fit won the same record as this 14-verse acoustic murder ballad."
Lastly, he jovially said "I'll be juggling, dropping trousers, whatever it takes to win over the fans. That's why I am in Barbados. I'm tanning the places where the sun don't shine."
Andrew Teton
ateton@instadv.ucsb.edu
---
It's a bit past midnight
and I just got home from OH's concert at Santa Barbara's Lobero Theater. Forgive me if I rant. The concert was fabulous and I got the additional pleasure of meeting OH afterward and getting an autograph. And I told him, despite his joke during the concert, that this group does not ~yet~ have all the songs from "Mock Tudor" available as MP3 files on Dee's Web site. At least, not yet. He was gracious to those who gathered about him, me included, despite a look of possession in my eyes.
I'm sure someone will send in the specific set list, but I don't think more than 2 songs varied from Petaluma, although the order was somewhat different. RT was excellent voice and very high spirits and had the crowd enthralled. BTW, there were various celebrities there - Jackson Brown, Jimmy Messina, Albert Lee and many more. (Albert told me RT got him one his first gigs 30 years earlier playing in Sandy Denny's band.)
Many of the songs seemed so perfectly realized that I didn't know whether to shout or cry - so instead I sat there in slack jawed disbelief. His good humour was brimming over, even such war horses as Jimmy Shands, were quite irresistible. And he had great fun at the expense of someone who seemed to keep requesting songs by The Who. He also jested that Fairport Convention had revolutionized pop music and created every musical innovation known long before the Beatles, and then chided us for being so gullible. He also unveiled his plot to win a Grammy. RT said that Frank Yankovich (Wierd Al's dad) the original "polka king," had won numerous Grammies simply based on the fact that the polka field is virtually uncontested. But RT reasoned, now that Yankovich has died, OH could now submit "Don't Step On My Jimmy Shands" as the best polka song of the year with a good shot at winning.
Having not had the pleasure of seeing him perform in such a intimate venue before, I was mesmerized by the powerful synergy of his peerless guitar playing and committed sing (he delivered Razor Dance, for example, with almost frightening conviction). Before performing "The Long Miles Home," he described the new album as primarily based on memories of growing up. In this song he has to walk home many miles having gotten carried away at a party and missed the last bus home. A sweet song. A great night, the love of his music - which for me was built primarily from CD listening - has now been engrained at a much deeper level. (Did someone say there was a gig coming up in Florida?)
Andrew Teton
Ateton@instadv.ucsb.edu
PS: Ana Egge was delightful as RT*s opening act. And thanks to the person(s) who mentioned the new Geoff Muldaur *Secret Handshake.* Very nice recording (with good sonics as a bonus).
I finally deciphered my chicken scratches from OH's concert last Friday night and am posting the set list for the record. It's interesting that there were several changes from the Petaluma show the day before. I imagine this is one thing RT does to help keep things feeling fresh for him. For me adding "Wall of Death" was a maximum treat (loved how high he capoed the guitar and used a much more rhythm guitar based approach). Apologies for mangling of the wording of any titles!
Sites & Sounds of London Town
Bathsheba Smiles
Dimming of the Day
I Feel So Good
Ghost of You Walks
Dog Eat Dog in Denmark
If You Don't Want Me
1952 Vincent Black Lightening
Genesis Hall
("Pretty little shoes, cheap perfume, we can meet in a hotel room")
Hope You Like the New Me
Don't Sit On My Jimmy Shands
Shoot Out The Lights
Wall Of Death
Bees Wing
Two Left Feet
Encore # 1:
The Long Miles Home
God Loves a Drunk
Encore # 2:
Razor Dance
I Misunderstood
---
I went to this show as well,
and figured Andrew Teton would beat me to the review, and he sums it up perfectly. RT was in tremendous form.
Excellent opening two songs
Sites & Sounds of London Town
This is a narrative style song with a separate character for each verse. The Doncaster girl who sells herself on the Euston Rd, The boy from Toulouse washing dishes to get the fare back home, The Spiv in Soho. Excellent song. RT says that the album (May release possible, but at the whim of the record company) is songs about London.
Bathsheba Smiles
This song is maturing and becoming deeper and much more involving. Doom and Gloom patina I suppose.
Andrew said, "And he had great fun at the expense of someone who seemed to keep requesting songs by The Who." Now there are magnetic memories where, when pushed like last night, RT will break into the Substitute riff. Can this be a new RT tradition. What Who songs should we yell for: Dogs? Squeeze Box? Dogs (Part Two)?
Guy Brown
guyb@rain.org
---
Santa Barbara late report
Apologies for the lateness of this report but I've not been home for long and my e-mail account had fallen over in my absence. A really nice intimate theater with IMHO good acoustics or Simon doing his job well.
Two support acts and an interval had me worried that we were going to get an abbreviated RT set. Instead OH appeared on stage at 21:40 and didn't finally leave until 23:20.
The setlist was as follows:
Sights and Sounds of London Town
This seemed to have developed from the version I heard at Ross-on-Wye, some changes to the lyrics in the opening verse, even more in the verse about Jean-Paul and an added final verse about Mickey(?) a soho wide boy. I don't remember much in the way of instrumental links between the verses before, but these have been developed too.
Bathsheba Smiles
Dimming Of the Day
I Feel So Good
Ghost Of You Walks
Dog Eat Dog in Denmark
If You Don't Want Me
1952 Vincent Black Lightining
Genesis Hall
Turning Of the Tide
Hope You Like the New Me
Don't Sit on my Jimmy Shands
Shoot Out the Lights
Wall Of Death
Bees Wing
Two Left Feet
Encore # 1:
OH heckled a couple of people who were walking out 'a drove of two'.
The Long Miles Home
Although this was introduced as being about walking home from Soho there didn't seem to be any direct references to locations or anything else that would fix it in London.
God Loves a Drunk
Encore # 2:
Razor Dance
I Misunderstood
So there were changes from the Petaluma show.Wall Of Death, Turning Of the Tide and I Misunderstood were substituted for Keep Your Distance, How will I ever be Simple Again and Don't Roll Those Blood Shot Eyes at Me.
RT seemed in good form and a lot of the banter was new to me. I think that there may have been more than the usual number of RT concert newbies. Hamlet certainly raised a lot of laughs, probably enough to encourage trying to get a bit more milage out of it before dropping it from the set.
Binky. My memory's not too hot. A black balmoral and black shirt, but I think those trousers were in some shade of black I'm not familiar with.
Tony Swift
tony.swift@virgin.net
---
"Accept No Substitutes"
Concert Review of Richard Thompson
at the Lobero Theater, 01-22-99, Santa Barbara CA

What other folkie/unplugged/hero/acoustic warrior do you know who delivers lyrics like these: *After the death of a thousand kisses/Comes the catacomb of tongues/Who can spit the meanest venom/From the poison of their lungs?* Certainly not Anna Egge, who warmed up the Lobero for the seemingly troubled wordsmith and force of nature Richard Thompson. Her music conforms closer to the cliched idea of contempofolk, a little bit country and seemingly although I hope not irony free. Due to bad dinner arrangements, I missed part of her set. She closed, however, with a prettified rendition of Eidelweiss, which I kept thinking of as *that Nazi-pleasing song.* Apparently it sent the rest of the audience into shivery ecstasies.
And then came Thompson, building like a serious tide or a well-kempt avalanche. We can argue if you want when Thompson's climactic moments came; but for me there were three. The first song above, which I thought at first from the guitar intro was going to the equally stunning *Mystery Wind,* but, surprise, turned out to be *The Razor Dance.* Like many Thomsonian moments, it's a passionate pas de deux from hell of fading love. (He liked it so much himself he recorded it twice on the "You?? Me?? Us??" CD.) But Thompson's passions might be cloying if there weren't always some equipoise in his sets. (An obvious example is the taut tension between his technical mastery and his emotional sweep.) And after an evening of note-perfect live versions, swaying between funny (*The Hamlet Song*) and more miserable emotions (*But I Misunderstood*), he broke the mold to pieces and played *Shoot Out the Lights* like a time-warped mad song, replacing his driving rhythms with expressionist atmospherics. The guitar became a kind of banshee or bereft hound of heaven. And that ebb and flow allows Thompson access to other worlds besides.
He's very funny, for instance, and, for an older folkie dude, quite topical; He introduced a new song from an upcoming album, and then quickly recalled where he was: *Well you've probably already downloaded it,* he said mock despairingly.
He was equally adept at rebirthing his old band, Fairport Convention, and their 1960's songbird, Sandy Denny. And it was in that vein that Thompson scored and washed all over me. Folk or whatever: During *God Loves a Drunk* at the end of the evening, Thompson found a place where empathy and irony look each other in the eye and swallow hard. If music moves you like that, its called poetry, children. And for that letĘs give Peggy Jones and her Sings Like Hell comrades for bringing him here so often. Whatever you call him, in concert, Richard Thomson delivers like nobody else alive.
-D.J. Palladino
This review originally appeared in the January 28, 1999 issue of The Santa Barbara Independent.