West Hollywood, CA
November 3, 1998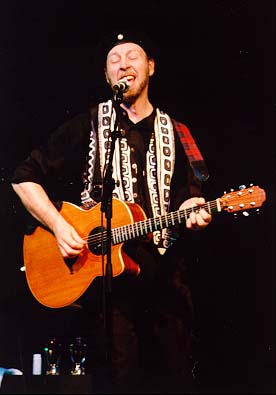 Delayed report from the field
Yet another report on Teddy and Dad at Largo in LA last week. When news about the gig came over the list, I e-mailed a good friend and longtime RT fan in LA. Here's what he had to say about the show:
I was prepared for a crowded club -- standing room only -- but much to my surprise and delight there were a number of empty tables.
It was so neat to see Richard step onto a little stage and stand over to the side. Richard was great. It was clear that he didn't want to take any of the spotlight away from his son. He hung back a bit and basically did what the songs called for. And Teddy was good. I liked his songs and his voice a lot. There was a sweet moment near the end of the set. Teddy held up his arms and said, "Okay, this is the last number. Is everyone ready?"
He looked at the audience and then looked at the members of the band. Richard pointed at Teddy's guitar and whispered "Capo! You need to put on your capo!" I loved that moment. RT was being a watchful Dad. It looks like Teddy will be appearing at the same club this Thursday. Do you know if Richard will be playing with him?
If anyone knows the answer to this last question, please post it to the list.
Aaron M. Pallas
437 Erickson Hall
Michigan State University
East Lansing, MI 48824-1034
(517)355-6682 (office)
(517)353-6393 (fax)
Internet address: ampallas@pilot.msu.edu