Chicago, IL
Halloween, 1998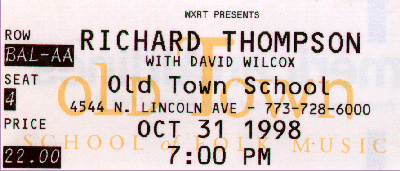 (Yes, the very ticket of the ol' webmaster Willis Howard)
I hope I wasn't the only listie at RT's show Halloween night. RT played the Old Town School of Folk Music in Chicago. The venue is about a month old and is a WPA-style renovated former library. The auditorium is by far the most intimate place I've ever seen RT, seating about 450 and having outstanding acoustics and near-perfect sight-lines.
For those who care, a set list from memory:
with Danny Thompson:
London Song (new song about the various sad stories of kids who flock to London looking for their fortune, played at a blistering intensity. Probably the best opening song to a RT show that I've seen in 12 years of RT-watching)
I Misunderstood
I Feel So Good
The Ghost of You Walks
Dog Eat Dog in Denmark
Taking My Business Elsewhere
Turning of the Tide (my friend who had never seen or heard of RT became a fan during this song, watching his incredible fretwork)
RT solo:
Genesis Hall (mention of Sandy Denny, Fairport, joke about how he came as a "Has-been Rock Folkie" for Halloween this year)
VBL 1952
New Me (another great new song, I know others have talked about it on the list...very very chilling and done humorlessly by RT)
Bathesheba Smiles
DT back with RT:
Jimmy Shands
Al Bowly
Wall of Death
Razor Dance
Encore:
Down Where the Drunkards Roll (RT encouraging the crowd to sing the last repetition of "Down Where..." each time he sang the chorus)
Two Left Feet
Reactions: Perfect venue, reverent crowd, very animated and slap-happy RT. He had more fun during this show than in any previous show I've seen. He was constantly chatting us up, kidding us about how quiet we were during the between-song breaks (even calling us "submissive" at one point; "oh so this is how the Grateful Dead got away with it for so many years!"). He chatted with DT between each song, and the two had lots of playful eye contact throughout the set. Given the acoustics and sight-lines, it was possible for me to see for the first time just how much interplay they have with each other. Even though I had heard most of the set before (more on that later), they made each song sound just a little different than before, and they were clearly enjoying their onstage time together.
The set-list is a big issue for me at this point as an RT fan. It isn't even that I need him to play the "old stuff" or am mad that he didn't play "our song" (We got married to "Dimming of the Day," but I've already heard him play that in '94 in Chicago).
I'm just a little bemused and a little sad that RT has decided to essentially let his professionalism dictate what he performs. He obviously likes the songs he played 10/31 more than many others he's recently written, and for the most part the audience responds favorably, even passionately to what he chooses to play. VBL never fails to rouse people, the Hamlet song is always funny, Two Left Feet is always cute, etc. Perhaps best of all for RT, he gets to see his audience laugh and clap along much more than they sit there in anguished reverence listening to a song like "A Heart Needs A Home" or "Pharaoh" or "God Loves a Drunk." I think he figures that he already has enough dour folk creed to trade on, and now in his prime he just wants to play songs he likes and to play the hell out of them.
Where does that leave this long-time fan? I think it says that I'll just have to content myself with the revelation of disc-versions of "I Still Dream" or "How Will I Ever be Simple Again" or "Why Must I Plead" or "King of Bohemia" or "Woods of Darney" knowing that those types of songs will rarely appear in future set lists because they aren't peppy enough and don't really offer much guitar solo potential. I figure at least he puts these kinds of songs consistently on his albums for the fans who love his darker folk side. And maybe just maybe that'll be good enough for me as I go on loving seeing RT live.
m.kelly
chicago, IL USA
MStokeK@aol.com
---

I had the pleasure
of catching RT's 7 p.m. show at the new Old Town
School of Folk Music auditorium on Saturday. Joining me were my lovely wife Jill, Scott Watson from the list and Scott's friend Larry. Both had seen RT several times this summer on the songwriters tour, and Larry had once dined with R hero after a show at Bates College in Maine. So, Jill and I qualified as newbies (more later) and they were seasoned vets.
Opening was David Wilcox. I thought he was fine. It's tempting to just niche him as (John) Hiatt-esque, but he's probably a better singer/guitarist -- though not a better songwriter (but darn few are).
RT and Danny played a very well received hour-and-a-half (with encore) set with no surprises.
- Sights and Sounds of London Town
- I Misunderstood
- I Feel So Good
- Takin' My Business Elsewhere
- Dog Eat Dog
- The Ghost of You Walks
- Turning of the Tide
- Genesis Hall
- 52 VBL
- How Do You Like the New Me
- Bathsheba Smiles
- Jimmy Shands
- Al Bowlly
- Wall of Death
- Razor Dance
- Down Where the Drunkards Roll (encore)
- Two Left Feet (encore)
Some of my impressions: I liked Sights and Sounds (a very strong opening #) but look forward to hearing it with a band. Feel So Good is possibly more savage as a solo piece than it was when I saw him with the band in '95 (?). Funny bit when Danny walked off prior to Genesis Hall.
RT says "Danny has to leave now 'cause this is a song I did with my first band and he's very jealous 'cause at the time he was in the P-P-P-P band (no, not Procul Harum) and I was in the F band" (Genesis was a *definite* highlight and RT gave Sandy her due to warm applause). When he played 52 VBL, I thought he was sort of showing off and playing it too rapidly, but by the end I'd come around to thinking that this is not an elegy, but is very affirming -- a celebration. The New Me is totally chilling and had me wondering "Where does he GET this stuff?". And it was great to hear Wall of Death -- hummed it all the way back to Milwaukee.
He was in great good humor, poking fun at the -- rather staid -- audience. "This *is* Chicago, right, Danny? Chicago on Halloween night? Huh." and at the Folk Music School venue, breaking into a short chorus of Kumbaya (another for the covers list). But audience participation wasn't bad on Jimmy Shands and Drunkards Roll (although if I'd had a chance to talk to him after, I'd'a told him to come on up to Milwaukee and we'll show you a polka that'll scare the s***t out of ya).
Think I can now chirp in on the "playing to the newbies" discussion that have been leveled on the list lately. I don't think he does. He did the three new ones, a few more recent ones, a few from his earlier solo things, Wall of Death, Genesis Hall ---------- not a bad retrospective in my book. The only other time I saw him was with the band and I'll tell you what, this show kicked the bejesus out the solo acoustic Bruce Springsteen show I saw three years ago. The man (RT) had enough respect for his audience to give them much of what they wanted to hear and that's a good thing in my book. He didn't seem to be suffering because he couldn't play just what he wanted. He was loose and having fun with Danny and the crowd and it was great.
I understand that those of you have seen him yearly for the past 10, 20, 30 years long for an all new show (or is that an all old show?). He seems very comfortable with what he does but not so comfortable that he's comatose or bored or arrogant (as I've seen at several of the five or more Bob Dylan concerts I've been to, though I haven't seen him lately). Bottom line is that he gave my wife the chills, and she's a tough crowd.
Well, I've blathered too long. Maybe Scott will have his say. Oh, and if anyone out there saw the second show, I'm curious about the set list.....BEBO
christopher.bebeau@nciaccess.com
---
Here's some fine press for mister Thompson.
http://chicagotribune.com/splash/article/0,1051,SAV-9811020138,00.html
Adam Weissengruber
weisy@interlog.com
Here's the full text, presented in case the Tribune site is not available.
And, yes, it's true. Kevin seems to be a professional critic.
BLACK LIGHTNING

By Kevin McKeough
Special to the Tribune
November 2, 1998
"I've come as a folk-rock has-been. I thought that was appropriate," Richard Thompson joked to the crowd during the first of two sold-out Halloween shows at the Old Town School of Folk Music.
Dressed in black from beret to toe, Thompson actually looked more like a member of the French underground, which was appropriate as well. His songs are studies in camouflage and subterfuge, in which glorious music masks tales of devastation, love is an illusion, and past and present furtively intertwine.
Thompson's great weapon is the lullaby beauty of his melodies, which gained preeminence from the intimate setting and acoustic performance. Joined by longtime colleague Danny Thompson (no relation) on upright bass, he brought a rich, supple baritone to the mesmerizing "Turning of the Tide" and "Down Where the Drunkards Roll."
The crowd sang along like a church choir on the latter song's chorus, never minding its unflinching portrayal of skid row. Again and again, Thompson matched soothing music to unsettling themes, describing characters deceived by love (the stood-up barfly in "Taking My Business Elsewhere") or ruined by time (the crippled war vet of "Al Bowlly's in Heaven").
With its mix of the grim and the celebratory, Thompson's music remained rooted in the same centuries-old British folk traditions that he first drew on three decades ago as a member of Fairport Convention. By recasting these archetypal forms in contemporary terms, he imbues his songs with tremendous dramatic urgency, particularly when adding motorcycles and leather jackets to the familiar fable of a woman's doomed love for a highwayman on "1952 Vincent Black Lightning."
As his fretboard-leaping solos on that song proved, Thompson literally has more talent in his little finger than many guitarists have in both hands. He punctuated the driving Chuck Berry chords of "I Feel So Good" with bright jazz runs and spun a spider web of lightning-fast finger-picking on the dazzling finale, "Two Left Feet."
Danny Thompson's pushing, prodding bass lines at times shadowed the guitarist's chugging grooves, at others intertwined in countermelodies that emphasized the tension.
On a few occasions, Thompson let the menace show itself directly, particularly during a hall-of-mirrors account of stolen identity. Like any good secret agent, he was at his best when he kept his weapons hid, and Thompson was a genial assassin, joking with and teasing the crowd.
Even at his most jubilant, though, Thompson had hidden depths. Whether leading a sing-along tribute to vintage polka records or performing a hilarious swing-jazz condensation of "Hamlet," Thompson offered cautionary tales of how contemporary popular culture degrades the great art of the past. The rest of the time, he held such traditions securely in his breathtakingly nimble hands.
During his opening set, North Carolina singer-songwriter David Wilcox's wry, warm tone suggested a second-generation James Taylor.
---
Friends,
Having seen RT three times this summer (Baltimore, Vienna, VA and Lexington, VA) I was delighted with the set list in Chicago on Saturday.
Aside from the two newest songs: Sights and Sounds and "The New Me..." (the former outstanding, the latter not as impressive) RT worked in a number of songs he had not played earlier in the tour: Taking my Business Elsewhere, Al Bowlly, Down Where the Drunkards Roll. I am curious what the 10 PM Setlist was if anybody heard it-- I'd bet he played 4 or 5 different songs, but that's just a guess.
Danny was very good, and he and RT seemed to really enjoy playing together again (as has been noted). All in all, this was a great show, and I am anxious to hear the new album.
Anybody who can make the LA show on Tues, looking forward to hearing what the set list is...
Finally, I owe a thanks to this list's Chris Bebeau, who got me his extra tickets...
SLW
Scott L. Watson
s-watson3@nwu.edu
---
I just saw RT in both shows
at the Old town School in Chicago and the Bathsheeba song is driving me crazy--if you find out the title/location let me know
He also did 2 other new songs--"The Sights and Sounds of London town" and one thoroughly depressing (in a good RT way) of pilfired ideas, identities and wives(!)
---
Hi all... Emerging from lurkerdom,
I wanted to comment on RT's late show in Chicago last Saturday. Actually, we had tickets for the early show, and enjoyed it so much that we got tickets for the late show.
The late show was even better than the early show - no mean feat. Personal highlight was the note-perfect duet by Richard and Danny on "Valerie." Seeing Danny in the acoustic setting was a real treat - what an amazing and intense player, and a perfect foil as well. As can be seen by the following lists, he trotted out "Lotteryland", as a request.
This was the fourth time I'd seen RT play acoustic (including that horrid Chicago Fleadh, I'm afraid). While the show in Joliet a few years back probably can't be topped, this came mighty close, as he seemed to enjoy himself immensely. He commented during both shows that he plans to continue playing at the Old Town School, which is good news indeed.
Those of you keeping score can see that he repeated ten songs. I assume this is normal procedure for OH; if anyone has better info, please comment.
Thanks for your indulgence,
Tracy
Set lists:
Early show
Sights and Sounds of London Town
I Misunderstood
I Feel So Good
Taking My Business Elsewhere
Hamlet
Ghost of You Walks
Turning of the Tide
Genesis Hall
1952 VBL
hope you like the new me
Bathsheba
Jimmy Shands
Al Bowlly
Wall of Death
Razor Dance
Down Where the Drunkards Roll
Two Left Feet
Late show
Sights and Sounds of London Town
Waltzing's For Dreamers
I Feel So Good
I Misunderstood
Hamlet
Ghost of You Walks
Easy There Steady Now
if you don't want me
1952 VBL
walking the long miles home
Meet On the Ledge
Jimmy Shands
Shoot Out the Lights
Valerie
Ghosts in the Wind
Lotteryland
Razor Dance
Beeswing
Wall of Death
---
RT played Meet on the Ledge
in the 10p set in Chicago. He tried to make it a audience participation number but there were only a few of us singing. He commented as he tried "you don't know the words!---and its my biggest hit"