Novato, CA
October 18, 1998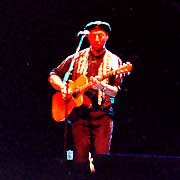 I don't have the setlist handy
for yesterday's R&DT show in Novato, north of San Francisco (can't have RT play major markets in between albums, can we??), but it was standard...no surprises.
Opened with "Sights and Sounds of London Town" and played the two other new selections. Small crowd of <200 people, great sound, great beer (rare mid-set bathroom break by your's truly), great people (Nur and JudyB were there).
Fun!
Nur and I spoke briefly with RT and I asked about the producers he's working with, and he named off the two guys who worked with Beck recently. I asked if he was going to be using drum loops and studio gimmichkry and he said "there's not enough time for that." Apparently they've just started working together, and RT was adamant about them producing the entire upcoming effort. Sorry but their names slipped.
Danny was looking great, and was in good spirits. Nur and I spoke to him as well and I asked about playing with Tim Buckley, and he had nothing but fond memories of the times he played with Tim. He never got to see Jeff, unfortunately.
For some reason at the end of the show the announcer referred to "Richard and 'Larry' Thompson." :-y
Jeff Soldau
lava@well.com
---
Here's the Set list.
Richard Thompson and Danny Thompson:
Sites and Sounds of London town
I Misunderstood
I Feel So Good
I'll Be Taking My Business Elsewhere
Dog Eat Dog in Denmark
The Ghost of You Walks
Richard Solo:
Genesis Hall (this was absolutly beautiful)
1952 Vincent Black Lightning (More amazing everytime I hear it)
Hope You Like the New Me (quintessential Doom and Gloom)
Bathsheeba Smiles
Richard Thompson and Danny Thompson:
Jimmy Shands (Thank you for the polka Lisa - for those at the show we were couple #17)
Wall of Death
Ghosts on the Wind (The most amazing version I've ever heard of this song - Sent chills up my back)
Encore: Two Left Feet
I have Photos if anyone has access to a scanner I can make prints for you and your welcome to post them. (Also have Fat Fry photos - Really good one of RT with "Caution Wet Floor"sign in front of him)
GFM
gmorgan@usabal.com (Greg Morgan)