Middlebury, VT
October 11, 1998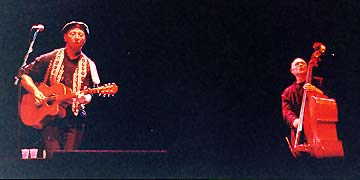 I wasn't at the 4:00 show,
unfortunately; my wife and I didn't get into Middlebury till 6:00 (had dinner at Green Peppers; didn't meet anyone else from the list), and we only had tickets for the late show anyway. Ran into an old co-worker(Pat Hutchinson) from my Montreal days a decade ago(who shook my hand and said confidently, "Ello, Simon!")who told me he'd just played a session with Pat Donaldson, but unfortunately through the miracle of multi-tracking they were never in the studio at the same time, so they never got to meet. I told Pat about the list, and he said he'd check it out sometime. I asked him if he knew Chris Houston; he said the name rang a bell. I reminded him, "No, not the guy who wrote "Surfing On Heroin," and the subject shifted to The Forgotten Rebels, the other Chris Houston's band. Oh, well, we can all have a good laugh about if Pat joins the list; Hutchinson, not Donaldson.(We wish)
Anyway, here's the set list; RT was in such jocular form that I had to squint to make sure he wasn't channeling Graham Chapman or something. He was more than a bit contemptuous of the audience as usual, and aside from one reference to "flatlanders" and "locals" didn't seem to have done much homework on the local scene(not that there's much going on in Middlebury besides a lot of college kids with rich daddies). Fortunately it was balanced by his general good humor; it seemed like more of an attempt at showmanship and RT being his usual self, the former shy boy coming out of his shell. Anyway, as he and Danny stepped onstage, somebody yells "How 'bout those hits?" and RT gamely responds with a line of "I gave my love a cherry..."
Sights And Sounds Of London Town
Walzing's For Dreamers
I Feel So Good
Taking My Business Elsewhere
Dog Eat Dog In Denmark
Hide it Away
Turning Of The Tide(exit Danny, stage left, to enthusiastic applause. "I know what you mean," says RT, "I'm glad to see him go too."
Bathsheba Smiles
Down Where The Drunkards Roll
1952 Vincent Black Lightning
If You Don't Want Me(re-enter Danny)
Jimmy Shands
Shoot Out The Lights
Wall Of Death
Al Bowlly's In Heaven
Volare
Two Left Feet(flubbed lyric; starts making up rhymes for feet as he goes along, like street, Lafitte, etc.)
Encore:
I Misunderstood
Razor Dance
Purple Haze(!)
Much of the between-song patter was so rapid-fire half of it was lost on me. Other audience members were lapping it up though.Danny seemed especially tickled to be up there though, he kept making his usual thumb and forefinger "you da man!" gestures at RT, and their interplay was impeccable and infectious. RT still puts together chords and notes that I just can't seem to find on a keyboard; I'm convinced he made some of them up himself. All in all a very satisfying show, some surprises(acoustic SOTL? Wow!), some of the usual given a new lease on life("Dog Eat Dog..." actually sounded fresh for a change), and my only complaint was that it was too short. We were out the door by 9:45. But then again even Bruce Springsteen doesn't play for three hours anymore.
I'm still amazed how young RT looks- at almost fifty he looks fitter and trimmer than I do at more than ten years younger than him, and I'm no couch potato myself. And to consider that Danny's almost sixty...jeezum.
Christopher R. Coolidge
cauldron@together.net
http://homepages.together.net/~cauldron/homepage.html