Tarrytown, NY
October 10, 1998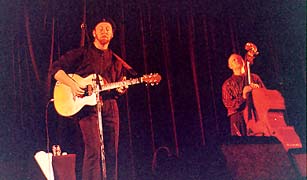 Just back from Tarrytown
and a wonderful show.
It's good to see Danny back on stage in full form. The Tarrytown Music Hall is a charming old theater, just this side of dilapidated. But that only made it an appropriate setting for the generally scruffy, charming and slightly dilapidated crowd there for the show.
Had the pleasure to meet a couple of list members and spot a few more from across the hall. Also had the pleasure to sit next to Simon and chat with him for a few minutes after the lights came up. Heard some news that was interesting. More on that later.
First, Freedy Johnston was the opener, playing solo acoustic with the help of [name forgotten] on electric guitars. I've always had a soft spot for a good pop craftsman, although in his case I have a tendency to sit back and let the lush melodies and harmonies flow by without really catching the lyrics. Still, it's a comfortable ride. After he finished I saw him out in the hall, enjoying RT's show.
I didn't keep a setlist, but hopefully others will step up and fill the breech. I will say it was a more varied mix than in recent years. He played only two songs from "You Me Us", ("Ghost of You Walks" and "Razor Dance") and even went back to Fairport days for "Genesis Hall". There were three new songs as well, "London Town", "Bathsheba Smiles" and "How Do You Like the New Me?" This last one is a stunner. It's a dark, sort of Hitchcockian tale of a person having his life and soul sucked away by a stalker or sycophant.
Let's see..., he played "Put It There, Pal", "Ghosts in the Wind", "Wall of Death", "I Misunderstood", "Al Bowlly", "Taking My Business Elsewhere", Beeswing" and of course, "Hamlet", "Jimmy Shands" and "52VBL".
After "Hamlet" someone in the crowd yelled "Who's the author?" RT looked flustered and said "Will Shakespeare, .. er.. Brian Wilson." After the show I asked Simon why Richard was so reluctant to credit Frank Loesser. He said he didn't know, that a lot of people had been asking him the same question. He admitted it was strange, but just had no answer.
Before playing "Genesis Hall" RT plugged the upcoming Sandy Denny tribute at St. Ann's in November, although he wouldn't be playing there. He also said "14 people are writing biographies of Sandy. I hope at least one of them makes it to the book stands." (Pam, I guess you should consider that as qualified encouragement.)
The news from Simon was that RT is going into the studio on November 3 to begin work on his next record for Capitol, with release around next March. It will definitely not be produced by Mitchell Froom. The names of the new producers are still "secret", and Simon would only say that there were two of them, and they're a generation younger. So let the speculation begin.
Best,
Mike McDonnell
MMcDonnell@aol.com
---
Notes on Tarrytown:
1) The list meeting got very screwed up, and we wound up scattered all over Main St. and Broadway - apologies to anyone who couldn't find us. However, at different times I saw Jesse Hochstadt, Dan Herman, Fred Scholl, Michael Brooks, Moshe Feder, Joyce Scribner.
2) I loved Freedy's opening act, but I'm a big fan already; I got the feeling that many of the RT fans who didn't know Freedy thought that there wasn't enough variety in his set. He was accompanied only by a lead guitarist, and did about nine songs (two of which haven't been released yet). His new album is due in the spring.
3) RT and Danny had put a little work into creating a new show, changing the arrangement of a lot of the old songs and adding a few new ones. A good time was had by all, and RT's pleasure at interacting with Danny on stage was evident. I didn't keep a set list, but it's possible that the show was exactly the same as Princeton except for the absence of the Beatles numbers. We even got the fragment of "Volare."
4) "The Sights and Sounds of London Town" was an interesting opening number - it's not too musically ambitious for an RT song, but it will take up a lot of space on the next album's lyric sheet, with its four separate sketches of urban down-and-outers. I enjoyed it, but the tune didn't stick with me after one listening. "Hope You Like the New Me?" is quite different: in a way it reminded me of "Love in a Faithless Country," with its discordant motifs, abstract lyrics, and malevolent narrator. Whereas the discordant verses of "Faithless Country" resolve to power chords in the chorus, however, "New Me" stays a little eerie and off-balance throughout. I'm not sure what I think of it yet. After five or so listenings, though, I am really really grooving on "Bathsheba Smiles."
5) "Genesis Hall" sounded really nice in a simple, stark version, and RT sang it very well. Danny's bass line gave RT the chance to do an electric-style solo at the end of "Put It There Pal" - shorter than the album solo, but along the same lines and quite good.
6) Some people decided to put it to RT by yelling "Author! Author!" after "The Story of Hamlet." For whatever reason, RT cited Shakespeare but not Frank Loesser in his humorous response - my impression was that he was angry at the hecklers, but he didn't let it show much.
7) After spending some time paying tribute to the memory of Sandy Denny and promoting the upcoming St. Ann's tribute, someone from the audience asked if he would be participating in the tribute. He said no, took a beat, then deadpanned, "Sandy was really great, but - the money just wasn't there." Biggest laugh of the evening.
8) Jimmy Shand is still 90 years old.
- Dan Sallitt
sallitt@micro-net.com
http://www2.micro-net.com/~sallitt/intro.html
---
Tarrytown footnotes
A couple of footnotes to my Tarrytown report:In my early morning haze I misquoted the title of RT's newest song. It is indeed "Hope You Like the New Me." And it's a killer.
I'll agree with Dan Sallitt that "Sights and Sounds of London Town" has a fairly unmemorable tune. You might even say it doesn't really *have* a tune, it's more of a recitation. But both "Bathsheba Smiles" and "The New Me" more than fulfill our new melody requirements. So, I'm not complaining.
For anyone wondering about the item "Danny's Story" in Matt Schuchman's Tarrytown set list... that would be a reference to DT stepping up to the mike to tell a story of a practical joke he played on Roy Orbison while touring with him in 1963: Orbison's songs were arranged so that he could *just* hit the high note at the climax of the song. On the last night of the tour (which featured the Beatles as one of the opening acts, by the way) Danny had the band play one half step up. Before Roy figured out what was happening, it was too late.
OK, back to work...
Mike McDonnell
MMcDonnell@aol.com
---
My belated two-cents on the Tarrytown show:
--I agree with others who thought RT was particularly upbeat and engaging. He and Danny have a lot of vaudeville in the their shtick.
--The Sights and Sounds of London Town struck me as a possibly purposeful homage to "sixties folk." The repeating chorus (I think), the strummed guitar style, and the subject (reminiscent of Streets of London) all make for a somewhat atypical but enjoyable RT song.
--Genesis Hall was a great highlight of the evening.
--Danny doesn't seem to have lost a beat. I did think the bass was too loud and boomy in several songs, kind of drowning out some of the more subtle interplay between him and RT. It could have been my particular seat however.
-RT joked that the audience (by virtue of being fans of his) must all be part of a cult. At one point he said "Now, everyone take out your cyanide capsules...." Speaking of cults, it was a treat several listmembers for the first time.
Dan Herman
dbh14@columbia.edu