Ross on Wye
August 22, 1998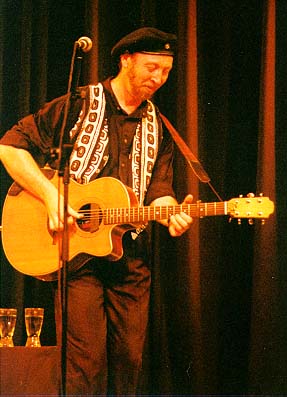 Well, I had an amazingly good time
at Richard's gig at the Ross on Wye Festival. Brilliant weather all Saturday, superlative b&b accommodation in a country cottage (complete with fig tree - which made things perfect for my wife!), and a confident (apart from one major "Oh Shit!" type fluff), mature, varied performance from our hero in a venue with excellent sound. A tent-marquee hadn't sounded promising, I admit, but the acoustics were great - and being sat dead centre, front row, just 8 foot away from Mr. Thompson didn't harm things much, either... ;-)= It was good to meet so many others from Da List - including Tish da Dish whose airline schedules didn't prevent her from reaching _this_ concert. How many dee-shirts did I count, guys? Was it eight?
Highlight for me was the appearance of a new Thommotune! Final encore was "The sights and sounds of London" - sort of a "Streets of London" for the nineties, encompassing prostitutes and rent boys, and with a guitar style which reminded me somehow of Dylan's circa 1961. Got a catchy hook, too, and I can see this one is going to be a regular. Also on the bill was (first British?) appearance of "If you don't want me", which I still feel is slight by comparison to some of Richard's songs, but might have been a pop hit for someone 30 years ago, given a suitable arrangement.
Set list for completists:
Bathsheba smiles
Turning of the tide
How will I ever be simple again?
I feel so good
[Wild Thing! - quick rewrite of the Troggs' classic]
The ghost of you walks
Hamlet
If you don't want me
1952Vincent Black Lightning
Pharaoh
Keep your distance
Genesis Hall (for Miranda, who I see is now posting to this list!)
Walking on a wire
Razor dance
Don't sit on my Jimmy Shands
Put it there, Pal
Beeswing
Two left feet
Push and Shove - not 8-(=
I misunderstood (including the Oh shit! episode)
Don't roll those bloodshot eyes at me
The sights and sounds of London Town (I suppose that's the title)
Sandra and I queued for 90 minutes to nab a good seat, and heard a perfunctory soundcheck - including a snatches of Bathsheba, and The Kinks' Dead End Street. I was hoping he'd try the latter on stage, but no such luck! Some other listees seem to have heard an earlier soundcheck, as the songs they mentioned to me were different.
Loads of listees went backstage and got birthday photies taken with the obliging Mr. T. Hope The Watcher in the Cupboard reports back to him that this made one young lady VERY HAPPY INDEED, even if he didn't manage to sing King of Bohemia for her. Me - I just went outside to the beer stall and discussed the concert with some other friends.
A good night.
Goodnight,
Paul Woods
Paul.Woods@bristol.ac.uk
---
Not much to say after Paul's review,
but I had a stunning night, and a very entertaining conversation with that nice Mr Thompson - as well as photo etc (btw Paul, lots of list members may have gone backstage, and even got photos, but I didn't realise it was everyone's birthday ;-)).
Sights and Sounds was indeed good, though I am inclined to agree that If You Don't Want Me is rather less inspiring than many others. I also wasn't as impressed with sound as Paul is - I had a rather hissy echo throughout most of the gig, sort of drifting over my left shoulder. Absolutely excellent to meet so many list members, good to see you're all as nice in real life (Tish, you're cool...!), and sooner or later I might get used to complete strangers running up and kissing me!#
Met a nice right-wing bigot in my guest huse, who'd been at the gig, was offended by RT describing the English army as the occupying force in Ireland (which is odd, cos he said no such thing) and even more offended by him talking about "mega corporation bastards" (which he did, and good on him). This chap, however, also described RT as repetitive, so I think we can safely assume he didn't know what he was talking about...
Wonderful fun, wonderful town, wonderful gig, wonderful man. (RT, not my pet hippy). What more does a girl need?!
Louisa Mallett
louisa@jezebel7.demon.co.uk
---
Warm southern greetings, ya'll,
I hate to say me too...but I feel pretty gutted also, Martin. We went backstage and got stuck visiting far to long. I headed out to find everyone as quickly as possible but they all disappeared, for goodness sakes. I didn't see you by the bar, Martin. :( What photo shoot? I would have bought the beers too. *sigh* I promise two rounds next time, though.
Wasn't that one "kick-ass" performance? *grin* It's my first time hearing, seeing and visiting with RT. Wow! I have to go back now and find who it was that thought and posted OH can't sing. He was just perfect. Was Two Left Feet being improvised there about half way through his presentation? I sure can't recall those lines he sang.:) I formally withdraw my orginal comment that it wasn't one of my favorites. I truely understand now why so many love this song. My oh my.
Tish *now listening to the cats fuss at who gets to sit in my lap at the moment
eponine@gmi.net
*(p.s.goodness can that man smile, body language and all! But, I noted he didn't peek at the audience when he was singing my favorites.)
Martin Woodward wrote:
Martin (who is feeling gutted after finding out that everyone had disappeared to a photo call after RT's performance in Ross, when I was by the bar, hoping to see them !)