Brugge
July 31, 1998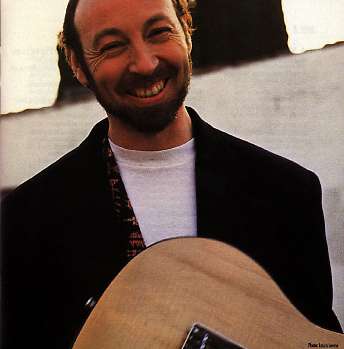 Just back from the backdoor of the Stadsschouwburg
in Brugge (Flanders, Belgium), the theatre where OH had a one-off on the European continent at the Klinkers-festival, that turns back every year in this small well-kept medieval city.
There was a little European RT-listmembers jamboree as well, I met Derrick Leigh - who came driving from Leighton in England - Olivier and Richard Condon (the old fan inside a spiritual young man wearing his official Dee-shirt) from Bruxelles and Emanuelle from the northwest of France (south of Namur). We were all having our husbands, wifes, friends and child (Richard's girl) with us and we had a small beer afterwards to celebrate Richard's (the fan) 15th wedding anniversary & the fact that the other Richard brought us together via Brian White's initiative on the internet. Friendship in real life is what really counts, as Brian recently wrote between his angry remarks.
The gig was planned in the open air, but as we're having a lousy summer here in western Europe, the organisation decided to have it in this theatre with a baroque interior. A woman next to me said to the woman who was next to her, the theatre looked like a bonbonniere ( a box to put Belgian bonbons in).
Ticket cost was 300 Bfrs, which is about 7,5 dollar (!). The festival was sponsored - among others - by The National Lottery (!) as the festival presenter pointed out accurately before RT came on stage.
It was not allowed to take photographs with flashlight (so was said), and on the balcony where I was sitting a cameraman of Focus tv (regional television) shot the first three songs and left the building.
Afterwards, in the pub, we all agreed: RT was in good shape (dressed in black, the ususal thing on his head, witty), though he caught a cold the other night obviously during a Shakespeare play in the open air in London, while it was raining.
The setlist in Brugge:
Turning of the tide
Bathsheba smiles
How will I ever be simple again
I feel so good
The ghost of you walks
Hamlet
If you don't want me (I'll dry my tears and move on)
Vincent Black Lightning'52
Pharaoh
Keep your distance
Jimmy Shands
Genesis hall
Walking on a wire
Razor dance
When the spell is broken
Two left feet
Encore 1: Waltzing's for dreamers
Don't roll those bloodshot eyes at me
Encore 2: I misunderstood
Wall of death
"If You Don't Want Me" (?) was new to me. It was mentioned already on this list. Rather simple lyrics I'd say and probably worth a catchy single from a new album that could also feature Hamlet and Bathsheba Smiles ( he didn't mention this, but we must anticipate a bit on this here list, isn't it ?)
Pharaoh was introduced as a song about these immoral whiskey-factories and all that own big parts of the music industry these days with only one thing in mind: earning money. Richard was saying this, but no reaction from the audience came. He looked in the dark and said:"You don't care, do you ?" "Perhaps I'm too sensitive. I am so sensitive and that's why I'm here (pointing on the stage) and you're there" (pointing in the audience), which caused a good laugh.
Pharaoh and The Gost of You Walks got a sensitive Simon Tassano-treat (echoes on the sound system).
I've heard him talk a lot more during his performance than I did this time.
The audience participation part of Jimmy Shand was not reheased so the only ones who were singing were your colllegue- listmembers on the front row and me and my family on the balcony ;-)
This must be it. It's 4:30 in the morning. We had a very pleasant evening, hope you like the report. I'll catch some sleep now.
Regards,
Flip-
P.S. Tomorrow I'll be off for a two weeks holiday in France. I'll read your remarks when I get back.
P.S. Emanuelle - who I recognised from Dee's very useful Amateur Critics
Page - handed OH nice flowers at the backdoor of the theatre and OH gave her a little kiss in return. We, the other listmembers and family, were watching, shy, very shy like teenagers in the companion of their musical example. We might be Amateur Critics, but we are Professional Fans.
Byebye !
Flip Feij
flipfeij@zeelandnet.nl
Act unofficially: http://people.zeelandnet.nl/flipfeij
---
In the middle of his programme in Brugge
RT asked for the usual requests. The audience screamed the whole RT-discography since he picked up a guitar and OH acted as if he'd leave the stage a little overwhelmed.
He came back and played what he liked.
After Two Left Feet he came back for the first Encore and some people in the front rows asked "Waltzing's For Dreamers". RT: "Hey, you all agree on that ?" And there it came.
The man who screamed for "Beeswing" several times, followed later by "Play Beeswing... for my wife !" must play Beeswing himself for his wife. From the record.
I didn't mention his guitarplaying in my report, but it was superb !
G'night,
Flip-
---
With the help of liberal doses of coffee
I arrived safely back from Brugge and would like to thank all those who made it such a special experience - Emmanuelle and Denis, Richard, Flip and Olivier, with respective partners, not to mention the blessed Mr Thompson.
Brugge is a beautiful medieval town with an odd combination of commercial tourism and medieval spirituality. There are no towers of steel, the tallest buildings still being churches. At the Basilica of the Holy Blood, the relic is still there, and I was very moved by the choir practising a chorale. I was also amused to read that the Basilica was constructed by one Count Derrick!
Despite a slight cold RT's set was up to the recent standards of excellence with some adventurous guitar work and judicious use of the baritone resonance in the voice. Keep Your Distance had a refreshingly different Celtic guitar break. "Tell me sister don't you understand" and "You can't die if you don't know how " were among the lyrical variations.
A flawless performance of Walking on a Wire was where RT really took off to play out of his skin for the last four numbers. "If you don't want me" is yet another song with tears in it. Mr T must have an awful lot to repent about!:) An attentive but passionate audience were denied a third encore from a tired-looking RT despite a well-earned standing ovation. "Leave them hungry for more" is always a good motto.
Derrick Leigh
dleigh@dleigh.powernet.co.uk
---
I have tried to post this three times
since Friday without success. That is to say, it has not come to me from the list, though my other posts have. I now assume that it is too long and will post in two parts. If you already received it, unlike me, then I apologize. Here beginneth the post:
I hope list members (and especially Flip) will forgive me if I add some comments to Flip's post about last night's great show, with RT really on top form after some comments about listless (no pun intended) recent performances.
Flip doesn't mention that with increasingly restive SPUDs etc. waiting with us, we had to hang around on a windy, cool and increasingly damp street for about 45 minutes, having been prevented from following RT when he went off at the end of the concert. But it was worth it, for when our man finally appeared, dressed bizarrely in all khaki: shorts, shirt and cap, looking like a jungle soldier, he was in a very friendly mood, chatted, agreed to be photographed with anyone who wanted and signed lots of articles with his own pen (perhaps the famous "sharpie" that US friends have mentioned). We were determined to wait, since we all had things to sign and Emmanuelle actually had a bouquet of flowers which she wanted to give RT - and finally did.
> I met Derrick Leigh - who came driving from Leighton in England
That's Leighton Buzzard - and Derrick set off to whiz back through the Channel Tunnel immediately after our little post-show party, which is a sign of great devotion - Brugge and back in a day!
> Olivier and Richard Condon (the old fan inside a spiritual young man wearing his official Dee-shirt) from Bruxelles
Derrick also had his Dee-shirt on, but even more discreetly than I did, as he didn't want RT and Simon to beat him up. Emmanuelle's shirt has arrived, but she said she was too shy to wear it!
> we had a small beer
OR TWO!
> afterwards to celebrate Richard's (the fan) 15th wedding anniversary
Flip - you fell for my SPUD's attempt to conceal her real age: it was our 27th wedding anniversary, and we have two other *grown-up* daughters to prove it!
RT himself commented how much he liked the beautiful mid 19th century theatre, and the acoustics were good.
I still want to know what the tartan is on the guitar-strap, the only non-black item apart from the Lowden itself. Is there a Thompson tartan (or one that Thompsons are allowed to wear), just as Rod Stewart wears Stewart tartan scarves?
I presume that Hamlet (correctly titled "Dog eat dog in Denmark") is unlikely to be officially released as it is not an RT original - as has often been pointed out on the list, it's by Frank Loesser. I enjoyed "If you don't want me" on first hearing. Several listees have commented that it sounds like mainstream pop, but I could actually hear it in my head with skirling Celtoid accompaniment on some future studio album.
But he really did once again sound totally personally pissed off with big business, and I was definitely attracted to the theory that he must be having problems with Capitol or something, as he insisted that HE PERSONALLY was suffering from big corporations. Introducing "How will I ever be simple again" he again said that it was a song about Northern Ireland and noted that there now seemed to be a chance of peace. In his introduction to "Dog eat dog in Denmark" he once more explained his role as cultural ambassador, and this time the others were identified as Benny Hill and Mr Bean. On "VBL52" the list of bikes was as usual elongated: Triumphs were out compared with the last time I heard it, but Douglases were in.
Yes - he noticed the little band of list-members and families down the front joining in with gusto, which was very gratifying for us, as he then challenged the balcony to do better, and when they couldn't he pulled all kinds of grimaces, looked despairing and eventually stopped playing for a few moments as if he was giving them up as a bad job!
I absolutely *must* mention that when he had played Razor Dance (which was a treat to see live) he actually asked whether there were any requests, and then played MINE, which was "When the Spell is Broken" , and WHAT A VERSION! It contained a long guitar solo of a virtuosity that would be astonishing if it was anyone other than RT - it was better than any of the recent concert versions that I've heard. I would have given a week's salary to have Chris and Clive on backing vocals, but I still loved it!
I had not seen him perform either "Razor Dance" or "Bathsheba Smiles" and both were good illustrations of the way that he does those two different things at the same time with the right hand: there's a basso continuo with the pick held between thumb and forefinger, and at the same time a fingerpicked tune with the other fingers. I wish I had so much coordination! "Waltzing's for dreamers" was also a request, but lots of calls for "Beeswing", including from listmembers, were unheeded.
Finally, he forgot the words on "Wall of death", singing the "tunnel of love/Noah's ark" bit twice and missing out the "switchback/bearded lady".
I suggest that normal readers stop reading at this point, but REAL aficionados may wish to know that as I was in the front row I could note down the capo position for every song (but I won't attempt to identify the tunings, as I'm not expert enough). So for the hyper-RT-guitar freaks, here goes:
Turning of the tide - capo 3rd fret
Bathsheba smiles - no capo
How will I ever be simple again - capo 4th fret
I feel so good - capo 3rd fret
The ghost of you walks - capo 2nd fret
Dog eat dog in Denmark - capo 2nd fret
He then very noticeably dropped the tuning of the bottom string before
playing
If you don't want me - capo 2nd fret
52 Vincent Black Lightning - capo 3rd fret
Pharaoh - capo 2nd fret
Keep your distance - capo 3rd fret
Jimmy Shands - capo 3rd fret and fitted thumbpick for this one
Genesis Hall - capo 5th fret
Walking on a wire - no capo
Razor dance - capo 2nd fret
When the spell is broken - no capo
Two Left Feet - capo 3rd fret
Waltzing's for dreamers - capo 3rd fret
Don't roll those bloodshot eyes at me - capo 2nd fret
I misunderstood - capo 3rd fret
Wall of death - capo 5th fret.
I apologize for the length of this post.
Richard ("Old fan inside an old man")
Richard Condon
Richard.Condon@tvd.be