Chattanooga
July 23, 1998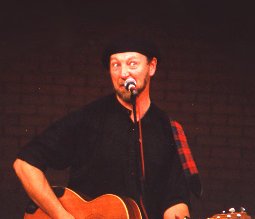 I've tried twice
to post my report on last Friday's Chattanooga show, but it seems to be too long. I'm cutting it in half and sending it as two posts.
BTW, my page of photos from that show was very hastily assembled. I hope to have it re-designed this weekend.
I took the day off on Friday and left Nashville for Chattanooga just after noon. After a week of miserable rain, preceded by a week of miserable heat, it was actually a beautiful day to see RT at an outdoor venue... and for free, no less! Since I didn't know where Miller Plaza was, I checked in at the visitor's center at the beautiful Tennessee Aquarium. The show was 9 blocks and 3 hours away, so I went in and watched the multitude of fish for a while.
Arrived at Miller Plaza around 5pm (opening act was scheduled for 7 with RT going on at 8). Parked in a lot right across the street and walked over.
It's a nice big brick walled stage set in the side of building overlooking a small park. I sat down to look the place over just as RT walked out for a sound check. There were two other fans and a few stray pedestrians there to hear it. While Simon fine-tuned the sound, RT played bits of Roy Orbison's "Running Scared," "Bogie's Bonny Belle," and "I Misunderstood." A couple of skateboarders rolling through prompted "Surfin' USA." Richard noticed the few people enjoying the soundcheck and instructed Simon to collect tickets.
"$10 for the soundcheck!" Simon walked around laughing and holding his hand out. Now I've done live sound before, but even I was impressed by this: Simon kept tweaking the sound, then running out into the middle of the plaza to listen. He had it sounding pretty damn fine, but every time he came out to listen, he'd run back to the board, turn one knob and the sound got noticably better. The final soundcheck selection was a rousing version of Jerry Lee Lewis's "Drinkin' Wine Spo-dee-o-dee."
Knowing that OH is keen on birds (the feathered kind), I had purchased an enormous book called "The Atlas of Breeding Birds of Tennessee" published by UT Press and inscribed it, "For Richard Thompson, with the hope that this will lure you back to Tennessee more often." Passed up the opportunity to thrust it at him at the soundcheck. As a musician, I feel that even at the soundcheck, you're doing your job and shouldn't be disturbed even by well-meaning fans, so I chose to wait until after the show to give him the book.
Four rows of chairs were set up on the semicircular steps near the stage.
I took one front and center about 6:00 when other people started showing up.
It seemed that RT was drawing a good crowd. Simon had gotten the sound right, so the opening act got to do their soundcheck. When they were through, someone had the forethought to switch on the lighting rig and it set up a horrible buzz in the sound system. Simon and the local sound guy scrambled to find the source of the noise and finally did just before showtime. About 10 minutes before the show an additional hundred or so chairs were unloaded and set up IN FRONT of the front row. So those of us who came early to get good seats wound up behind those who showed up 10 minutes before the show started. A bit annoying, but I was still only about 30 feet away and the sound system was adequate for a two block park.
Keith Sherman and Rick Williams (from the band Overland Express many, many years ago) opened with a nice set of tunes very much in the Townes Van Zandt mold. The audience was very appreciative of their set... and of the board-on-a-stick fans that were passed around by Bruce Owens, a candidate for Chancery Court. We were less appreciative of the helium balloons that Mr. Owens' supporters gave to the children who ended up at the front of the stage.
RT took the stage just after 8:00 dressed all in black. The sun was well on its way down and a nice breeze was cooling us off. I came equipped with my camera and the biggest zoom lens I could get my hands on, so I snapped a few shots during the set opener, "Turning of the Tide." I'll post the best ones when I get the film processed. That was followed by "Bathsheba Smiles," which was very well-received for a new (and for most of the audience) unheard song. Cheers to Simon, the sound was crystal clear and every word could be made out plainly. BUT, during the third song, "How Will I Ever..." with the usual intro about Ireland, the buzz came back. There was a bit of scrambling while Simon tried to isolate the problem again, but to no avail. Eventually he got it down to a level where it wasn't too annoying. Though, having done that sort of job myself a few times, I'm sure he was pretty pissed about it.
"I Feel So Good" and "The Ghost of You Walks" were next. He then went into the standard intro to "Hamlet," the bit about Tony Blair selecting him to be a roving arts ambassador. This time, three people were asked: RT, Benny Hill and Mr. Bean. During the intro some goober started screaming for "Don't Tempt Me." This guy was at a show several years ago in Nashville and he didn't hear it then either. I expected the guy to get the "village with an idiot missing" line before the night was over, but he didn't. Richard stumbled over the first line of the Ophelia-popping-her-cork verse and had to start again.
---
"Are the any drunks in the audience?"
Richard asked before doing "God Loves a Drunk." The audience cheered the opening notes of "1952 VBL" and we got a truly blistering performance of it. A different goober yelled for "Freebird" during the intro to "Pharaoh." ("I find my life increasingly ruined by these greedy corporate bastards." We can speculate on that later.)
After "Keep Your Distance," Richard said that he had recently done the next song when he opened a show for John Lee Hooker and that the audience response was, "well... did you see that Mel Brooks film, The Producers? Polka: the Nordic Blues." The song was, of course, "Jimmy Shands" which got a nice sing-along. "Okay, this time just the people from Georgia!.... That was really awful, Georgia." I took more pictures all through the show and inadvertently got one of him during this song with a fly on his forehead.
After the song, he thanked the rest of us for our help. "I've never had this many fans before." At just that moment one of the crew brought out a huge electric fan to cool him down. "And that's the biggest fan I've ever had!" Then followed "Hide It Away" (a bit of a surprise), "Razor Dance," "Put It There, Pal" (big surprise, and perhaps another one for the greedy corporate bastards), "Beeswing," and "Two Left Feet." That one had a couple of new alternate lines that I hadn't heard before: "Your metatarsals are obsolete/You got two left feet" and "You drank two bottles of Chateau Lafite/That's why you dance with two left feet."
That closed the set, but the roar of the crowd assured an encore or two.
Now remember, I was right down front, but decided that during the encores I'd walk around a bit and get some shots from some other angles. When I turned around I realized that there were several hundred people in the park. When I started walking around I realized that it was more like a couple of thousand!!
The first set of encores was comprised of "I Misunderstood" and "Bloodshot Eyes." The second bunch was the new song, "If You Don't Want Me" and "Wall of Death." Just before leaving the stage he gave us a nice southern, "Pre-shayt it!"
I made my way to the side of the stage where the faithful were already gathering to greet and get autographs. After several minutes during which RT changed clothes, he came out to deal with us. He signed a few CDs and LPs before I got to the front. I told him that I had gotten things signed in the past and that this time I had brought something for him. He seemed quite surprised and pleased with the book. He also noted that he has the same shirt I was wearing (a Hawaiian-type shirt with black background a red and yellow guitars all over). "I've got that shirt," he said, "or you've got my shirt... and I've got your book! Ha ha!" I told him I really enjoyed the show and especially the Roy Orbison song during the "first set" and that I hoped he'd get to Nashville again someday. As I turned to leave I heard him say to the next guy in line, "So... where's your present?"
Despite the sound problems, RT gave a very committed performance and it was great to see so many people there. Sure a lot of them came just because it was free, but I suspect a few of the uninitiated will be out buying CDs this week!
Chattanooga is a beautiful city, and the local public radio station sponsors these free concerts every Friday night. Check out http://www.chattimes.com/cityscape/diversions/afterdark/nightfall.html for the schedule. If you're near there on a Friday, I highly recommend going (I'll be back for the Tannahill Weavers in September). Nashville's free summer concert series, Dancin' In the District, is a joke by comparison: frequently local or locally connected acts (what a radio programmer I know refers to ask
"frat-rock") that you can see in more comfortable surroundings almost any week, and the whole thing seems to have degenerated into an excuse to drink
lots of beer and get obnoxious. Chattanooga's crowd, on the other hand, was well-behaved, respectful of the people around them, and though beer was being sold, I didn't see anyone in a stupor. In Nashville, the stupor often spills over into the downtown streets... to the point where the city council is considering pulling the plug on the series. It's a pity that "Music City" can't get its act together for a decent outdoor concert series or summer music festival. Birmingham does a great job with City Stages. Chattanooga and Memphis both have wonderful summer festivals. I just don't know what our problem is. Ah, but I'm rambling.
On a brighter note, on Monday night Nashville Public Radio will be taping (in our shiny new studios) the first installment in a potential series for national distribution. Tentatively called "Players & Poets - Live from Nashville," this first one will have Lucinda Williams and the Del McCoury Band. Bassist Dave Pomeroy and singer/songwriter Don Henry (not Henley) will be the series hosts. Pomeroy insists on using his own engineer (which is fine and takes a lot of pressure off me), but I'll be assisting and doing post-production. I'll alert you when we spring it on the world.
Scott E. Smith
scottesmith@home.com