Lime Kiln
July 19, 1998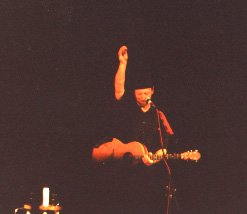 OK, you know you've slid too far
into Mrs. Millerdom when, at the end of an RT concert, as you're heading for the car, Simon (whom you've barely met) says: "So, I guess we'll be reading your report on the 'net any time now."
I spent the following three hours, driving north, thinking that I wasn't going to bite at this troll. But here I am.
Doesn't it seem like every time I write about an RT show it's either "a little off" or "the best one I've ever attended"? This was the best one I've ever attended. Knock out the bits that made it special to me personally (I was there in a sort of official capacity, interviewing Our Man for my Sandy Denny book) and it's still got to go into the top 5%.
It was a 90-minute concert. I hope to God someone kept a set list. I think there were at least two other list members in the crowd. RT opened with "Valerie," the one that was "too hard" just days ago.
He seemed to be in a generous, ebullient mood, very much in control of his situation, deftly avoiding a couple of potentially grandstanding audience members. Was this his last show for a while? Traveling fans' alert: try to get to the last show in a given tour. You can't lose.
I used to fantasize that each of us was developing a particular request, like a bird call, and that over time, as I attended shows or heard recordings of them, I'd come to recognize my fellow devotees by their cries. I don't think most of us are that faithful to a single tune; we play anti-mockingbirds as we hear the show, pleading for tunes we haven't heard.
Tonight's accepted request was "Banish Misfortune," for some women near the front. I was amazed to hear it. I've often been tempted to request an instrumental, but I've held back for fear that RT would interpret the request as "Stop singing!" OK, call me paranoid.
I'll leave it to a better person, with a clearer head and a shorter drive home, to share the rest of this fantastic event.
Pam Winters
pmw@annapurna.com
---
Howdy Everyone,
As of the latest digest I scanned, no one has yet given much detail about RT's performance last Sunday night at the lovely Lime Kiln Theater In the Woods, in Lexington VA. So, hoping that there haven't been a half-dozen lengthy rambles between this morning and now, I'll take a crack at describing this show.
The Theater at Lime Kiln is amongst the nicest venues anyone could ever see a concert. This was my third time there (also saw RT last year, and Chris Smither in 96); I find that when I return the bowl/hillside appears smaller and more intimate than I'd remembered. The stage is made of wood, elevated all of six or ten inches above the ground, as if it were a ground-level deck built in someone's backyard. The stage, about 15 x 10 feet, is bordered on either side by boulders and rock outcroppings, that in turn define the width of seating that climbs the gentle hill. Trees surround all of the seating area, both the reserved seats and the stage. It has a feeling of such immediate intimacy that I thought "it feels like seeing a concert in the palm of someone's hand." Lime Kiln strikes me as similar to Red Rocks Amphitheatre, in terms of a place that has some sort of power of its own, that just seems so extraordinarily special to hear a concert.
As Pam already alluded, this was a night that RT's performance was right on he money. Dressed in the almost-too stylish combination of black on black on black, with a tartan-plaid guitar strap for contrast, Richard seemed relaxed, confidant, in command of his singing and playing, and happy to be on stage. His banter was (as always) droll. The crowd was mellow but appreciative, and seemed to me to be made up with a good number of hardcore fans (judging from the set list, one might conclude that RT decided the same). Only saw one list shirt (seated in about the 3rd row to the left, facing the stage -- I wasn't able to introduce myself). A fair amount of people had RT concert shirts from past tours.
Without further ado, here's the list:
Valerie
Bathsheba Smiles
Simple Again
Feel So Good
God Loves a Drunk
Hamlet
Ghost of You Walks
VBL
If You Don't Want Me
Keep Your Distance
Pharoah
Jimmy Shands
"Irish Dance Tune" (identified as ?? - I already inadvertantly deleted it! - in Pam's post)
SOTL
Genesis Hall
2 Left Feet
Put It There Pal
Razor Dance
e1:
Beeswing
Bloodshot Eyes
e2:
I Misunderstood
Wall of Death
My impressions: Well, I fall into the fortunate category of those who get to see RT at least yearly, and I'm prone to being picky and jaded. For example, as much as I thought he played and came across really well at the Wolf Trap show last month, I personally was very disappointed with that show, ranking it at about the bottom of all RT concerts I've attended. Wolf Trap seemed like autopilot, lacking in anything spontaneous or different from either other shows I'd seen or read about. So I can be jaded.
On Sunday, as soon as he started "Valerie" it seemed like a good omen for the show, at least in terms of my testy expectations. "Bathsheba Smiles" gets stronger and stronger, as does "If You Don't Want Me". I wonder how he will treat Bathsheba when it gets recorded for the next album -- I keep imagining an arrangement similar to "Bank Vault in Heaven" crossed with "I Misunderstood," ie, with electric guitar, building intensity and a "big" sound. "How Will I Ever Be Simple Again" was the first of the ballads, and was sung with understated power and beauty. I really found his singing to be exceptionally strong - I've never been of the opinion that RT's voice does not do service to his songs. The other ballads were also sublime: "Ghost of You Walks" remains by far my personal fave from Y?M?U?, and weathers repeated playing well; and especially "God Loves a Drunk" was absolutely lovely, very powerful version, a song I (and I hope others) am thrilled to see back in the rotation. Pam was too modest to point out to the list that when he intro'd "Genesis Hall" he talked about the folk-rock band he played with in the sixties (and that most of the audience looked as if they were around in the sixties, too), and their great singer Sandy Denny who used to sing this song. And then, as he launched into the tune, said "This is for Pam" with a wink!
A few other funny moments: during "Feel So Good," when the crickets and/or cicadas were especially loud, RT shouted "Cricket solo!" and comped along before pealing off his own lead. And, after taking a minute or two tuning his guitar before "Hamlet," he cheerfully announced "Culture has been tuned!!" (Knowing that Simon and he might be reading this, I sure hope I heard these quips right!)
Side note: Others on this list have suggested, and I've nodded in agreement, that Feel So Good, Hamlet, and Jimmy Shands all might do well to be retired from the concert rotation for a spell. Seeing them on Sunday reminded me why they remain: all are tried and true crowd pleasers, the first two for humor and _Great_ guitar solos, and J Shands cause it can be so damn much fun! I had to admit to myself, the picky jaded one, that "God Loves a Drunk" (which I was delighted to see) did not get the immediate yowls of approval from the audience that FSG did. So I feel lucky to have seen it.
Having read some of the reports from the Artscape show, it sounds like we got all the requests that were made there. So what might have had a chance at a hypothetical next show, i.e., unplayed requests from Lime Kiln? Well, I heard a distinct call for "MGB-GT" ("too hard!") and one for "Hey Joe" (from yours truly ;-) ) which didn't get any response. Other hollered requests, for 2 Left Feet, Wall of Death, and Beeswing, got played. And, what was really the only real request that was played, the Irish instrumental. And that only came about after he had put these two women in the front row on the spot, coaching them through the Jimmy Shand singalong by themselves! (At least he spared them from taking his mike off the stand and putting it in their faces.)
I will say this before I shut up, too: I have the sense that RT began shaking up his set list after that 2nd show in South Carolina that someone wrote about last week, and I wonder whether some of our comments here have been transmitted on to RT himself regarding vocal fans' desire for more variety in his set lists. If that is the case, Thank You Richard for listening!
So anyway. It was a great show in a gorgeous place. It's fun to daydream about all of our cyber-friends being able to assemble there for a show some other year.
Dave Deegan
Deegan.Dave@epamail.epa.gov