Winnipeg Folk Festival
July 10, 1998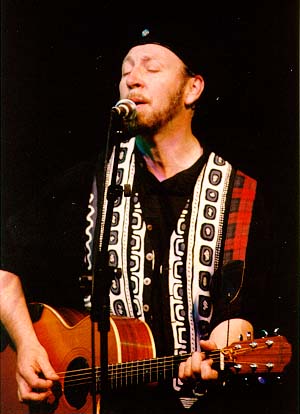 After several rain and electrical storm delays,
RT took the stage at 11:45, just as the sky was clearing to reveal an almost full moon. He was dressed all in black (balmoral, collarless dress shirt buttoned almost to the neck, crisply pressed slacks), and fully bearded (somebody reported that he was clean shaven a few weeks ago).
He sniffed the soggy crowd, and we must have smelled the same as most of the audiences he's sniffed in the past year:
Turning of the Tide
Bathsheba Smiles
How Will I Ever Be Simple Again
I Feel So Good
The Ghost of You Walks
1952 VBL
Don't Sit on My Jimmy Shands
It lasted 40 minutes in total, and it was great. (Well, I last saw him in 1983--on the same stage--so I may be less jaded than those who get to see him almost annually.)

First talk was intro to Simple Again ("You long-suffering Winnipegians: insects, rain...") During Simple Again, he didn't miss a note when he deftly used his left hand to brush away the mosquitoes swarming around his face. After introducing 1952 VBL as the last song (barely 20 minutes into his set), he responded to the roar of disappointment by inviting us to attend Saturday's show in Pittsburg if we wanted to hear more. He sang the first line of a verse of 1952 VBL twice, but I didn't catch what the mistake was the first time. Introducing Hamlet, he erred in saying that the original is 4 *minutes* (rather than 4 hours) long, perhaps a sign that it's time to retire this one. After Hamlet, he introduced Walking on A Wire as "another silly one". And although I would have enjoyed something more surprising for the second encore, getting to participate in a Jimmy Shands singalong was even more fun than I expected.

I've heard this set of tunes numerous times as magnetic memories, but I wasn't prepared for how commanding a performer he is in person. And sitting thru this performance made me realize that this set of tunes does a fine job of representing the enormous breadth of RT's solo repertoire.

The Homemade Music tent had a good selection of his CDs (even an import of Daring Adventures that new listmember Dave Langdon snapped up), but no Celtschmertz, 2LW, or Crawley, and no t-shirts (sorry Brent). Is supplying non-Capitol product to venues outside of Simon T's job description? (While Simon tuned RT's guitar and set-up the monitor mix as the electrical storm passed us by, the M.C. introduced him as "Simon, who is in Mr. Thompson's employ...")

Canadian radio alert: CBC's imaginatively-renamed Radio 2 (FM) will broadcast highlghts of the festival on Sunday from 8PM to midnight (local time throughout the country, I think). According to CBC's promo, this is purportedly a "live-to-air" broadcast, but the three advertised performers--The Paperboys, La Boutine Souriante, Bruce Cockburn (all Canadians)--played on Thursday, Friday, and Saturday. So it will most likely be performances from all four days, probably a few extended sets, plus some briefer excerpts.

Outside of Canada, you can hear this broadcast in Real Audio at

www.radio.cbc.ca beginning at 8PM Eastern Daylight Time (2 or 3 AM in the U.K. if you can't sleep).

Gary Annable
gannable@istar.ca
---
Sorry I'm just finally crawling out
from the remains of that 4 day party we called the 25th Wpg Folk Fest. As a volunteer we were treated wonderfully (read all night partying with performers and fellow volunteers). With backstage access I was able to speak with a number of great performers who seemed to sincerely appreciate expressed interest in their work and in themselves as humans.
And then there's OH. I met with RT backstage before his set on Friday night. I identified myself as "one of those ameteur critics" to which RT replied "David, that's nothing to boast about!" Immediately he turned to his road manager saying "Grab him, Simon we'll throw him to the ground and kick him about for a bit". Simon said something like "We know about you. I've got a list myself and you're on it along with that Pam and Tish.... Actually you posted the other day about this festival. (I think he was referring to Gary Annable's post - by the way I met Gary at the fest!) RT asked me if I'd seen any dee-shirts. I hadn't and told him he needs to come here more often adding "Next time you get a full band together please come to Winnipeg" RT: "Come to Winnipeg! I'll never return to this God awful infested place. Of all the places in the entire world Winnipeg is the only place I will NOT bring a band to. Never!" I did ask OH if he would sign a t-shirt I was wearing which had a painting (cover from RUMOUR AND SIGH ) a friend had done for me on it. RT told Simon to get "the special pen". Miming that the pen was a syringe RT said"Hold steady. You won't feel a thing. The trick is to get through the shirt. You'll be dead in 3 seconds." When I mentioned that I had met the Albion Band two years earlier the Wpg Folk Fest the jokes just escalated. Both Richard and Simon were very jovial (in their quirky way) and it turned out that his set was held back for about 30 minutes to make sure the weather was going to hold. Richard also gave a semi-comical head bow when we shook hands (not sure if he didn't click his heels as well. Great fun.
The set list was:
Turning of the Tide
Bathsheba Smiles
How Will I ever Be Simple Again
Feel So Good
The Ghost of You Walks
VBL
1st Encore:
Dog Eat Dog in Denmark
Walking On a Wire
2nd encore:
Jimmy Shands
Sorry for the long post. I got to get some sleep.
Cheers
David Langdon
davelan@hotmail.com