Guinness Fleadh - 1998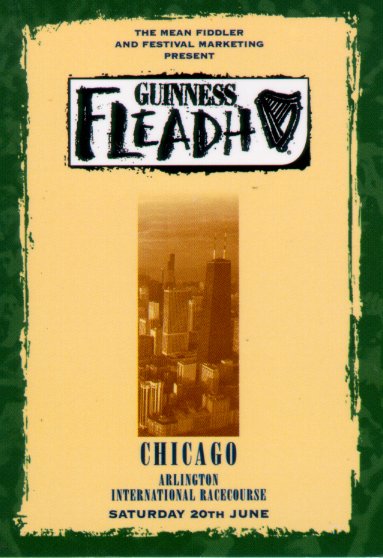 New York
RT's show on Saturday [Mon, 15 Jun 1998] at the NYC Fleadh was short (like all the Fleadh sets) but exciting. A thunderstorm earlier in the day had turned all of Randall's Island into a mudfield, and attendance for the earlier shows on the Village Voice Stage had been sparse. But a huge, enthusiastic crowd materialized for RT's show, and he got the only encore in any of the Fleadh shows that I attended. I find it fascinating that RT has become such a star, at least in this part of the world - it just wasn't this way ten years ago.
RT kept his stage patter to a minimum, but he did congratulate the festival organizers on providing an authentic Irish festival atmosphere, complete with mud and bad weather. His contribution to the Irish theme was "How Will I Ever Be Simple Again," which what seemed to me an unusually nice guitar break. "Bathsheba Smiles" was the second song (after the usual lead-off "Turning of the Tide") - on fourth or fifth hearing it's starting to sound really impressive to me. RT also did the new song that listmembers have reported from other recent shows - its recurring phrase is "If you don't want me, I'll dry my tears and move on." It sounds a tiny bit like "Why Must I Plead," in that it's reminiscent of sixties soul pop, with a tone is midway between happy and sad - I thought of Otis Redding. I would agree with earlier posters that it seems less ambitious than "Bathsheba," but it will be interesting to see how RT arranges it.
Most of the show was played in dropped-D tuning. "Vincent" wowed the crowd as usual, and "Beeswing" finished the set proper - RT encored with "Two Left Feet." Even with such a short set, RT found room for "Hamlet," which went over very well. Interestingly, RT once again fluffed the lines at the beginning of one of the verses of "Jimmy Shands," though he recovered quickly. Could his unconscious be telling him to give that song a rest?
I haven't time for a full report on the Fleadh, but John Martyn was surprisingly masterful, showing up with a proficient band and doing a compelling set of danceable, atmospheric music - definitely more in the mode of the post-1980 albums than the old folkie stuff, but very impressive. Loudon Wainwright was very entertaining - I had no idea he was such a goofy, hammy performer - and rather heartbreaking when he announced two incredibly desolate songs as being about the current state of his life. I hope he's okay.
Two facts of interest to future Fleadh attendees. You won't get a price break by waiting to purchase until the day of the show - without announcing it, the festival owners jacked up the day-of-the-show ticket prices to $48, more than making up for the Ticketbastard charge on advance sales. But here's the more interesting fact: Saturday was under-attended, presumably because of the rain, and halfway through the day it was announced that Saturday ticket stubs would get you in free on Sunday! Apparently the festival people wanted to get warm Guinness-drinking bodies onto the island by any means necessary. This of course was a bad deal for people who bought advance tickets for both days of the festival. So there's an argument for buying only a Saturday ticket and running the risk of paying more at the gate on Sunday.
It was nice to meet Andrew (Poisonhead) and his wife Lisa, who came down from Rochester to see their first RT show. And thanks to the listees who've been talking up X - I hadn't heard their music since the days when I wasn't ready to deal with punk, and their reunion show just floored me.
Dan Sallitt
sallitt@micro-net.net
---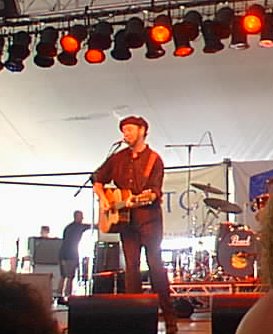 Chicago
HEY ALL. Here's my report from the Guinness Fleadh, and I am afraid it is a bit of a grumpy one. I should preface this by saying that I am a professional scenery and lighting designer, and that I've been involved in more than a few of these affairs in my time (and that I'm posting a similar review on a stage technicians list). I was really disappointed and appalled at a few things:
The sound, which really sucked. At all three stage the bass was way out of proportion, and the guitar sounds muddy. During the big guitar break in VBL it sounded like somebody holding down one big chord on an organ. Even my wife, not in tech theatre or especially a music fan, was struck with the imbalance of things.
The lighting in the tent where OH was seemed to have been focused while the stage was in a different position. On the mainstage the lighting was just unfortunate. (Dark blue lights don't do much at noon. Really.)
But my biggest problem was with sightlines. There are formulas for figuring out how to get the maximum number of people to see the performer in an enclosed space, like the VH1 tent. Sloppy.
I was also a bit annoyed that, it being 95 degrees it was so difficult to buy water. Seeing as how a water company was one of the sponsors.... and y'know, Guinness just isn't the same after six hours in 95 degree sun.
THAT SAID: we did have a lovely time.
Some highlights: The lovely singer from Capercaille. While she sang one of those fast Gaelic staccato lyrics of hers, an African American gentleman with dreadlocks near us was singing along. "Maybe she'll teach me, I can't quite master it from the CD" he said. I hope he's in a band near me. Mary Black put on a nice, if low key show. She was dressed the same as the singer from Capercaille, leading my wife to wonder if it was some sort of uniform all the singers had to wear. I was very impressed with Jeb Loy Nichols, and Altan who I've never been that fond of. And not having seen Tracy Chapman in about ten years, I was VERY impressed. Perhaps her moment is coming.
Which brings us to OH. Too short. Both his set, and my wife, who was only able to see his beret. (Yes, a beret, different from some in recent photos.) My wife was impressed, though. Her first RT show. And when he sang Jimmy Shands he asked for a chorus from people from Evanston. Hey, that's Me! I think he did about as good a set as one could do in that setting. Now, it would be nice if he'd come and play in someplace other than a sauna.
Oh, by the way, as the Fleadh was at what was until recently a racecourse. I was hoping for "the Angels took My Race Horse Away." Ah, well.
Andrew In Evanston
AMeyersLD@aol.com
---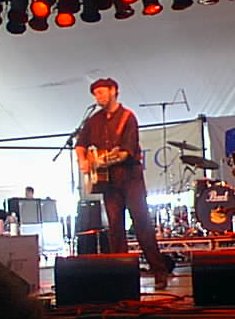 This [Andrew's comment on the sound, above] statement inflamed me to write! As someone on the sound & pa side of the business, I've noticed a huge change in sound systems over the past 10 years. That being: if the sound system isn't capable of low end SPLs capable of compressing the air out of your lungs, then it's not a sound system!!
I used to think fidelity was the goal...silly me. Of course, one should tailor the system to the act(s). I wouldn't put Nine Inch Nail's requested system in a tent for folk artists! But this is what you get. I saw the (absolutely fabulous wonderful the next big thing maybe as good a bob dylan) Elliott Smith at a Princeton U eating club (essentially, a large living room). The sound was as Andrew described (hey -- one guy with an acoustic guitar - there ain't much happening below 200 hz!). I ended up sitting on the floor about 3 feet in front of him & enjoyed the direct sound.
We've been doing a little bit of live sound recently for one of Greg's associates, a band called Vaganza. They are kinda like a rock/big band/swing/latin jazz/cabaret act. After the house sound guy brings up the levels on the board (just to get the basic house system running) -and the drummers kick drumsound is knocking flyers off the walls - Greg strolls over & starts pulling all the lows out of everything! Eventually, with much EQ-ing, it sounds like music.
So - we folk music fans must unite to protest this treatment. Maybe work up a logo with a huge woofer with a red circle around it for our next run of shirts?
pdf [patricia frey]
interfer@nj1.aae.com
---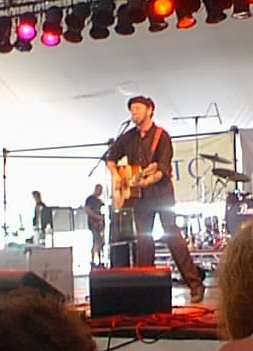 OK, just got back from the 2 hour drive and my ears are still buzzing from the John Martyn set. Jeez, does he rock HARD or what? Before I get to OH's set here are a few short impressions:
item: people will pierce anything, won't they? One quite young guy we saw had so much metal hanging from his face he sounded like a pocketful of loose change whenever he moved.
item: people who clap along at concerts are different. from me.
item: Karen Matheson of Capercaile is extremely attractive. My wife insists that I mention that Manus Lunny of the same band has a great ass.
item: people of color were scarce on the ground.
item: 14 dollars for 2 ham sandwiches and an iced tea??
item: outdoor concerts with multiple stages don't work when there's not enough distance between stages. well, duh!
item: saw 2 Dee shirts besides my own and 3 YMU tour shirts. All of us in the doom and gloom shirts had that geeky, impatient-with-the-rest-of-the-world, look. (gads, are we identifiable without the shirts?)
item: RT's wardrobe: black, black, black, black, and black
OH was playing on the VH-1 stage and followed Cappercaeli, John Martyn, and Altan. Here's the setlist:
Turning Of The Tide
Bathsheba Smiles
How Will I Ever Be Simple Again (stunning- he had the crowd almost quiet with this one)
If You Don't Want Me
Hamlet
I Feel So Good
The Ghost Of You Walks
VBL '52
Don't Sit On My Jimmy Shands (this didn't make it AT ALL. the crowd just stared at him- no singalong)
encore: Razor Dance
The crowd began filling the tent (yeah, ain't that gross?) right after Altan left the stage. I was hoping to keep my place right in front of the sound board but it became clear that there were LOTS of people who had waited for RT. Anyway, I moved a bit closer and decided that no one was going to sit for this concert. All through the prior 3 acts, people remained seated. HH came out to a pretty healthy welcome, considering many of the crowd were well into their 12th or 13th five dollar cup of beer. He was in a great mood, mugging for the crowd and frequently insulting us.
RT: "Anyone see "The Producers?" Crowd: huh? RT: "During the 'Springtime for Hitler' scene, there's a shot of an audience with their mouths open" RT makes a face of a slack-jawed dullard Crowd: riotous laughing
I held up my Dee shirt several times and I'm sure he looked right at me but didn't mention the listers. sigh....
All in all it was a good set. He wasn't especially 'on' with his guitar but his voice was smashing. In the final verse of Razor Dance, he couldn't hit the high note and made a face at himself, but not many noticed, I think. It was an extremely noisy crowd and you could hear Los Lobos at the Main stage, but my impression is that he pleased a lot of people.
Rich Westerman
musicadk@theramp.net
http://www.execpc.com/~danb/mandolin/westerman.html
---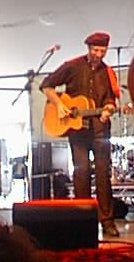 When Richard Thompson first came out, he said "This is certainly the right tent to be at. John Martin, Altan, Billy Bragg, and Squeeze. Even John Lee Hooker has found his Irish roots!"
During all but the RT performance, we had been sitting near the side of the tent. It was really burning up inside with little air flow. Near the side there was some breeze. During John Martin and Altan, the crowd was relaxed. When RT came out, they were all on their feet.
I worked my way to the front. I have to agree with the other reports. The sound system was set up for the electric bands - not the RT acoustic set. Starting from the back, I could hardly believe how poor the sound was. By the time I was right in front, the sound was good enough to really enjoy the show.
Was I the only one waving my arms when he asked if anybody was there from Indiana?
One piece of advise to the Sponsors of the Guinness Fleadh. The longer people wait in line for the food, the less time they will have to buy drinks or listen to the music, and the more complaints you will get about the event. Next time around, how about more food stands?
Willis Howard
wehoward@alphane.com
---
Bay Area
Since no one else has said anything about the Bay Area Fleadh, I guess I will. I only saw one or two whole sets -- I skipped around a lot. Saw one other DeeTee beside my own, but didn't stop to chat (sorry!) I enjoyed John Lee Hooker, X, Chumbawamba, and the Saw Doctors. I was most distressed to miss all but the last song of Billy Bragg's set, but it sounded like a great set. OH put on a good show, though I was secretly hoping he'd plug in with X or Los Lobos or somebody. Here's the list, which looks quite familiar:
Turning of the Tide
Bathsheba Smiles (new to me; I think I need to hear it again)
How Will I Ever Be Simple Again?
I Feel So Good
Ghost of You Walks
Hamlet
1952VBL
(enter Teddy)
A Heart Needs a Home
Book of Love (Teddy's, I think)
Crawl Back (new to me, and pretty catchy)
Persuasion
Razor Dance
(exeunt, return to wild applause)
Tear Stained Letter
The crowd sang along loudly to the chorus, and RT and Teddy slipped out as we sang. He seemed in good spirits, and each song was letter-perfect (of course, he's been practicing these a lot). I would have liked a little more spontaneity, but I can't complain. My dad was suitably impressed with his guitar work -- OH can keep several parts of a song going all at once, while singing. Even on Teddy's song, he played melody and rhythm. I did like Teddy's voice, though it was a little low in the mix (or he needs to work on projection). He didn't seem quite as electrifying as his mum could be, but he's not as wobbly as she could be, either. I wonder how long this partnership will last, before Teddy goes solo?
Jeff Sensabaugh
sens@netcom.com
P.S. OH was dressed all in black, with a black balmoral, which must have been warm on such a sunny day. I didn't see his shoes.