Coachhouse in San Juan Capistrano, California
Thursday May 28, 1998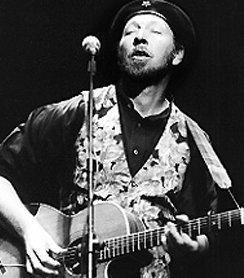 Jeffrey M. Tamminga
RT setlist from the Coachhouse
A wonderful show last night (5/28) at the Coachhouse in San Juan Capistrano, California. OH wasn't in the best form, but he still put on a super show (perhaps the sign of a great performer??). Anyway, here is my attempt at the setlist -- please excuse my ignorance at not knowing some of the song titles -- those are marked with a '?'.
Turning of the Tide
Bathsheba Smiles
(?)How Will I Ever Be Simple Again
I Feel So Good
The Ghost of You Walks
Hamlet
Last Shift
Vincent 1952
Pharaoh
Keep Your Distance
Jimmy Shands
(?)If You Don't Want Me
Walking On A Wire
Give Her Everything She Wants
Down Where the Drunkards Roll
Razor Dance
Dimming of the Day

1st encore
Beeswing
2 Left Feet

2nd encore
(?)Joseph Locke
Don't Roll Those Bloodshot Eyes At Me
As you can see, this was quite a nice mix of old and new tunes. As I mentioned at the beginning, RT wasn't in the best form -- some scratchy, coughy thing in his throat, some forgotten words (to Jimmy Shands, believe it or not! -- the crowd had to help him with the third verse), and even some missed notes and repeated riffs in some other songs. He mentioned that this was his first solo gig in 4 months -- I find that hard to believe! He also appeared to be having some problems keeping the guitar in tune -- at one point he mentioned the string problems, and said that he gets his strings directly from "Lucifer's of New York" -- that got quite a chuckle from the crowd.
Although he might have been a little off while playing, he was spot on with his witticisms -- he was very genial, witty, and entertaining. He also told a long drawn out slightly off-color joke dedicated to his father-in-law (who was sitting right next to me). I also saw 3 Doom 'n' Gloom T-shirts in attendance (of course, I was proudly wearing mine!). All in all, a wonderful evening -- the rest of you are in for a real treat -- don't miss his shows on this tour!
One last thing (mostly to Tish) -- thanks for posting the lyrics and chords for Bathsheba Smiles -- I'm learning that one already. Do you happen to have the lyrics and chords for "Don't Roll those Bloodshot Eyes at Me"? I'd love to learn that one as well.
Jeff
TAMMINJM@sce.com
---
Scott Davison
Good report, Jeff! However, I disagree a bit. In my opinion, RT was in stellar form last night. You're right about the strings, and on the drive home, my friend Todd noted that RT seemed to have more difficulty tuning than usual; however, last night we heard some of his strongest acoustic playing yet. It seemed to me that he's definitely moved up a notch in the quality of his playing....and that means creating _new_ standards. He played the version of 1952VBL faster than ever before, and although you could tell that he was actively pushing himself beyond former limitations, the playing overall was incredibly smooth and fluid.
For me, the highlight of the night (besides getting to meet Charlie Campbell and his wife, Holly) was "Down Where The Drunkards Roll." Admittedly, it's my favorite RT song. However, he played and sang so exquisitely that the drive down from Santa Monica would have been worthwhile just for that single song. The guitar work was simultaneously delicate and strong, and the performance differed from anything else last night: the song reminded me of a hymn and created a unique aura of reverence and "in-held breath."
A bit of trivia for those not present......Charlie and I were sitting up at the stage when they were setting RT's stuff up, and we saw a piece of paper on the stage. "Hmn..." Charlie mused, "A set-list?"
"Perhaps we should grab it and donate it to the Amnesty International Auction," I suggested. Charlie evidently didn't think that was a good idea. However, he couldn't resist (of course, he just beat me to it) standing up and leaning over to take a peek. "No," he told me. "Not a list." It turned out to be a lyrics sheet for one of the new songs.
Yes, we were privileged to hear a couple of new songs last night. Those of you who get to catch RT on this tour are in for an absolute treat. Don't let him leave, though, without playing "Down Where the Drunkards Roll"!
Scott
pavese@earthlink.net
---
Joseph Locke ?
Any chance the "Joseph Locke" done at Capistrano was about a singer, a tenor maybe? If so it's likely "Josef Locke" and is the latest in OH's attempts to keep alive the name of a great-but-now-obscure musician of the mid-20th century.
Michael Maddalena
michael@sassafras.com
---
Josef Locke !
Last night, RT provided a lengthy introduction to this song, which he said, if I remember correctly, he performed with Lal Waterson. Yes, Josef Locke, the Irish singer, is the subject of this song. OH told a story of seeing Locke, or one of his many imposters, in a pub in the late '60's.
More info later.....
Scott Davison
pavese@earthlink.net