MEDIEVAL DETOUR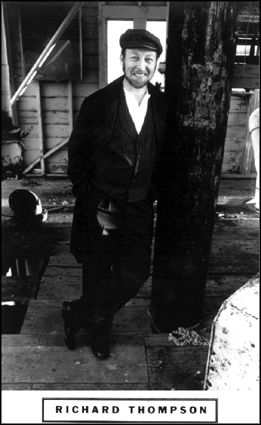 Singer-Songwriter Richard Thompson Takes His Tunes Where He Finds Them--Whether Today or From the Renaissance
By JOHN ROOS, Special to The Los Angeles Times
Tuesday, May 26, 1998
Sam Cooke once sang, "Don't know much about history," and British singer-songwriter and guitarist Richard Thompson would seem to have little use for geometry--at least when it comes to music.
For him, the shortest distance between one solo album and the next can be a line that zigzags through world music or 16th century Italian classical music. "You can have a very linear thing called a career, but it's quite nice to be able to jump off to the side occasionally, because it enriches what you do," said Thompson in a recent phone interview from his home in Los Angeles.
"Invariably, you learn something that increases your musical vocabulary . . . and then you can take it back to your own style and career. That's what jazz musicians have always done--they jump sideways. To be alive as a musician, you have to experiment."
Thompson's recent experiments have been a couple of collaborative albums: "Industry," with bassist Danny Thompson (no relation), is a sobering account of Britain's declining industrial complex; the new "Bones of All Men"--for which Thompson teamed with early-music scholar Philip Pickett and the rhythm section from Fairport Convention, the Celtic folk-rock band he helped found in 1967--resurrects Renaissance and medieval court music from the 16th century.
"Bones" combines electric guitar and bass with traditional instrumentation, including medieval fiddle and such early keyboard instruments as fretted clavichord and virginals.
"Phil's the early-music specialist these days. . . . He's the director of music at the prestigious Globe Theatre," said Thompson, who's on a brief U.S. club tour that includes a stop Thursday at the Coach House in San Juan Capistrano. After that he heads to Europe for a series of summer performances, mostly at outdoor festivals. "But he's a bit of a raver. . . . He likes some rock 'n' roll as well and enjoys mixing things up.
"He found some fantastic tunes for 'Bones'--mostly very old Italian keyboard music--that proved to be, for me, a quite demanding transfer to the electric guitar. The arrangements were very tight, but it was all very challenging and great fun."
Fun is where you find it, which for Thompson includes the sometimes difficult act of songwriting. His songs have earned the praise not only of critics but also of fellow musicians, as evidenced by the 1994 multi-artist tribute album "Beat the Retreat: Songs by Richard Thompson."
"I do enjoy the writing process, whatever that process is," he said."I'm never really sure what's gonna come out, because it just unfolds. It's rarely a deliberate or conscious thing . . . and there is a degree of difficulty to songwriting. There can be a lot of frustration as well, but I accept that as part of the package."
The package usually is part autobiographical, part fictional, but sometimes even Thompson can't tell which is which in songs such as the icy "Cold Kisses," about a man sneaking through his lover's belongings in search of photos of her old boyfriends to see how he measures up. "I'm not sure if they're about me or someone else," Thompson, 49, said. "Sometimes I think I know; other times I don't. But things usually get a bit twisted and fictionalized anyway--just to make them more fun."
Again it's the fun, which he maintains in concert by alternating between solo acoustic shows and plugged-in full band concerts. In solo acoustic shows, he said, "You can achieve a greater degree of intimacy with an audience, and there's more audibility to the lyrics. Financially, of course, it's much better for me too." Still, he wouldn't mind plugging in as the need might arise. "I suppose there are times, like when my audience is rather listless or argumentative, where I do miss the power of rock 'n' roll--when you can just turn up the volume and plow your way through," he said. "Also, it's tough as a solo act to do full justice to arrangements that use a full band on record."
While "Bones of All Men" allowed him to look back and move forward at the same time, two other anniversaries have given him additional excuses to wax nostalgic--were he the nostalgic type. This year marks the 30th anniversary of the first Fairport Convention album, and Thompson recently took part in a Fairport reunion concert in England that drew 20,000 fans to see, as he put it, "a bunch of aging old folkies."
Thompson is scheduled to perform solo Sept. 20 at the Greek Theatre in L.A. as part of the 40th anniversary of the Newport Folk Festival. A nationwide tour begins in July with a rotating cast of new and veteran folkies. (The Greek date also features John Hiatt, Nanci Griffith, Lucinda Williams, Bela Fleck, Marc Cohn, BeauSoleil and Joan Baez, among others.)
"I don't consider myself to be a retro sort of guy," Thompson said. "I don't miss the '60s, except in terms of the quality of music. There was more room for variety back then. "It was a time when talented people were allowed to develop and emerge," he said. "Now, the eclectic artists get squashed in the scramble to find stuff that fits into the formats of radio."
Because Thompson can indulge himself in a variety of side projects while still under contract to a major label (Capitol), he considers himself one of the lucky few. "I feel very privileged to make a living playing music," he said. "I'm not a millionaire, but that's a good thing because I'm forced to write new songs and tour. "I like the form of pop music because it has a built-in safety mechanism," he said. "You have to communicate on a basic level. If you get too pretentious or airy-fairy, you'll shoot yourself in the foot. It's that simple, really."
Richard Thompson plays Thursday [May 28, 1998] at the Coach House, 33157 Camino Capistrano, San Juan Capistrano. 8 p.m. $19.50-21.50. (949) 496-8930.
Submitted to the Richard Thompson List by Dwight Weideman dwight@hotmail.com.