celtschmerz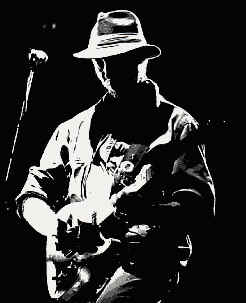 The new CD by Richard Thompson
- acoustic guitar and vocal -
- available now -
- recorded live in the UK, January, 1998 -
---
What is Richard Thompson like?
After a very positive first impression the latest Thompson issue has taken less time than usual to fully burrow its way into the heart and mind. I'd like to echo what Charlie Jamieson had to say about it. The engineering is superb and the performances stellar. The final product is the perfect answer to that old dilemma when asked "What is Richard Thompson like?". Now you can just hand out this CD with complete confidence.
I'm still a little puzzled by the absence of Feel So Good, which pinned me to the seat like a Force 10 gale in concert, and I still hit the skip button for Last Shift, its combination with Pharaoh being just a little too much consecutive schmerz for my taste. However, the tracks with Teddy are pure golden delight, and the versions of Why Must I Plead and When the Spell is Broken are spellbinding. Celtschmerz has not only earned a place in my heart, but also in posterity.
Derrick Leigh
---
The Songs
Turning Of the Tide
How Will I Ever Be Simple Again
Why Must I Plead
Poor Ditching Boy
When the Spell Is Broken
Last Shift
Pharoah
Keep Your Distance
Walking On a Wire
A Heart Needs a Home
She May Call You Up Tonight
Persuasion
Razor Dance
Beat the Retreat
Wall Of Death
Tear Stained Letter
---
What's it all mean?
Weltschmerz is one of those great, strung-together German words - like Zeitgeist, Weltanschauung, Gedankenexperiment (for the scientists among us), and my favorite, Schadenfreude (delight or pleasure in another's misfortune) - which often don't fully translate. I think the closest English equivalent to Weltschmerz is "world-weariness." My Webster's New Collegiate Dictionary defines Weltschmerz as "mental depression or apathy caused by comparison of the actual state of the world with an ideal state" or "a mood of sentimental sadness" (think Marlene Dietrich songs).
"Celtschmerz" doesn't really mean anything, Dave; it's just a pretty funny pun on Weltschmerz, if you happen to know that word already. But if you need a translation, I'd suggest "doom'n'gloom with a Celtic twist."
- Jesse Hochstadt
---
Poor Ditching Boy
The version of Poor Ditching Boy on CELTSCHMERZ is from the High Wycombe gig, and what a brilliant performance it is.
I listened to CELTSCHMERZ yesterday for the first time, then played it through a number of times, and of the three live CDs RT has independently released, it is far and away my favorite. In fact, its quickly become one of my favorite RT records, studio or live.
The recording and sound engineering is excellent, the choice of songs is inspired, and the performances are phenomenal. Man, Richard was on good form during that January UK tour, and CELTSCHMERZ documents that in a wonderful way!
Let's hope he keeps some of these gems like Poor Ditching Boy, Beat the Retreat, and Simple Again in the set-list this summer over here in the States.
Thanks, Richard and Co., for releasing this one!
-Charlie A. Jamison
---
How to order
It's $16.00 for each CD; limit 3 CDs per person. The proper title is "Celtschmerz: Live UK '98". U.S. postage and handling is $4.50 for the first item, $2 for the second item, $1 for each additional item (up to a total of $10). Canada: $5 first item, $2 second item, $ each additional item. And Overseas: $8 for the first item, $3 second item, $2.50 for each additional item. All payments must be in US currency. All checks must be made out to Frank Kornelussen. New York residents must add 8.25% sales tax to the order (inc, postage & handling) Allow 3-5 weeks for delivery.

Send all orders to:
Flypaper
Box 391
Wainscott, New York 11975 USA
---
Thanks, Richard !
See you in Chicago this summer !