Accordions, Polka and Canadians
A Review by Mark C Bartlett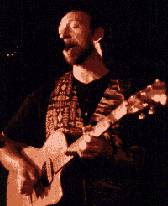 My partner Sue and I left Halifax, Nova Scotia on an early, overcast Saturday morning. I still couldn't believe we were doing this road trip. Our rented car took us to Ellsworth, Maine, a small neighbour town to the city of Bangor. This was to be the second of two nights (Portland the night before) that Richard and Teddy Thompson were playing the state of Maine, close to our neck-o-the-woods. Most people wouldn't call 6 hours away close, I guess. After we checked into the Holiday Inn, racked up the VISA card at an Ellsworth record shop and the L.L. Bean outlet, we drove into downtown Ellsworth to pick up our tickets. "Oh, you're the Mark from Halifax, right..." said the Grand Auditorium ticket man. We had a satisfying and scrumptious supper (great Mexican food on Main Street restaurant -- name escapes me -- but it's the one and only Mexi spot -- highly recommended).
The RT and TT fest was in the lovely, greying and comfy-as-home theatre called the Grand Auditorium. All extra proceeds for this show were to benefit the Grand. Kudos to the gig promoters Sara Willis and Joe Raymond for choosing this brilliant venue! I don't imagine we were the only two in the audience (about 500 seats) who were brimming with anticipation -- most of the front section was filled by 7:00 or 7:15, close to an before the show was to begin.
This had been my first Richard Thompson show since a late 1980's gig in Ottawa, Ontario. That cold night at Ottawa's Barrymore's theatre was RT solo. It left me thoroughly impressed by his music, songs, and stage presence. (I had been listening to him since my older brother Andrew turned me on to the Canadian lp compilation from the mid-70s, Richard Thompson live more or less.) That night at Barrymore's RT was a one-man guitar, vocal, and a-dash-o'-comedy show. Incredible energy and style. Hands-down one of the best concerts in my life. But I should be concentrating on the 11.8.97 show at the Grand. TT opened the show with a set of about five or six songs. Other than a Louden Wainright cover "One-man guy", I didn't recognize any of the material. TT has a tender and rich voice. To my mind it suggests his musical parentage, but more so the lovely, higher vocal range of Linda Thompson than Richard. (Jackson Browne came to mind at times, too.) TT shares his father's style of witty stage banter. His guitar playing was confident but a little boring to my ears. Or was that just me anticipating the appearance of RT? The genuine article RT entered the stage following Teddy's last number. He quipped something like -- "no relation, no relation"-- as he started his set. My confession here is that I came unarmed with pen and paper, figuring some other Thompson fan(atic) would be in the audience writing the set list and memorable comments down ... and of course reporting it to the Thompson Internet list the next day. I learned my lesson there, wot! What follows are my journal notes and memory of the 11.8.97 show and the set list. The set list is complements of Sara Willis, to whom RT presented the signed set list after the show.
Turning of the tide
Bathseba smiles
Galway to Graceland
I feel so good
The ghost of you walks
Hamlet / Dog eat dog in Denmark
Dimming of the day
-- break --
1952 Vincent black lightning
Pharaoh
Keep your distance
Jimmy Shands
Hide it away
Walking on a wire (w/Teddy Thompson)
Crawl back under my stone (w/TT) (New song about British social system etc.)
(I want to see the) Bright lights tonight (w/TT)
A heart needs a home (w/TT)
"She calls me?" -- The Left Banke song (w/TT)
Razor dance (w/TT)
Encores:
Beeswing
Wall of death (w/TT)
Tear-stained letter (w/TT)
It was a sweeping set list covering many of the years of his career. There were no performances of songs from his latest project with Danny Thompson, Industry. RT appeared to be having a good time the whole night. Our we-travelled-too-far-you-know-you-should-get-a-life' cover had been blown ---- he had learned there were some adoring Canuck fans who had crossed the border and travelled miles to see this show. "Any Canadians in the audience tonight?!" he shouted. A few woops and hollers in recognition. A raised eyebrow from RT. Later on, before Jimmy Shands he said -- "we're talking about exciting things tonight... accordions... polka ... Canadians" -- he didn't miss a beat on this one, grinning from ear to ear as the Grand fell into laughter. RT poked fun at festival go-er youths and their dancing style at outdoor shows. Inviting people up to dance (Jimmy Shands), he teased -- "but NO lint picking, we'll have none of that" -- and danced, weaved and waved his arms in the air like a Grateful Deadhead fan would do. (Guess you had to be there.) In an article I recently read, Ian Pearson called Richard Thompson "an exceedingly charming and funny man". This seems so true, at least from what I could sense sitting in the crowd. We laughed and smiled a lot in Ellsworth. Beeswing and Galway to Graceland were both chilling renditions -- I closed my eyes to hear these song stories once again. Hamlet, Jimmy Shands, V.B. Lightning -- great, great, great, great renditions. The songs with Teddy were very, very good -- loved Bright lights tonight, Tear-stained letter. Walking on a wire was lovely and not one I had expected. Wall of death made me think again that R.E.M. just don't do it justice on the "Beat the retreat" tribute. A heart needs a home was a duet with Teddy. It was simply beautiful. RT and TT's voices really complement each other. Those are some of my memories of that night. The RT and TT fest ended. The Grand emptied. Before the show, the promoter Joe Raymond had told me there would be a meet-n-greet later on. We stayed near front stage after the show and RT came out. I'm not sure who was more nervous -- him or me! I cajoled him about the Canadian-jokes. He laughed -- "Ohhhhhh, I was only kidding!". I asked him to return to eastern Canada -- our city of Halifax, Nova Scotia -- where he spent a snow bound few days and performed (I believe) two nights at the Flamingo Club in the late 1980's. All and all, a great evening of music and memories. Thanks so much for the music, RT and TT. I look forward to seeing another show soon. And I'll promise -- no lint picking down in front.
Mark C Bartlett
bartlett@tuns.ca