Brief notes from High Wycombe!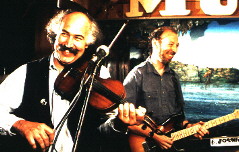 WOW !
Very brief note, having just got back from the High Wycombe gig.
I saw OH in Glasgow on Saturday night, so I wasn't expecting any surprises. (who does expect surprises?)
Launched in in Turning of the Tide and the first few numbers went as expected. Someone requested Poor Ditching Boy, which he pretended not to remember but then managed a very beautiful rendition. I was in the middle of the front row and I can guarantee that he sang "the storming wind cut through to me skin etc..."He used the same intro to Dog eat Dog as he did in Glasgow, about Tony Blair asking him to be Cultural ambassador... Teddy came on and I have to agree with what's been said before, his singing and harmonies on Heart Needs a Home were very reminiscent of Linda.
When the encore started, who should come on but Danny Thompson. He was greeted by very warm applause and they did Al Bowly together. He seemed to be in fine form. A little thinner than I remember him. RT announced that it was his first time back on stage. When asked when he last played, Danny replied March. - I'm sure I saw him last May on the Industry tour.
Teddy came back on to do Wall of Death. There were a couple more and they all finished off with Tear Stained Letter. A memorable performance. According to my neighbour, Linda was somewhere in the audience. (I was secretely hoping she might come on. I know I believe in fairy tale endings!)
Enough for tonight. Kate Rusdie was very good as well. A beautiful voice and very funny patter between songs.
I still have Friday night in Crawley to look forward to, and If I get run over by a bus next weekend, I will die happy!
Still buzzing,
Good night
Isabelle Heaton
isabellea@hotmail.com
Mon, 19 Jan 1998
---
Wycombe Swan
I wasn't expecting to see RT on this concert tour, but courtesy of Jonathan (Many thanks both to him and to the friend who dropped out and left him with a spare ticket) I have returned tonight not to bury OH but to praise him. Of course, much of this will reflect what others have already been saying about the new tour, but what the hell ...
This was (I think) Kate Rusby's first night in support and she played a short (but extremely affecting) set of five songs, beginning with the gorgeous Annan Waters. Don't be one of the prats lingering in the bar when she plays later in the tour.
The set list was very similar to Oldham (see Steve's posting on Sunday) with a few slight variations. Dimming of the Day was the first song (I think OH used it to warm his fingers up) and then he launched into the Oldham sequence. It seemed to me that this was the most dextrous I've seen him - songs such as Dog Eat Dog in Denver and Feel So Good almost have *comedy* guitar breaks the soloing is so fleet - but VBL1952 was tossed off a little hastily for my taste.
Our "request spot" number was Poor Ditching Boy - beautifully played, and segueing neatly into what seemed the more relaxed phase of the concert. RT clearly enjoyed the audience reaction and the venue. As I recall, we missed out Hide It Away, and when Teddy came on for his spot we got one of his songs (Brink of Love?) as compensation. As others have already noted, Teddy isn't much of a songwriter or guitarist at the moment, but his voice is sweet and powerful, and the song that they played during the encores (Days in the Park?) shows that RT isn't keeping him on stage through mere indulgence. That said, Teddy's four-square rhythms do sap the life out of some of the songs on which he plays. RT's flexible timings have been the subject of recent discussion here, but I don't like to hear him been regimented by having to play along with another guitarist. He would do Teddy a lot of favours to get him playing with a proper rhythm section, so that he could go off the beat with more freedom.
The first encore set brought Danny Thompson on stage for what is apparently his first performance since March last year. The interplay was established immediately (though I can't remember just now what song on ... hey folks, it's 1.00 in the morning!) and resulted in a great performance of Al Bowlly, which now takes Richard's supremely evocative take on The Very Thought of You as its coda.
All in all, a great concert: in my view, rather better than the selection of songs itself might suggest. I would have loved to see Kate on stage at the end - with the right material, she could yet prove to be the find of her generation - but nonetheless it's a sign that things are going very, very well when you're seeing all sorts of new things in songs that you may previously have overlooked.
Robert Renton
Tue, 20 Jan 1998
robert.renton@virgin.net
---
Wycombe
Just got back to work, coming straight from staying over with cousins at High Wycombe. My head's too full of Thommotoons to start work yet - so a brief note to the list to agree with what everyone else has said about last night's _excellent_ concert seems in order.
First, it was really good to meet so many rtlisters whom I'd not seen in the flesh before, as well as Martin Woodward whom I had. If memory serves, there was Dave Simms, Derek Leigh, John O'Dwyer, Robert Renton, Jonathan Turner - and I saw another couple of deeshirts in the distance, one on a lady, another on a teenager, who seemed to have a stage pass around his neck.
Like others have said, it was real good to have Danny back and active again, even for a brief part of the performance. La Deeza had actually hinted in a message that there might be a nice surprise for me at High Wycombe; but like an idjit it had never occurred to me that it might be
Danny's reappearance.
I'd thought:
1. Ms. G. would be there herself. That would have been nice.
2. There would be a duet with Kate Rusby. That would have been nice too.
3. That maybe Linda would make an appearance with R & T (eager for this like more than one other person on this list. I really kick myself for not having seen her in the audience). That would have been really really nice.
Then, when I arrived at the theatre, and bumped straight into Peggy and Simon at the bar, I figured it would be them appearing for a few numbers. (Richard _did_ make some cryptic comment on stage about his special _guests_).
So when Danny came on, I felt really stoopid to have missed the obvious. He was on good form, looking maybe a bit thinner than of yore, and full of the same old dt charm and humour.
I think the highspots for me have already been mentioned - the inclusion of "The very thought of you" (which some of the audience seem to think was a joke at first, judging by their laughter); the very confident Poor Ditching Boy; my special favourite, Keep your distance (which was perhaps more of a throwaway last night than at Plymouth, but heck, I love the song); and I must come down on the side of those in favour of the more aggressive reading on Walking on a Wire - I love the Linda version(s), but giving it a rougher treatment adds a whole new dimension to the song. Oh, and Crawl back under my stone (Jerri Hall, indeed!) really is catchy, and had the best solo of the evening for me.
Trevor Buck was right - Richard _is_ glowing on this tour.
Paul Woods
Tue, 20 Jan 1998
paul.woods@bristol.ac.uk
http://info.bris.ac.uk/~lipw/paulhome.htm
---
RT Guilford vs Oldham
I'm surprised nobody has reported on this gig, mind you I didn't see any Dee shirts in evidence.
The second of my 2 RT tour gigs, an interesting comparison. At Oldham we had Teddy as opener for 4 tunes; at Guildford we had Kate (announced as Kate RusHby!) but even she only did 5 ;Annan Waters and Jolly Ploughboys from the Hourglass album, an acapella comic song TheYorkshire Couple, an Irish song called I wonder whats keeping my true love tonight that I saw June Tabor perform on her recent tour, and a song called The Unquiet Grave. She was joined for 3 by her record producer John McCusker who played low whistle and fiddle
However young Tedward performed 2 of the 4 as part of his Dads set; he did On the Brink of Love, and Days in the Park, and they were both several million per cent better with RT's vocal and guitar accompaniments.
So the Guildford audience got better value methinks. I think RT himself was better at Oldham; as Steve & Phil reported at the time he was full-on from the first number, whereas I thought his Guildford version of Tide was subdued in comparison. I wondered if his voice was shot, but this proved not to be, he sang very well later on. Interesting to realise that he doesn't approach all the gigs with the same gusto. Having said that if I hadn't seen Oldham I'd still have been mightily impressed with this gig.
Most of his patter was the same but a couple of moments stand out (pardon my paraphrasing in the following exchanges) ; after a few tunes he looked round and said "I'm sure I've played here before; about 1968 I reckon" Then after a few more he said "It was Fairport Convention and The Moody Blues; playing their big hit "Tights that I shat in"
Guildord is close to Box Hill, and also to the stretch of road called the Hogs Back, featured in MGB GT After VBL52 he said "you can consider that a local song" Someone shouted "What about the Hogs Back?" OH seemed to completely miss the relevance, and jibed this guy by saying "It doesn't scan does it. Down to the Hogs back they did ride? I know, I'll write a new song, right now" Then the penny suddenly dropped and he said "Oh *that* song!" Then he said "I just can't remember it" and later he said "This is stupid. If I'd prepared properly I could have sung it"
Later he berated a guy in the front row for wearing a Dylan T-shirt and sung a couple of lines from 2 Bob tunes (one was the line that goes She's got everything she needs, she's an artist, she don't look back) in a pretty duff wheezy Zimmerman inpersonation to general audience amusement.
After the usual muddled shouting for encores some guy shouted "Why must I plead?" and to my surprise and delight he played and sang it wonderfully, including a nice instrumental at the end. Included the even more dubious line "You've been licking his stamps and taking his dictation" Ooh er, missus!
When introducing Heart he said "Here's a song thats been in our family for generations"
I noticed that on the last verse of Last Shift he plays different chords to the previous verses, its cleverly done and an effective change of mood.
There were mikes trained on the audience again. At both gigs the community singing was pretty feeble, but they're stupid songs anyway that most people would feel embarrased to sing IMHO. I was thinking it would be nice he if had a trademark tune that audiences loved to sing, then I remembered he has; its Meet on the Ledge which I don't suppose he performs too often (just as well if the version on STR is anything to go by)
Martin Smith
Thu, 22 Jan 1998
mrasmith@pendine.prestel.co.uk
---
Wycombe setlist and tunings
Set list from Wycombe (from memory):
Tide
Bathsheba
Simple
Feel
Ghost
Hamlet
Shift
VBL
Pharaoh
Distance
Ditching
Shand
Hide
Wire
Heart needs a home
Left Banke
Crawl Back
Brink of love (TT)
Razor
Waltzing
Al Bowlly
Days in the park (TT)
Wall
Tear SL
Tunings, etc. For the first time since seeing Leonard Cohen at the Albert Hall in 1970, I had a front row seat at a concert, and I kept a close eye on what OH was doing with his hands. So for all you pickers out there here are the details to the best of my memory. Most songs were played standard tuning with lowest string dropped to D (I donUt think he raised it to standard pitch for anything). VBL - bottom two strings dropped to C and G. Pharaoh and Keep your Distance in DADGAD. Can't remember what fret the capo was on for individual songs - it was all over the place. I was slightly out a few months back when I posted the chords to Bathsheba Smiles. It is played without a capo but in G sharp minor rather than G minor as I reported before (i.e shift all chords up a semitone), maybe the radio broadcast tape I have runs at the wrong speed. He generally played with a flatpick plus third and fourth fingers of right hand (maybe the fifth as well, and as my SPUD pointed out, possibly with the sixth). Exception was VBL for which he used a thumbpick. Softer passages in Al Bowlly strummed with ball of his thumb.
J.J.Odwyer (John O'Dwyer)
J.J.Odwyer@open.ac.uk
23 Jan 1998Subject:
---
Crawley
marchand@digital.net wrote:
<<
Subject: [RTLIST] DM or DT?

In my friend's concert report, I'm thinking we should read "Danny Thompson" for "Dave Mattacks", yeah (unless RT's doing a skiffle thing)? That's what I find charming about reports like this: us, we know TOO much!
>>
Hi,
For Dave Mattacks I think you should read Dave Mattacks, unless DT has switched instruments and shrunk a little.
I've been very lucky and managed to catch RT in Glasgow, High Wycombe and Crawley on this tour. Crawley was the most disappointing, but only in terms of audience response. I thought the crowd was very sluggish and reserved. I'm sure that for the first course of TSL I was the only one singing.
When I shouted out "Put It There Pal", RT responded, "later, baby, later!", but when I asked for Why Must I Plead during the encore, he played it with great feeling and a terrific guitar solo.
Dave Mattacks did in fact appear. He lives locally I believe. He played on the Lefte Banke Song and on Persuasion and was great on Wall of Death.
The final highlight for me was going backstage and hanging around outside his dressing room. Had a couple of words with Teddy, and then HE came out. I was terrified, but my friend, (a pushy saleswoman) attacked him with, "Excuse me, my friend's followed you to Glasgow, High Wycombe and Crawley, please sign her Tee-shirt". He looked a bit taken aback, but was happy to oblige. I apparently went all pink and giggly, but managed to produce a Permanent Marker from my pocket and so he signed my Dee-Shirt, while I was still in it. He was so nice. We talked about the different shows and audiences, and I commented on how dull this one appeared. As we left, he thanked us and we thanked him and I remarked that Teddy was pretty good and that he must be very proud. He pulled a face, but you could see that he was.
I don't know how I drove the 50 miles home. I was completely intoxicated despite having not touched a drop. I've been floating on air ever since. I made the mistake of playing a couple of studio recordings since and they sound very flat by comparison.
I'm going to have to buy another Dee-Shirt to wear, because I can't possibly ever wash this one.
I hope they bring out a record of this tour, he had such energy.
Brilliant!
Isabelle Heaton
Sat, 24 Jan 1998
isabellea@hotmail.com